IMAGE ABOVE: Do Ho Suh, Net-Work, 2010–14. Gold and chrome plating with polyurethane coating on ABS plastic and nylon fishing net. Dimensions variable. Courtesy the artist and Lehmann Maupin, New York and Hong Kong.
---
Series Finale, New Works Mark Do Ho Suh's Austin Debut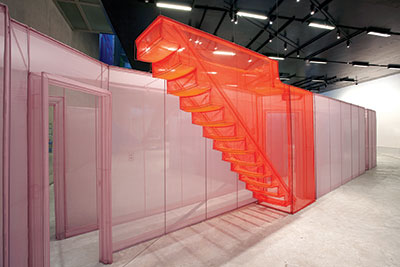 The fall art season kicks off with great anticipation behind the upcoming Do Ho Suh exhibition at The Contemporary Austin. The artist last presented a solo exhibition in the U.S. more than a decade ago, and this is his first exhibition in Austin. Suh's pieces will be in both of The Contemporary's locations, with a special focus at Laguna Gloria on the Betty and Edward Marcus sculpture garden. The Korean-born sculptor's eponymous show introduces newly-fabricated pieces in addition to the artist's renowned installations, as well as various works on paper.  Suh—whose work is shown in the permanent collections of the Whitney Museum of American Art, the Museum of Modern Art, and Museum of Fine Arts, Houston— previously collaborated with The Contemporary's senior curator, Heather Pesanti, and executive director Louis Grachos, during the pair's former work with the Albright-Knox Art Gallery in Buffalo, NY.
---
IMAGE ABOVE:  Do Ho Suh, Apartment A, Unit 2, Corridor and Staircase, 348 West 22nd Street, New York, NY 10011, USA, 2011–2012. Polyester fabric and stainless steel tubes. Apartment A, 271 2/3 x 169 3/10 x 96 7/16 inches. Unit 2, 422 7/16 x 228 1/3 x 96 1/16 inches. Corridor and Staircase, 488 3/16 x 66 1/8 x 96 7/16 inches. Courtesy the artist and Lehmann Maupin, New York and Hong Kong.
---
Suffice it to say, I'm pumped. This marks another artist in a series of exhibitions from The Contemporary focusing on experimental, installation, and sculptural work. With Suh's latest, we stand to see the conclusion of the artist's celebrated 348 West 22nd Street, New York, New York, 10011 series along with entirely fresh works designed with The Contemporary in mind.
I sat down with Pesanti to talk about what attracted Suh to the The Contemporary, what's in store for audiences, and how notions of identity can strike at Texas's core.
A+C TX:  What was the process like approaching the artist, and how did he originally become interested in showing with The Contemporary?
HEATHER PESANTI:  Louis arrived at The Contemporary from Buffalo in January 2013 and I arrived one month later. We immediately embarked on bringing artists to town to see the sites and to visit Austin. Part of this was to generate a new energy around the museum and in the community. Several of these visits resulted in artists committing to do exhibitions and projects with us. Do Ho was among the early visitors, and he was inspired by both the Jones Center and the outdoor landscape at The Betty and Edward Marcus Sculpture Park at Laguna Gloria—in particular, the water and lagoon. Fast forward to today: Do Ho has constructed an exhibition that spans both sites, connecting thematic threads of built structures, community, and notions of home.
A+C TX:  This marks another exhibition focused on site-specific installation. What about this medium feels like a fit for The Contemporary? How will Suh use the space?
HP:  We are a young, nimble, experimental organization. This enables us to allow artists to push the envelope, to act as something of a laboratory for aesthetic and conceptual investigations. We also have nontraditional spaces: a lush outdoor landscape with varied topography, and a small kunsthalle space in downtown Austin with variant galleries.
Finally, we have a precedent for community collaboration and using spaces outside of The Contemporary. All of this is to say that both the organization and artists are encouraged to think outside the box when it comes to using the spaces and generating project ideas. When artists come to visit, we tell them: there are no rules.
We don't say no until we have to, and hopefully we never do.
A+C TX:  Can you speak to the additional new work that Suh will be showcasing?
HP:  On the occasion of this exhibition, Suh has opted to complete his 348 West 22nd Street, New York, NY 10011 fabric structure series. This was a living situation in New York City where he had one apartment, then was given the studio above by his landlord, then moved into the apartment next door. Each segment of the installation is its own moment in time; and it's that final apartment that the artist has created (in yellow) for our exhibition. It will be seen here for the first time, but also represents closure for the series, which I think is an interesting moment to represent in the artist's trajectory.
Additionally, Net-work will be at Laguna Gloria and, though it has been exhibited in different forms previously, it is being refabricated for our site and will be installed along a floating barge we built on the shoreline to the amphitheater for viewers to walk through and under. The context and format of this work are completely new—and so, in a way, the piece itself is new.
A+C TX:  This is Suh's first show in Austin; what is the message you'd like audiences to take away from the exhibition?
HP:  The idea of home, displacement, and identity resonate with everyone. Suh tackles this with understated conceptual elegance through his work, but the notions are universal. In particular, Texas has a constant dialogue about its identity, about what makes someone a Texan, and the political discussion around immigration. Suh's work operates on a meta-level but touches on these issues, and can be appreciated, I think, by all.
—CAITLIN GREENWOOD
---
Do Ho Suh
The Contemporary Austin
Sept. 10-Jan. 11