Anthony Suber, Ritual Redux No. 30-33, 2017, acrylic, oxidized metal wood, 18 x 18 inches each; Refraction Mask No. 1-3, 2017, wood, resin, copper, Plexiglas, LED lights 36 x 8 x 6.5 (base) inches each.
---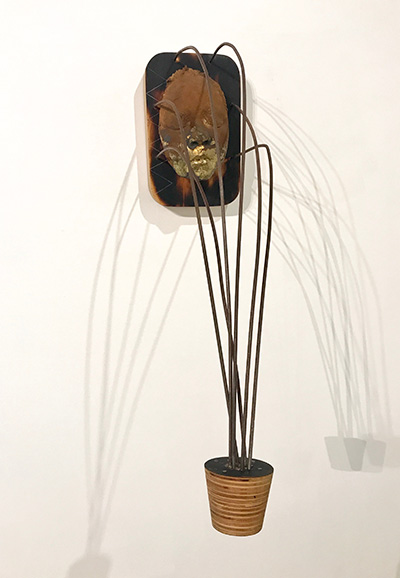 This past February, Marvel Studios released the highly anticipated film Black Panther. The film recently surpassed $1 billion in global box office revenue. Cultural conversation is permeating seemingly every sector of life. Critiques and discussions abound, from devoted praise to analytical debates, even raising questions about inclusion in the fine arts community.
A graduate of Houston's High School for the Performing and Visual Arts, Houston artist Anthony Suber actively participates in this global dialogue. His work explores African, American, and African-American connection and separation. An expert painter and sculptor, he consistently drives the conversation of African ancestral abundance, repatriation and influence forward. He contributed a great deal of work to an installation at KULTURE, a new downtown restaurant concept from Marcus Davis, owner of The Breakfast Klub, opening April 4.
"I want the work to free people to imagine, dream and be connected to issues of culture and diversity; issues of 'otherism.'"  Suber says. "I want them to reimagine what the world would look like without those things, or address those things in a way that invites a change in their lives."
A walk through his workspace at MotherDog Studios evokes the fictional, technologically advanced, uncolonized Wakandan civilization that dominates big screens and social media hashtags.
Facial molds boasting glittering African features sit within ancient-looking metal sculpture. Complex electrical components illuminate aged wooden boxes from inside. Power tools lay next to paintbrushes; sculpting and chiseling instruments sit atop Amazon shipping boxes containing new gadgets. Textbooks exploring history and culture lean against heavy-duty spray paints.
Suber's process begins by viewing the world around him through an anthropological lens. A conversation or a song will raise a question for him. He heads to his studio and pours through his books. His quest for stories from the distant and recent past and principles from other disciplines sets the foundation for his visions. As the conceptual phase continues, he considers how his personal experiences shape the piece.
"I realized that in most situations in my life, from my education to now, I've constantly been the Other," Suber shares. He holds a BFA from the University of Houston and currently teaches Studio Art and Art History at The Kinkaid School. One can easily relegate his work to speak to one specific culture. However, his experience as 'other' merges with his talent to produce work that transcends race, culture, and generation.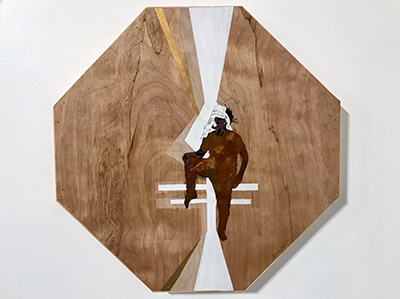 Ritual Redux, his 2017 exhibition at Cindy Lisica Gallery, is his most personal. The collection explores the micro-aggressions that African Americans and people of color experience daily: Intentional or unintentional verbal, nonverbal, and environmental slights and insults that communicate hostile or derogatory messages.
A piece from Ritual Redux, made with oxidized metal called the Griot Gospel Mask, combines the antiquity of an excavated relic with modern technology. "I wanted it to be interactive. It drew upon my love for science fiction, technology, and anthropology. It speaks to society and what is an everyday experience for people of color."
He worked with a programmer at The Kinkaid School to install a series of lights to dance and blink from the inside. The mask, rich with hues of burnt amber and deep reds, is wearable sculpture intended to be worn in micro-aggressive situations. Suber says, "The hard wiring of the mask is akin to the human spirit. Human beings are complex, and I think that the Griot Gospel Mask is an appropriate piece to reflect the nature of the human soul."
He teamed up with anthropologist/filmmaker Marlon Hall and choreographer/dancer Harrison Guy for an accompanying film installation. Quite ironically, during the shoot, an older passerby (who happened to be Caucasian) peppered them with questions around the legitimacy of their project and threatened to have them kicked out of a space in which they had permission to shoot.
Ever the student of culture, Suber's painting, Revolve, investigates ways in which we relate to gun ownership and the results of possessing firearms. Using acrylic, oxidized metals, graphite and metallic ink on Masonite, he explores the violent impact, messaging and intentions of using guns. Pole-like shapes surround a human silhouette, illustrating the trajectory of bullets moving through the body. Just beyond the figure is an autopsy report. "As I researched, I discovered that wealthy people have a different perspective on guns than do those from poorer neighborhoods. The social stigma is different in each sphere."
There aren't any 2018 solo exhibitions scheduled, yet Suber's calendar is full. He is collaborating again with Harrison Guy, designing and fabricating a wearable sculpture for 12 MINUTES MAX! at DiverseWorks. Simultaneously, he's working with his contemporary, Nathaniel Donnett, to install a news rack for What's the New News, a literary project commissioned by Project Row Houses.
Suber's resolve to nudge our culture to cultivate empathy is ever-present. His academic fluency, craft mastery and consideration for the human experience engage new thought. Hollywood is just catching up; Suber is already in a compassionate future, beckoning to us.
—DANIELLE FANFAIR