Erick Swenson, Ne Plus Ultra, 2010, acrylic on resin, MDF Edition of 2 5 x 72 x 54 inches.
Image courtesy the artist and Talley Dunn Gallery.
Photos by Kevin Todora.
---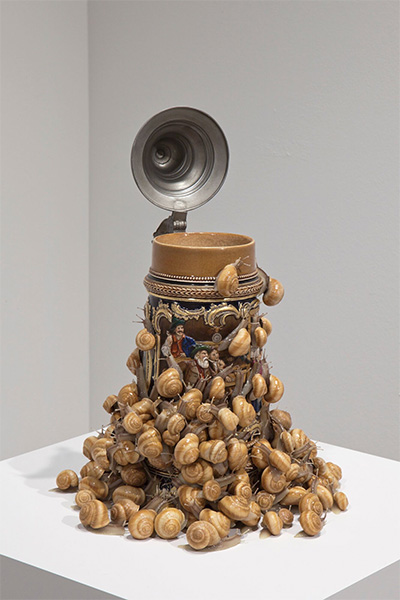 As every gardener should know, snails love beer so much they will crawl up the side of a stein, get drunk, fall in and drown.  Erick Swenson depicts that scene of self destruction in his 2014 sculpture Kleine Schwärmerei, which is on display through July 29 as part of the Dallas artist's first solo museum exhibition. The mid-career survey Abstruction at the Honolulu Museum of Art features 11 of Swenson's narrative works, most of them daring the viewer to look away from his exacting portrayals of creatures in death or distress — or to stare and imagine how the dramas unfolded — be it the rotting carcass of a fallen deer etched with scrimshaw-like maps that may represent its wandering while alive in Ne Plus Ultra, a desiccated shark with crystals growing on its skin in Present in the Past (commissioned for the exhibition) or a human skull sliced open to reveal a crystal formation in I Am What I Isn't.
"I like making challenging and complicated pieces: engineered objects that take on philosophy and the human condition," Swenson says in an interview at his studio in the Cedars neighborhood south of downtown as the soundtrack from the recent Blade Runner remake plays in the background. "Something you can think about — that's what makes a good piece of art. A great piece emotes. It controls the room. It vibrates and sings."
The 46-year-old's penchant for storytelling comes not from a fine-art movement or period but from movies of a certain time and genre. As a kid growing up in the 1970s, he was obsessed with the special effects produced by pioneering makeup artists like Tom Savini (Dawn of the Dead), Dick Smith (The Exorcist) and Rick Baker (the Jessica Lange version of King Kong). He collected latex Halloween masks, which he never wore. Instead, he hung them in his room like art. "Some of them were very elaborate," he says.
Swenson's elaborate, handmade pieces are created using urethane resin and acrylic paint, a time-consuming process. He's not prolific. At the moment, his studio is devoid. He's in what he calls his "mind office." "You're lucky if you have a good idea," he says. "Ideas come from the primordial ooze. Things bump into each other. You put it on land and see if it lives." Critics have compared his work to Bavarian fairy tales, and he's been labeled a Debbie Downer for his focus on death. But there's wonderment, too, "revulsion but also beauty," he says. "You're an anxious person, so you should do work that makes you more anxious. Some people make art because it's cathartic and makes them feel good. For me, it's tortuous. It's a wrestling match, and you're in it. But if you're successful making an object, it's no longer about you and that's addicting."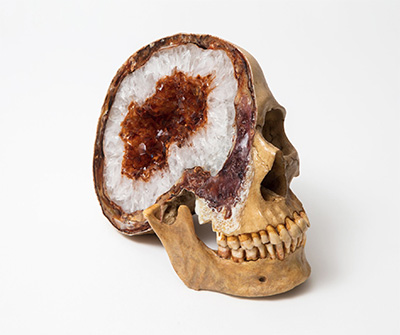 The son of an Army colonel who fought in the Korean War, Swenson moved around a lot, finally landing in El Paso for junior high and high school, then followed his older brother James to Denton for college. While taking his time earning a BFA at the University of North Texas (he was enrolled from 1990 to 1999, pondering becoming a jewelry designer), his art career started to take off. By 1996, he was a member of Denton's legendary Good/Bad Art Collective and began showing work at the group's performance-oriented happenings. Good/Bad had a relationship with Dallas' Angstrom Gallery, where Swenson had his first major solo exhibition in 1998. He remembers there were live bands and snow machines. "I knew I wanted to make things, but I was a terrible painter," he says.
One of his three pieces in the Angstrom show was bought by the Dallas Museum of Art, and later Swenson won a spot in the 2004 Whitney Biennial. The current Honolulu exhibit includes his piece from the collection of the Modern Art Museum of Fort Worth, Untitled, which depicts a fawn or dog-like animal about to be carried away by a red-and-black cape attached to its tail, and Scuttle, in which a large sea snail is cracking through its own shell. Scuttle, Ne Plus Ultra and another version of his snail-death-by-beer piece, Schwärmerei, provided courtesy of the artist and his Dallas representative Talley Dunn Gallery, were also part of Swenson's Sightings show at Nasher Sculpture Center in 2012. He was the first North Texas artist to be displayed among the center's Picassos and Giacommetis. With its dozens of snails climbing toward their end, Schwärmerei can currently be seen at Talley Dunn. Look down the mouth of its stein and you will find no beer. Instead, there's just an endless black void.
"The arrogance of making objects is profound," Swenson says. "'You should spend your valuable time looking at what I've made.' And yet it's a great feeling to know that you have entertained somebody for 20 or 30 seconds, and it was worth that entire year of headaches. I can't figure out any other reason to do it. It's a compulsion."
-MANUEL MENDOZA