Stephan Wolfert in CRY HAVOC, directed by Eric Tucker. BEDLAM production NYC.
Photo by Ashley Garrett. 4th Wall Theatre Co. presents Cry Havoc June 6-18 at Studio 101 at Spring Street Studios.
---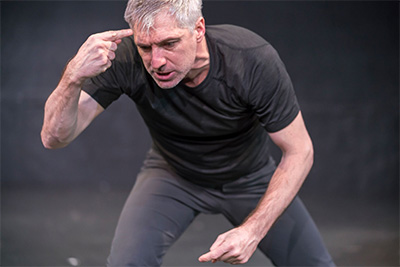 Can performing Shakespeare become a form of therapy that allows actor and audience to find and help heal psychological injuries? Actor Stephan Wolfert has devoted decades and even his mental health to advocating for this idea. A member of New York's acclaimed Bedlam Theater company, Wolfert first met Houston audiences last year when 4th Wall Theatre brought Bedlam to town to perform their stripped-down, glorious Saint Joan as part of 4th Wall's 2016-2017 season.
The production received Texas raves, but Wolfert, not one to just rest on a night off, offered to give two additional performances of a very personal play of his own. With 4th Wall again presenting, Wolfert took to the Studio 101 stage to perform Cry Havoc, a one-man autobiographical show that merges veterans' stories with the words of Shakespeare.  
Kim Tobin-Lehl and Philip Lehl, 4th Wall's co-artistic directors, were so inspired by the piece that they decided to bring Wolfert back for an extended two week run (June 7-18), but they also asked he bring his expertise in working with veterans so that 4th Wall might learn to do the same.
Wolfert first encountered the power of Shakespeare to give words to his own feelings and experiences back in the 1990s when he was in the army and having doubts about remaining. Viewing a production of Richard III changed the trajectory of his life. "I saw that play and thought: that's exactly how I feel, holy shit," he said.
The initial idea for a performance piece using Shakespeare to help process his military experience came to him early on after he left the army and started studying Shakespeare and acting. However, Wolfert didn't begin the major work on the project that would become Cry Havoc! until about six years ago. At the time, he and his wife ran the Veterans Center for the Performing Arts in Los Angeles, but they had lost their space. Also laid out with a back injury, he decided it was time to start digging into his own psyche.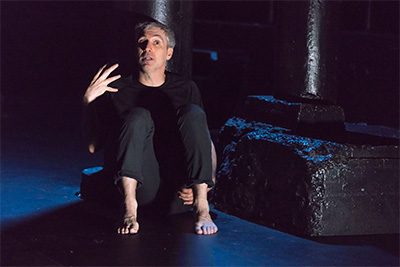 "It really started like a piece of therapy," Wolfert explains. "The basic tenet of the play from the beginning was to ask, what the hell is wrong with me? Why do I do the things I do? Why do I drink the way I do? Why do I not go for a jog but run until it hurts? Why was I punishing my body? Cry Havoc! allowed me to do that."
Wolfert wanted to tell his story as a veteran but he also wanted to use Shakespeare to "provide the language" of the feelings and circumstance when words failed him. In its early stages, the piece had no script, relying instead on an outline of how the Shakespeare passages and full soliloquies interwove with his own stories and the stories of other veterans.
Later Wolfert brought in Bedlam artistic director Eric Tucker to help him transform the work from a message piece to a true theatrical performance. "Eric was able to help me take a strong message and turn it into a theatrical event, into a piece of theater that's both a powerful message and hopefully a powerful piece of theater to attend," says Wolfert.
Tucker also helped him map out the story and pare it down, so it could be performed in almost any space, large or small, while also allowing Wolfert to maintain a connection with the audience and a chance to tear down the invisible wall between them.
Wolfert recalls Tucker telling him: "Just you and them. Let's challenge them to see if they can look away, and if we do our job, they won't be able to." Over the years and as Cry Havoc! has evolved, Wolfert has performed it around the country, including last year in Houston, until bringing it back to New York as a full Bedlam production, finally locking in the script, lighting and cues. Yet, the New York run, which he just completed in April, remained focused on actor and audience.
Also during the New York production and the heightened media scrutiny it brought, a certain secret or trick of the show was revealed: the second act calls for audience participation. After intermission the play becomes a kind of talk-back session, though Wolfert admits that talk-backs have a horrible, many times boring, reputation for good reason. But he thought it important that the audience be allowed to also have a voice, a chance to offer their own views on the "Now what?" questions that linger when the script ends.
"It's an opportunity to decompress and to share their own stories. I moderate it heavily. I don't allow it to devolve into politics," explains Wolfert, adding that he continues to weave in Shakespeare even during this second act conversation.
Wolfert will not only be performing this fresh-off Off Broadway version of the show in Houston, Lehl, and Tobin-Lehl have also asked him to offer training to help them begin workshops for local veterans based on his De-cruit program, which introduces classical actor training to military veterans to help them reintegrate back into civilian life.
"The thing I talk about most is how we're wired for war but not unwired from war … and that's regardless of era, regardless of experience, regardless of job and regardless of branch," described Wolfert on the program's core idea, that veterans something need help de-cruiting. While the program involves multiple tiers, it begins with providing a weekly class for veterans where they learn acting techniques, work on personal writing and eventually perform Shakespeare monologues for the group, very much like Wolfert did when creating Cry Havoc!.
"They're there to experience performing because performing activates the body in a not dissimilar way to combat," says Wolfert , who also explains, "It's a loose, fluid room and it's a room based in camaraderie that's steeped in creativity."
It took time for this first part of the De-cruit program to take successful hold in New York, but Wolfert remains ready and willing to help 4th Wall to offer similar outreach, while also hoping Cry Havoc! speaks to veterans and non-veterans alike, as he continues to advocate for the healing power of theater, storytelling and Shakespeare.
—TARRA GAINES