Vincent Falsetta, EK 16-3 (detail), 2016, oil on canvas, 63×50 inches.
Image courtesy the artist and Conduit Gallery.
---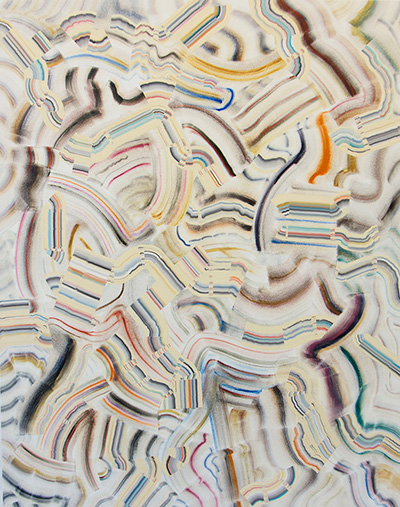 That Vincent Falsetta, a fastidious-but-painterly painter's painter of curiously meticulous gestural abstractions, taught nearly 40 years at the University of North Texas at Denton will likely make New Paintings/Sketches 1997-2007¸ his current solo exhibition, a hit with two or three generations of area painters.  But anyone who delights in the freshness and immediacy of oil sketches should make a beeline for Conduit Gallery, where the show's up through Jan. 6.
There are more than two dozen delicious ones here, joined by five medium-to-large paintings; the twist is that while the small oil sketches are studies for larger works, none here corresponds directly to the much newer, bigger paintings on view. However, the three most recent sketches, from 2007, are the most directly related to the current body of work, now about a decade in development. The birds have spared just enough crumbs to lead viewers along an intriguing path through Falsetta's past 20 years.
The common thread is the artist's process-intensive, painterly exploration of the grid. The patterns underlying each work, along with whatever chromatic and other self-imposed technical restrictions he follows, ultimately determine the final image. In the newest, largest works, the allover composition emerges from tensions between translucent and opaque layers and from Falsetta's technique of repeatedly dragging across discrete, overlapping areas a small brush loaded mostly with creamy white or off-white paint but with several colors—often two complementary colors and one or two neutrals— confined to clusters of bristles. The paint almost looks like it's been combed across its various plots of "territory," if one takes goes with an aerial, topographical reading—or, viewed another way, into wavelike patterns gently colliding as they fan across the canvas.
While the current paintings' squiggly zones pulse in all directions, the movement in earlier oil sketches hues more strictly to the verticality and horizontality of the grid, and the palette is generally darker or more saturated. A few vertical touches of dark, cool colors lay across the loosely stacked bands of gold, red, and gray in IV. Short, delicate horizontal strips of pale or muted color hover together in a squarish formation against a field of dramatic black-and-white smears and scrapes in XI, perhaps my favorite piece in the show. I say "perhaps" because it has plenty of competition; Falsetta's ability to charge an area no larger than 7.5-by-6.5 inches with outsized power is on full display here.
And although, like me, you may initially gravitate towards the inviting intimacy of the oil sketches, studying them does something to the larger, newer works, whose beauty is at first glance more austere due to the quiet palette. You notice things you missed a few minutes before, when you thought you'd moved on.
—DEVON BRITT-DARBY