Clifton Forbis as Tristan in the Dallas Opera production of Richard Wagner's Tristan and Isolde.
Photos by Karen Almond.
---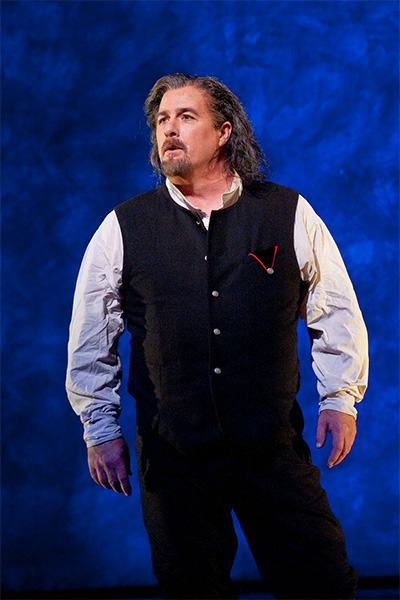 The opera world never has enough heroic tenors.   So companies keep calling on Clifton Forbis, a member of that rare breed, to play a handful of powerhouse roles: Tristan, one of the lovers at the center of Richard Wagner's Tristan and Isolde; Florestan, the political prisoner freed by his wife in Beethoven's Fidelio: Otello, Giuseppe Verdi's version of Shakespeare's gullible warrior; and Samson, the Biblical strongman undone by feminine wiles in Camille Saint-Saens' Samson and Dalila. Each has become familiar territory for him.
"The nice part is that you begin to become comfortable with the character," Forbis says. "You have more insight into the music and the composer, because you're spending so much time with that particular piece."
Forbis, who has been pulling down heathen temples as Samson for more than 15 years, will flex his muscles anew when Saint-Saens' Biblical spectacular opens Dallas Opera's season Oct. 20. The performances will be Forbis' first with the company since Tristan und Isolde in 2012, though Dallas Symphony audiences heard him in 2013 in yet another Wagner role—Siegmund in Act 1 of Die Walküre.
Samson and Dalila, with the vibrant Russian mezzo-soprano Olga Borodina playing the temptress, may appeal to operagoers who want nothing to do with Wagner. The stirring, seductive score climaxes with the Philistine revelers' famous "Bacchanale." But Saint-Saens' music still demands a tenor with heft.
"It's big like Wagner," Forbis says. "It's expansive. The vocal demands are much like Wagner. And the character development…there's time to see (Samson) grow and change."
As the drama unfolds, the Israelite hero goes from warrior to victim of temptation to prisoner propelling the stones of a grist mill—then rises from despair to summon a final burst of strength. For a tenor who portrays him, Forbis says, "there's no easing into Samson."
"He walks out and lets it rip until Dalila walks on," Forbis says. "Then we see Samson's insecurity, the frailty of his strength. …In Act 3, when (the role) moves to the darker, more introspective, heavier side, he begins to examine himself, and see himself as the failure that he has been. I think that's the most poignant section of the opera, that scene in the grist mill.
"I always think of the pushing of that grist mill as a physical analogy for how life sometimes feels. We continue to push and push, without getting anywhere, perhaps because our focus is on the wrong things. It's in that trudging that the individual discovers who they are inside. The layers are stripped away, and the intended man appears." That's certainly true for Samson, who ultimately crushes the Israelites' oppressors.
"Everything is a journey," Forbis says. That applies to his own path as a singer. Like many heroic tenors, Forbis started out thinking he was a baritone. "As a baritone, I had high notes," he said with a laugh. "But when you're young, you're kind of afraid of that sound. … Enough people tell you that you're really a tenor, and you try it. You go down that road. And it becomes a matter of, 'I've got to figure this out.' So I think tenacity figures into it—stubbornness, to a certain degree. When you're young and making those sounds, it can potentially be dangerous. So you have to give it the time the voice needs and the body needs to mature."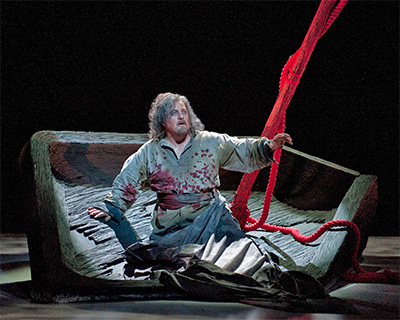 When the Tennessee native finished his master's degree from Southern Methodist University in 1990, he had found his way. But Forbis still had to build up to the roles he now plays—which demand not only vocal command but physical stamina. After all, Wagner performances can clock in at five hours or more.
"You certainly don't just start out singing Tristan," he says. "You start with smaller roles. Then the next role that you agree to, you look at it and you think, 'Oh my God, this is enormous!' As you continue singing, your endurance builds up. When you progress down the road and look back, that role you thought was so big and monumental seems like a toss-off. Your points of reference change. It's a very gradual growth through 25 years."
Mastering hard-to-cast roles gives a singer a persuasive calling card. Forbis has played Samson with companies from San Diego Opera to New York's Metropolitan Opera to Russia's Mariinsky Theatre—the latter two with Borodina and Dallas Opera music director Emmanuel Villaume, who will conduct this time. But being identified with a few parts is "a double-edged sword," Forbis says.
"Yeah, it's great to be on a short list and be known for something… The downside is, you miss new music sometimes. You hear things, and you go, 'Oh, I'd love to do that.' But you have the next three years blocked out with the things you're known for."
Forbis devotes another slice of his time to his students at SMU. Since returning to the campus in 2011 as the Meadows School of Music's chair of voice, he has helped guide budding singers on their own journeys of discovering their voices.
"The hard thing about all this is, it's an instrument that you don't see," Forbis says. "It's something internal. To coordinate the unseen is always more difficult. So it takes time to develop that. Oftentimes, we're asking for two or three bodily functions—like the breathing mechanism and phonation—to work harmoniously but independently. That's sometimes very hard to achieve."
"Always, the first rule is, do no harm. We as teachers want to help them with a correctly produced sound that's going to serve them for the rest of their lives. So you have to be careful not to impose what works for you on someone else. … Because each individual voice is unique."
—STEVEN BROWN