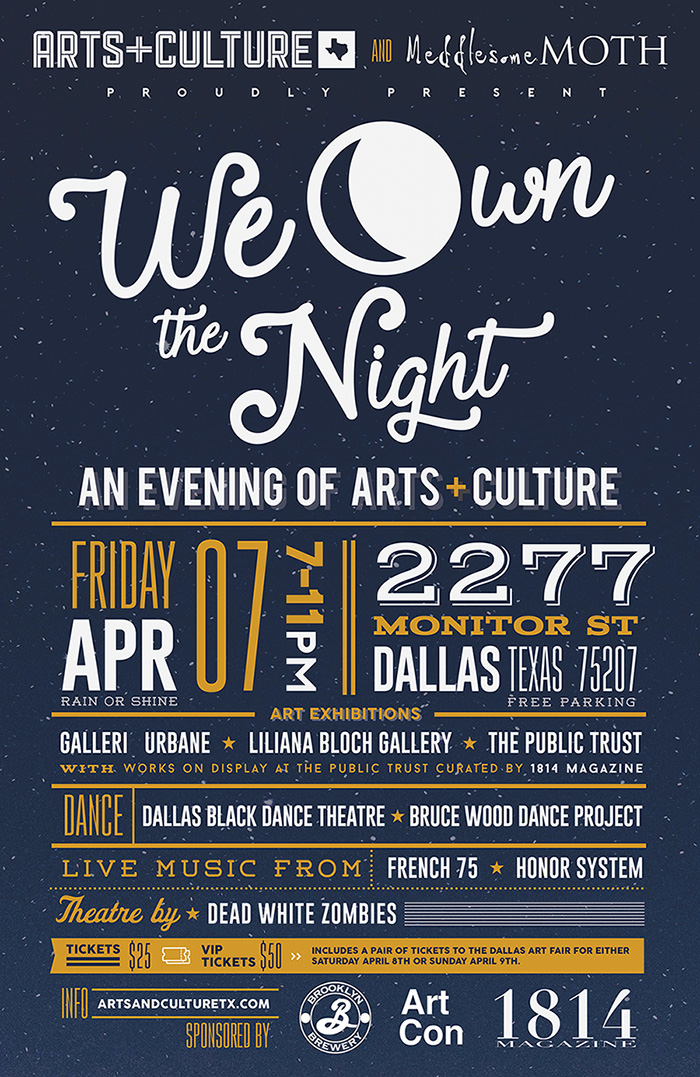 Arts+Culture Texas and Meddlesome Moth present: We Own the Night
Dallas, TX: We're excited to announce the date for We Own the Night, an evening highlighting the visual and performing arts in North Texas.
Presented by: Arts+Culture Texas magazine and Meddlesome Moth with additional sponsors, Art Con, 1814 Magazine and Brooklyn Brewery.
This open-air event/block party takes place at 2277 Monitor St. on Friday, April 7 from 7-11pm and includes exhibitions from resident galleries: Galleri Urbane, Liliana Bloch Gallery and The Public Trust, which will exhibit works curated by 1814 Magazine.
Musical guests include French 75 and HONOR SYSTEM
Performances from Dallas Black Dance Theatre, Bruce Wood Dance Project and live theater by Dead White Zombies.
Food and beverage provided by Meddlesome Moth and Brooklyn Brewery.
$25 tickets for the event
$50 VIP tickets (include a pair of tickets to the Dallas Art Fair for either Saturday, April 8 or Sunday April 9.)
Free parking is available on site of the event.
Questions?
Email Arts+Culture Texas publisher, Ken Villalovos at Ken@artsandculturetx.com
About Arts+Culture Texas: Arts+Culture Texas is a state-wide magazine with a focus on the contemporary visual and performing arts and their affect on life and lives in Texas. Editorial content in the print publication and online includes feature articles, artist interviews, reviews, think pieces and more. artsandculturetx.com
About Meddlesome Moth: A great bar with great food. The Meddlesome Moth is located in Dallas' Trinity Design District, on Oak Lawn at Hi-Line. We have a full bar and the city's best beer menu featuring 40 draught beers, two live ales and more than 85 bottles to help us round out our selection. Chances are if you've seen it in a commercial, we don't serve it. www.mothinthe.net