---
IMAGE ABOVE: Nermine Hammam, From the Wetiko series (2013-2014). The Desert Caravan by Edmund Berninger (19th Century). Mixed Media 27.56 x 39.37 inches Courtesy of the artist and Rose Issa Projects, London.
---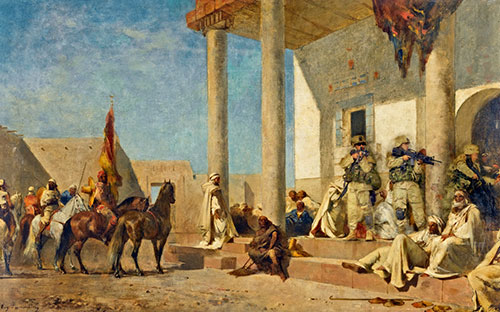 In 2012, the BBC covered the Houla Massacre in Syria but mistakenly used a photograph taken in Iraq nearly a decade earlier. Perhaps more alarming is the sheer interchangeability of victim imagery. Either by political will or sheer negligence, images with stripped or repurposed contexts alter the stories that become recorded as history—influencing popular perception and political action.
Wetiko: Cowboys and Indigenes, an exhibition from artist Nermine Hammam at Houston Center for Photography, highlights this phenomenon of historical revision and manipulation by injecting contemporary images from the Arab Spring and Middle Eastern conflicts into 19th century paintings from artist-correspondents of the American Frontier and the Middle East.
Hammam digitally inserts figures clipped from news coverage, and takes care to make the figures appear painted on the surface of the image, adopting the palette of the original painter. It would be easy for a casual glance to miss the altered imagery; the collaged photos are executed in a manner that is very painterly. Marines in flak jackets raid an 1860s Caliph's house; young boys loot computer supplies during an Old West shoot-out.
By juxtaposing images from the two eras, Hammam draws a parallel between the artist-correspondents of our colonial past and the photo-journalists of today. Regardless of the image-maker's intent, the underlying message can always be shaped by whoever controls the context. It was by no accident that curator Madeline Yale Preston presented this exhibition along with NEWSROOM, an exhibition of photojournalists in the Arab World.
A symptom of journalistic negligence, or perhaps the work of spin doctors with an agenda, this visual malapropism and its colonial overtones is drawn into sharp focus by Hammam. While the level of absurdity in Wetiko yields a lighter tone, the implication remains grave for not only journalism, but for the passivity we adopt as consumers of news and imagery.
—GEOFF SMITH
---
Wetiko: Cowboys and Indigenes
Houston Center for Photography
Through May 4