Above: A view of the geodesic event dome that will house Horse Head Theatre's production of The Whale or Moby Dick, July 29 – Aug. 15 at the Buffalo Bayou Partnership Silos.
Photo courtesy of Brooks Cruzen of Blueprint Creative.
Below: Philip Hays in The Whale or Moby Dick. Photos by Logan Sebastian Beck.
---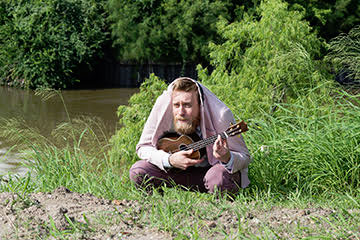 A life-long obsession may begin very dramatically, say with a legendary white whale biting off one's leg, but it can also begin quietly, perhaps with the opening of an illustrated children's book version of an American classic. The first example of an obsession born belongs, of course, to Captain Ahab, who led a ship full of men to their deaths in his quest to kill the great Moby Dick. But Houston actor and playwright Philip Hays along with playwright Timothy N. Evers, lay claim to this second origin story of an obsession with Moby Dick, the novel by Herman Melville. Now Hays, like Ahab, has lured a whole crew of creative characters into an immense, though decidedly less deadly, undertaking to bring a one-man version of the tale to theatrical life.
When Hays and Jacey Little, Horse Head Theatre Artistic Director and the director of The Whale or Moby Dick, July 29 – Aug. 15 at the Buffalo Bayou Partnership Silos, first began to discuss collaborating on a new project for the company, the great whale was one of the first ideas that came to mind for Hays.
"I always thought, wouldn't it be cool to take one of my favorite books, which is Moby Dick obviously, something so seemly impossible to translate to a live performance, and what if I found a way to do this," Hays explained to me in a recent interview.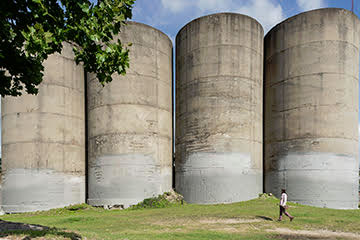 Early on in his conversations with Little came the idea of placing the Moby Dick story inside a "Book of Jonah" frame with some Adventures of Pinocchio flourishes added for good measure.
In The Whale, hapless actor "Philip," hired to entertain on a Galveston party boat, gets thrown overboard during a storm and swallowed by a giant whale.
What makes this version of Moby Dick so different from other past attempts to bring the story to stage is the solo performer aspect and the fact that the whale will be played by 44 x 22 ft tall, air conditioned, geodesic event dome. The audience and Philip, the character, will all be inside the whale's stomach, and that whale has his own agenda, one far weirder than simply digestion.
"For whatever reason, this whale wants this story told," Hays explained. "He wants to hear this story, [Moby Dick]. So he's swallowing all the pieces he needs. Everything I need to tell the story is already in his belly and the last two things he needed was a performer and an audience. That's where I and our audience came from. So we're all in it together."
This solidarity must pervade the backstage (back dome?) crew as well, because the level of technical artistry involved in building this theatrical ship is particularly complex. Material resembling bits of a destroyed party boat will act as a stage within the dome, which itself will be an overarching screen for video projections throughout the performance.
Hays plays actor "Philip," who is then coerced by his cetacean captor to also play several characters from Moby Dick, including Ishmael, Starbuck, and Ahab, sometimes in the same scene. Instead of moving side to side to change characters, Hays's acting partner will a recorded version of himself.
When I commented on the technical prowess obviously needed to put this show together, Hays assured me that's what Horse Head has always done.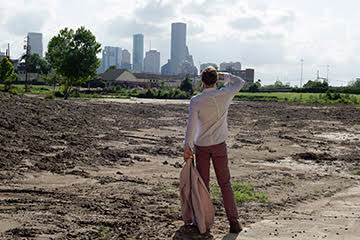 "Since it's start, Horse Head has never shied away from making technical elements big and important and giving them as much weight as performers. It was founded by people with strong footing in the technical theater world."
Unlike any other actor in history, "Philip" hopes that his performance will produce a vomitous reaction from his gluttonous patron. He hopes his rendition of Moby Dick is worthy of the whale spewing him and the audience out back into the world. The whale becomes both listener and critic, and like in Moby Dick the novel, perhaps a force greater than he appears.
"We definitely don't put any labels on anything," Hays describes, "but in this space the whale is kind of god and Philip is a little bit of a Jonah. He's a little bit of Ishmael and a little bit of Pinocchio too. He's been told what to do, but he's not being controlled. He's finding his own way."
Hays won't spoil the ending, but does say the play's resolution is rather cyclical and perhaps reflects his own relationship with Moby Dick, the novel. From a child reading that age-appropriate illustrated version, to the adult who treats the text as something almost sacred, Hays's obsession has only grown deeper. And while The Whale will give Houston's audiences a salty taste of the text and several of its characters, for Hays, this might not be his last whale song.
"I'm not done with this story. There's still so much more in that book. I'm never done with it. How could I be, until I do it all?"
—TARRA GAINES