Jacques Gerard Colimon in Bright Now Beyond by Daniel Alexander Jones and Bobby Halvorson at Salvage Vanguard. Photo by Erica Nix.
---
A + C Writers Look Back at 2014 and Ahead to 2015
As 2014 winds to a close on Texas stages, we asked our writers to consider their favorite performance, and tell us what they are most looking forward to in 2015.
[hr]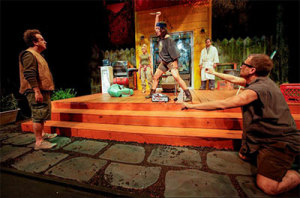 Sometimes, as a writer, it can be easy forget how absolutely fun the theater can be, too often getting bogged down with criticism and the overall seriousness of it all. Fortunately, Dallas's own Matt Lyle exists, injecting a sense of stand-up comedy into the theater, and Kitchen Dog Theater's world premiere of his play Barbecue Apocalypse during this year's New Works Festival, was exactly that; pure, unadulterated comedy, and one of the best shows to grace Dallas stages this past year. Looking ahead to 2015, Undermain's production of Annie Baker's The Flick makes the list for obvious reasons. The Pulitzer-prize winning play made waves when it premiered at Playwrights Horizons last year. The three-hour long play about the conversation between movie ushers doesn't sound like a recipe for success, but it solidified Baker's reputation as one of the country's best young playwrights. This January, Undermain stages the play's regional premiere, and Dallas audiences once again have the opportunity to see Baker's insightful and moving dialogue performed by professional actors.
—Jennifer Smart
[hr]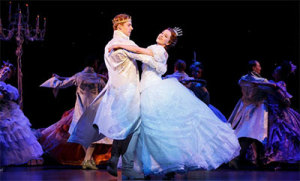 Stages Repertory Theatre's production of Sexy Laundry was a standout of the 2014 season, a story of the real and romantic everyday care needed for love over time. Josh Morrison and Susan Koozin gave beautifully dimensioned performances, and the piece was mature, witty, and wonderful. For 2015, I'm truly excited for the TUTS presentation of Rogers and Hammerstein's Cinderella, May 26-June 7, an old-fashioned musical with songs I've loved for ages. I'm thrilled that it's been brought from its television beginning to the stage.
— Holly Beretto
[hr]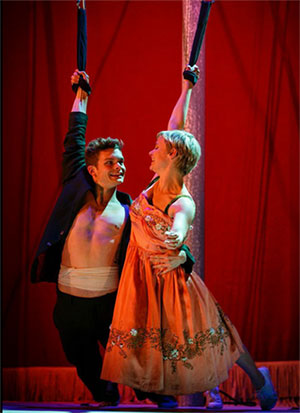 As a Houston arts writer, I'm committing heresy and choosing The Method Gun (presented by The University of Texas Dept. of Theatre and Dance),the original work by Austin's Rude Mechanicals, as the play that continues to dodge swinging stage lights in my mind. What could have been an overly insider piece about acting and acting gurus, instead was a kind of hilarious meditation on how teachers can both inspire, while taking us to the brink of insanity, and how our created families can nurture, while pushing us past that brink, just as much as biological families. I will never look at balloon bouquets that same way again. This winter, I'm already ready for spring—and the Alley Theatre—to bring Britain's innovated Kneehigh theatre company to Houston, April 29 – May 24, for their re-imagining of the Celtic Tristan & Yseult legend. I predict the love inspired music and mayhem will be spectacular spectacle.
—Tarra Gaines
[hr]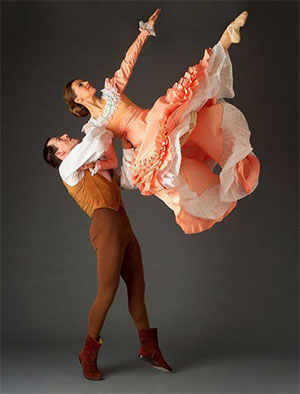 The highlight of my dance year is without question having the opportunity to watch the Martha Graham Dance Company perform Appalachian Spring on the grand stage of the University of Texas at Austin's Bass Concert Hall, presented by Texas Performing Arts. The performance affirmed my belief that modern dance has the power to say important things, and say them in a language that's as relevant as it is beautiful. Spring isn't a historical artifact; it's a living, breathing force of today. This was my first time venturing to Austin for a dance experience, and I look forward to more road trip excursions in 2015. But for the time being, I'm excited for what my hometown of Houston has in store, namely Stanton Welch's refashioning of Romeo and Juliet in February at Houston Ballet.
— Adam Castaneda
[hr]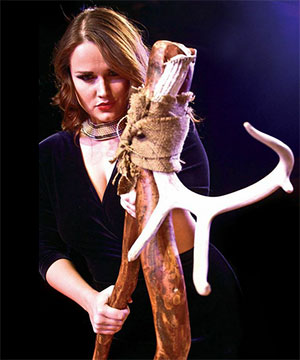 As the big-screen Into the Woods with all those big stars approaches Christmas Day, I still remember the small production by Main Street Theater in Houston. It and its cast taught me to see this show in a fresh, wondrous light. As for the new year, I can't wait to see my favorite Mimi of them all, HGO studio alum Ana Maria Martinez, in the La Boheme put on by the reborn Dallas Opera, March 13-29.
—John DeMers
[hr]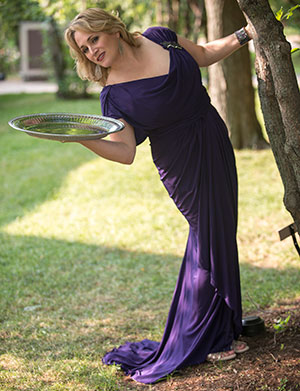 It was so cool to pair early music with the hip coffee shop programing: Part of Ars Lyrica's 2014 season dedication to Bach, with Bach & Sons at the Cafe. I loved hearing up-and-coming opera singers, soprano Lauren Snouffer, mezzo-soprano Sarah Mesko, tenor Zachary Averyt, and baritone Mark Diamond. I am really looking forward to everything at the Tobin Center in San Antonio, particularly San Antonio Symphony's Strauss Festival, because he is one of my favorite composers and rarely do I get to hear his works live.
— Shannon Langman
[hr]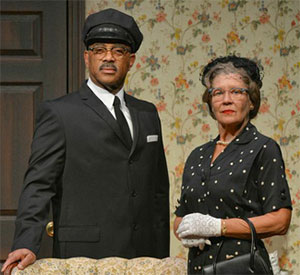 Dallas Theater Center's production of Driving Miss Daisy gave new warmth and perspective to an aging story. Annalee Jefferies gave a masterful, nuanced performance; she actually seemed to age right before the audiences' eyes. You usually can't go wrong seeing a show at Jubilee Theatre in Fort Worth. This spring they are mounting a Texas revival of the 70's all-musical revue Don't Bother Me, I Can Cope, which I have high hopes they will do great justice — they have the talent and drive to really do it right.
— Scot C. Hart.
[hr]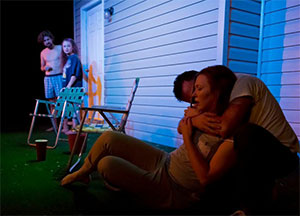 Catastrophic Theatre's production of Lisa D'amour's Detroit was a somewhat disturbing look at the suburban ideal. Director Troy Schultz and four of the finest actors working in Houston right now made me laugh, sigh and wriggle uncomfortably in my seat — it hit close to home. I am excited for a lot of productions coming in 2015, but I cannot wait for BooTown's next Benshi show! If you've never been, the group takes a cult-classic film, recuts it and live acts the dialogue. The results are always thought provoking, out of left field and totally hilarious.
— Abby Koenig
[hr]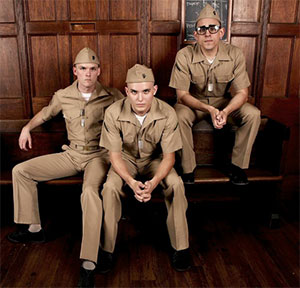 WaterTower Theatre's production of Pasek and Paul's Dogfight got the musical's tone—jittery, melancholic, hopeful—exactly right. Though the entire cast was strong, Juliette Talley anchored everything as Rose, the sweet, plump waitress who takes a chance on cocky (and sometimes cruel) Marine Eddie the night before he ships out in 1963. It was an achingly beautiful production with just enough edge to stave off any syrupy melodrama. I can't wait for Mr. Burns, a post-electric play at Stage West in August. This weird, little dark comedy uses the pop culture pervasiveness of The Simpsons to challenge our notions of live theater and storytelling, as a group of survivors band together to try and recall the "Cape Feare" episode following a global catastrophe.
— Lindsey Wilson
[hr]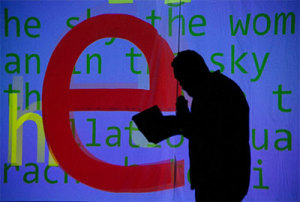 Efrain Velasco performed an experiment in reading, translation, and interpretation this past February as part of Encuentro: Antena @ Blaffer. Without letting Antena know the poem beforehand, Velasco presented an intense reading backed by the fervent interpretations of Pluecker and Hofer that had the audience mesmerized. I'm most interested to see how Los Outsiders curates a night of performances by artists Autumn Knight, Claire Ashley, and Color Condition while tying them into the Emma S. Barrientos Mexican American Cultural Center's exhibition Gently Fried, presented in Austin in conjunction with Fusebox Festival.
— Michael McFadden
[hr]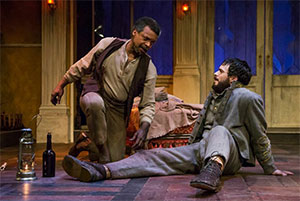 The Whipping Man by Matthew Lopez at Stages Repertory Theatre is my top pick for 2014: a well-produced, excellent new play. For 2015, I'm looking forward to BooTown's season. BooTown's work is daring and fresh and they are forever evolving, with new venues and storytelling modes – for instance, they upped the ante on their last shadow puppet show, Projectorphiles, by incorporating a live original score. I expect them to continue developing this series in new and exciting ways in 2015.
— Jacey Little
[hr]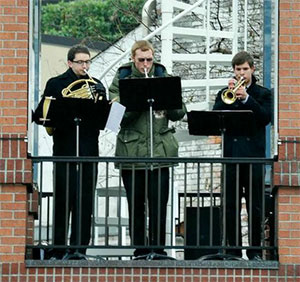 Jo Ann Fleischhauer's What Time Is It?  installed on the Market Square Clock Tower, and the collaboration with Musiqa for lunchtime concerts, delighted me with both the visuals and the sounds (which came from surprising directions). It's hard to pinpoint a single thing I'm looking forward to in 2015, but the one place I always check is The Dance Card at Dance Source Houston for the latest excitement from Houston dance companies.
— Neil Ellis Orts
[hr]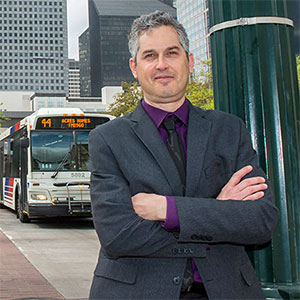 I loved Houston Chamber Choir's The Splendor of Venice. Accompanied by Canadian early music ensemble ¡Sacabuche!,the angelic voices of the choir filled the cavernous Co-Cathedral of the Sacred Heart. I'm looking forward to Ulysses, Home, a new chamber opera by composer Anthony Brandt, presented by Houston's new music mavericks, Musiqa. The new opera promises an intimate and up-close look at the family life of a returning war veteran.
— Misha Penton
[hr]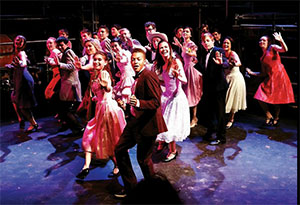 Summer Stock Austin's production of Footloose delighted me more than I ever could have anticipated (especially given that I'd never seen the movie and am not that big on musicals). SSA provides high school and college students with free professional training in musical theater, and their shows are incredibly well done. I can't wait to see what Whirligig Productions does with their upcoming show, Deus Ex Machina,  Jan. 3-18, which takes the Greek tragedies of the Orestia and turns them into a choose-your-own adventure story where the audience uses digital technology to control the narrative (for a whopping total of 12,288 possible variations).
— Cate Blouke
[hr]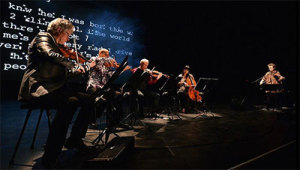 I enjoyed seeing Laurie Anderson's Landfall with Kronos through Texas Performing Arts in Austin. She's such an innovative and insightful performer. I really am looking forward to see the Lonestar Explosion (the Performance Art Biennial) and the experimental art performed at the Mitchell Center's next CounterCurrent Festival.
— Veronica Salinas
[hr]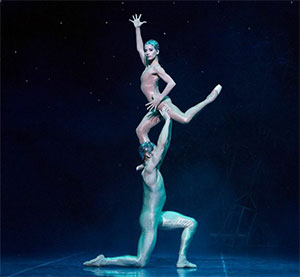 Houston Ballet's September 2014 production of John Neumeier's A Midsummer Night's Dream marked the first time the ballet was performed by an American company. This was the best ballet version of Shakespeare's iconic play I've seen yet, with sets and costumes that contrasted a fantastical dream world with traditional court scenes, and choreography that mixed classical ballet vocabulary with modern elements. Dancer Charles-Louis Yoshiyama was a true highlight as the conniving Oberon. In February 2015, Houston Ballet will premiere a new production of Romeo and Juliet by Artistic Director Stanton Welch. This version will mark Houston Ballet's first new production of the ballet in 28 years, giving a fresh take on a time-honored classic, with brand new sets and costumes designed by renowned Italian designer Roberta Guidi di Bagno.
— Claire Christine Spera
[hr]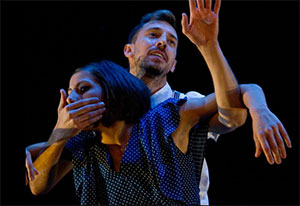 With its evocation of death and the accompanying grief, Bruce Wood's early work Home (1997) was a fitting farewell to the Fort Worth choreographer, who died just two weeks before his company's summer shows. Dressed in white, members of the Bruce Wood Dance Project took turns gently embracing, lifting and passing one another until the effect was hypnotic. I'm always ready to see what Joshua L. Peugh is up to. The next chance to catch Peugh's sly, wry approach comes when his troupe, Dark Circles Contemporary Dance, performs its winter shows Jan. 29-31 at the Sanders Theatre in Fort Worth.
— Manuel Mendoza
[hr]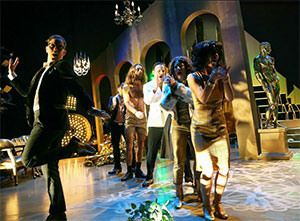 Houston Symphony's performance of Mahler's Eight Symphony, also known as Symphony for a Thousand, conducted by Former Music Director Christoph Eschenbach, felt monumentally bucket listable, so, of course, it's on this list. It was the most spectacular music I have ever experienced. After The Method Gun has continued to mess with my head (thank you Rude Mechs), I can't wait to bomb up I-45 to Dallas to see Rude Mechs' Stop Hitting Yourself, as part of AT&T Performing Arts Center's Off Broadway on Flora series.
— Nancy Wozny
[hr]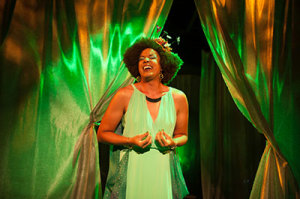 My favorite show of 2014 was Bright Now Beyond by Daniel Alexander Jones and Bobby Halvorson at Salvage Vanguard. This new musical adaptation of the second book in the Wizard of Oz trilogy had a great cast, fresh staging, and a surprisingly contemporary message. In 2015, I am most looking forward to the Fusebox Festival, as it always introduces audiences to unique artists and unexpected perspectives.
—Claire Canavan
[hr]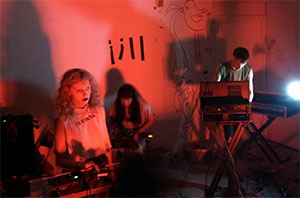 Austin based duo Street Sects debuted this year after a long period of refining their sound and played their second show ever in Dallas at WARE:WOLF:HAUS. Their live show is minimal but impactful as they utilize intense heavy strobe lights and club quality fog machines to completely disorient the audience while heavy industrial music pours from the speakers. Another band that debuted this year is Dallas- based iill, who is steadily synchronizing and gearing up to become one of the premiere Dallas bands in 2015.
— Arthur Peña
[hr]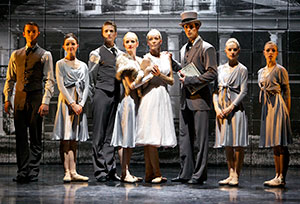 I really enjoyed Dance Salad this year, particularly Sidi Larbi Cherkaoui, Embrace; the Contemporary Kung Fu piece, and Royal Ballet's Sylvia pas, Cygne…. actually the whole evening was pretty awesome. I'm looking forward to the Scottish Ballet's A Street Car Named Desire, presented by Arts San Antonio with Tobin Center for the Performing Arts, May 12, and in Houston through Society for the Performing Arts, May 15. It's the theater-lover in me.
— Nichelle Suzanne