IMAGE ABOVE: Karina Gonzalez and Connor Walsh in the Houston Ballet production of Jorma Elo's ONE/end/One. Photo by Amitava Sarkar.
---
Houston Ballet Presents Works by Liang, Elo and Welch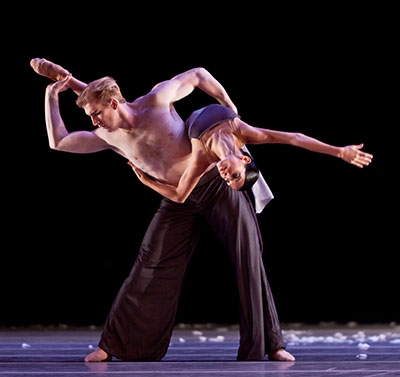 Houston Ballet's From Houston to the World, Sept. 18-28, offers three ballets created right here in the Bayou City, but there's much more to the program than that fact. With works by Jorma Elo and Edvaard Liang, along with Stanton Welch's version of Paquita, it's a chance to catch up with three important mid-career choreographers, all in one evening.
It took me a while to completely warm up to Elo's eccentric vocabulary. After seeing his signature Brake the Eyes performed by Boston Ballet, I was immediately drawn to the Fellini-esque flavor of the ballet. It was equal parts weird and wonderful.  After watching the Aspen Santa Fe Ballet perform his works, I became an Elo-maniac. The company has been performing his works before he was an international phenomenon, so obviously they have an affinity for his style. Turns out, so did the dancers of Houston Ballet, who are used to Welch's quirky flourishes in his contemporary ballets.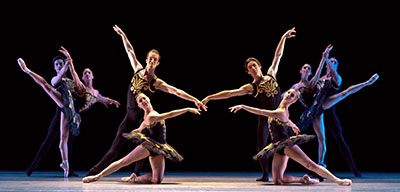 There's no predictable ground in an Elo landscape, and One/end/One doesn't disappoint in the surprise category. "I didn't see that coming," read Karina Gonzalez's body language, when she suddenly tipped upside down during Elo's frisky ballet. Elo's swerving, air-candy dives come out of nowhere, making it a blink and you miss experience. "Dancing Jorma is like entering another world," said Gonzalez, in a Dance Magazine interview. "One movement will be so soft, then the next sharp, followed by some hip hop steps. I had to work hard to get it right."
Elo trained at the Finnish National Ballet and the Kirov School, and danced with the Finish National Ballet and Culberg Ballet before joining the Netherlands Dance Theater in 1990. He remains strongly connected to his life as a dancer, still demonstrating full out. "Movement comes directly from my body; Dancers are really my inspiration and all that the human body is capable of," Elo told me when he was setting One/end/ONE.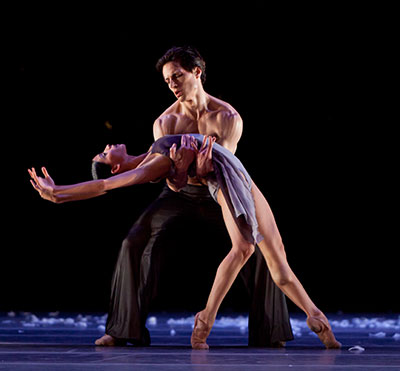 "Hope is a thing with feathers," Emily Dickinson famously declared, it's also a ballet created for Houston Ballet called Murmuration by Liang, the artistic director of BalletMET. Liang's lyrical language shares the same refined beauty as Elo, but creates a whole different experience for the viewer and the dancer. Flow is ever important, so much so, the boundary between one movement and another doesn't exist. Liang creates an energy vortex that the dancers get caught up in. It's as if he is orchestrating the weather on stage. Liang is particularly adept at making large swooping patterns with the ensemble, not unlike the starlings that inspired him.
Set to Ezio Bosso's Violin Concerto No. 1, Esoconcerto, Murmuration is made more of wind that steps, with a pulsating momentum mirroring Bosso's dynamic score. Movement ideas ripple across the dancers in a layered cascade, yet Liang doesn't let our eyes settle on the ballet's most arresting moment as one thread will begin before another is finished. The dancers appear caught in a magnetic web, as the audience's attention is also caught in a spell of Liang's seamless motion.
Jessica Collado found Liang's watery contours a fit. "The movement itself feels very organic and fluid, and is centered around the breath," says Collado. "Edwaard pays so much attention to the weight of the air around our bodies, as if our arms were wings and there was a resistance in their movement. He has done an amazing job in creating these migratory murmurations; the way in which we as dancers have fleeting moments and then settle back into the flock."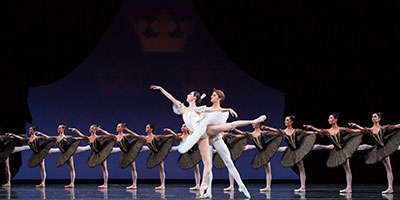 You would think that Welch's re-imagining of Petipa's masterwork, Paquita, would calm everyone down, but, not a chance. Houston Ballet's leader energizes this war horse by adding some heft to the already beloved classic. Welch does like to consider his audience, so after all the whimsy and whirlwind of Elo and Liang's ballets, it will be a thrill to sit back and watch the company dazzle us in an old time classic.
—NANCY WOZNY