Final bows at the December 2015 concert in the Winspear Opera House. Condon, Gethin, Rhodes, Skryleva, Murray Beale, and Yankovskaya.
Photo by Karen Almond, Dallas Opera.
---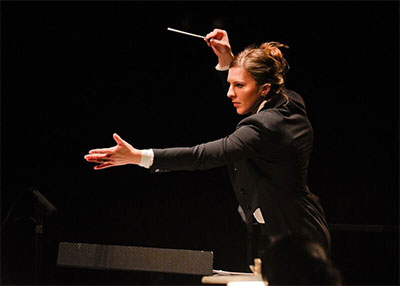 Last year, the Dallas Opera embarked on a 20-year plan to change the world of conducting by putting new faces on the podium—the faces of women.  Between Nov. 28 and Dec. 6, 2016, The Dallas Opera assembled the inaugural class of the Linda and Mitch Hart Institute for Women Conductors. Over 100 women applied, from the U.S. and 26 other countries, with musical backgrounds including assistant conductors, concertmasters, singers, opera coaches, and instrumentalists.
The Institute offers a nine-day intensive training program for emerging conductors, bringing six women participants and four observers to Dallas for workshops, master classes, seminars, and discussions designed to train them for the competitive field of conducting. It is the brainchild of Dallas Opera General Director and CEO Keith Cerny, whose concern about gender inequalities stems from his own background in music, business, and technology, where he witnessed the barriers to women in professional roles. But the problem is even closer to his heart, as Cerny says: "I grew up in an academic family where my mother and her friends were among the first women admitted to PhD programs in physics and chemistry. That was my early exposure to the challenges for women trying to break into a new area." Cerny's consciousness of these barriers and active steps towards inclusivity imply a shift in thinking for arts leadership. Cerny explains that issues like outright professional bias, a lack of visibility, and audience familiarity can be "like trench warfare where there is a barrier set up and you have to overcome that one, then another barrier, and another."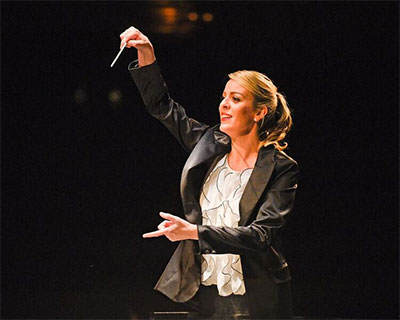 For the six participants, breaking down gender disparities is only one benefit of such a rigorous program. The 2015 conductors— Jennifer Condon, Jessica Gethin, Natalie Murray Beale, Stephanie Rhodes, Anna Skryleva, and Lidiya Yankovskaya— have backgrounds in conducting, opera, musicianship, musical theater, coaching, and more. And each has clearly already made a difference in their field, as the group comprises a BBC Performing Arts Fund Fellow, a Fullbright award recipient, and a National Opera Association Award winner, among other accolades.
But the allure of the Institute lies in its flexibility, inspiring hopeful conductors to transition into new career experiences. "As a conductor my experience lies mostly in symphonic repertoire, so I had felt the need for quite some time to expand into the operatic genre which is such a different journey," Australian conductor Jessica Gethin says, in answer to why she chose to apply.
American Stephanie Rhodes works as a pianist and conductor, but the chance to lead an orchestra intrigued her: "I've worked as an assistant conductor a lot for opera companies, and as a pianist and coach, so I have a lot of background in Opera, but the actual time I've had with orchestras is limited," she says, going on to clarify that "taking that next step can often be difficult for a conductor in opera to transition from assisting in the room to getting to conduct your own production."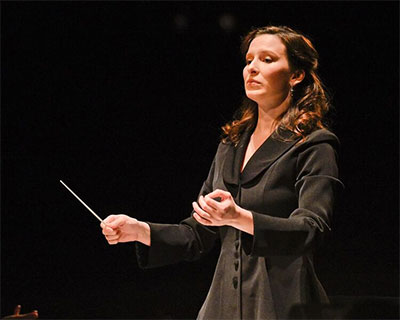 While neither experience outright animosity in their careers, both agree increasing visibility and the opportunity for mentorship are vital ways organizations can enact permanent change. Whether via receiving useful, albeit nerve-wracking constructive criticism from Dallas Opera Music Director Emmanuel Villaume, or sitting down to lunch with Principal Guest Conductor, Nicole Paiement, the relationships the program affords will, Cerny hopes, help build a network for their future careers. As Gethin says, "It may surprise people that despite appearing on stage with many people the life of a conductor can be quite isolating at times. It was refreshing to be able to talk openly with other conductors from around the world, particularly with other females who have come across similar issues in their career." In an unusual experiment for the Dallas Opera, the six participants demonstrated this collaboration by conducting their final concert together, a rare experience for audience members used to seeing one male conductor on the podium.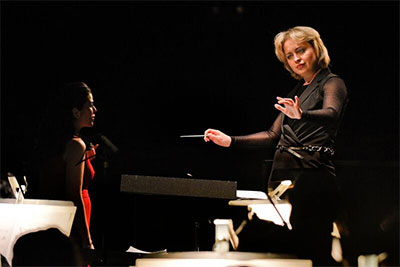 It is yet to be seen what impact the Institute may have on the careers of the six women participants. "I feel like I'm still processing it because it was a lot in a very short amount of time," Rhodes admits. Gethin puts her new skills to the test in April, when she conducts her first full production of Donizetti's Anna Bolena in West Australia. As applications open for the second year, Cerny is eager to build upon the success of the institute's inaugural session. "One of the things I hope we can look for going forward is to bring in conductors from a wide range of countries as they bring such different perspectives on music and conducting," Cerny says.
Women interested in applying for 2016 should note the applications are open through April 15 with next year's Institute set for an extended run of two weeks, Nov. 28-Dec. 11, 2016.
—HOLLY WALWRATH