Rude Mechs' The Method Gun Heads to UT
---
IMAGE ABOVE: Shawn Sides, Jason Liebrecht and Thomas Graves in The Method Gun, Humana Festival of New American Plays, 2010, Actors Theatre of Louisville. Photo by Alan Simons.

---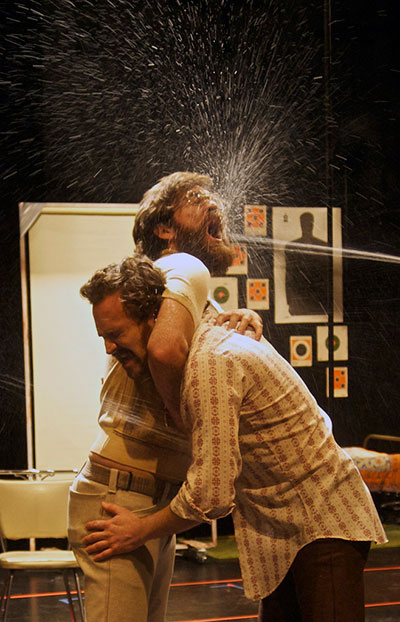 It's a great tragedy of Texas theater that Austin's nationally recognized experimental theater collective rarely gets to perform their finished work at home. While Austin bears witness to workshop productions and helps plays along in their infancy, not one of the Rude Mechanicals' last four original works has made it back to Texas in its final iteration, until now.
After more than four years of touring across the country and two continents, the Rude Mechs' most popular show, The Method Gun, finally returns to its native soil from Sept. 10-14 as part of their artistic residency at the University of Texas.
This is a particularly triumphant homecoming for playwright and UT alumnus Kirk Lynn, since it's also the first time his work will be seen on a UT stage. Lynn did his Bachelors degree at UT (where most of the original company members met almost 20 years ago), as well as completing his Master's of Fine Arts at the Michener Center for Writers.
A question asked during one of Lynn's grad school courses served as one of the jumping off points for the play. "When I was in grad school, Marie Howe, a great poet, came through the Michener Center, and on the first day of class she asked everybody, with no explanation, 'Choose truth or beauty,'" Lynn notes. "And we really liked that idea. All five artistic directors said truth, but when we asked our larger company, so many people said beauty, beauty, beauty… So it's this really essential pivot around thinking about art. The Method Gun was a way of wrestling with that notion of truth or beauty."
However, beauty and truth both come at a cost, and the play explores the physical and emotional risks that actors take. Lynn explained, "At the end of the play, there's this moment where there's a really beautiful thing that happens, but it's also really dangerous, and it takes the risks and makes it real."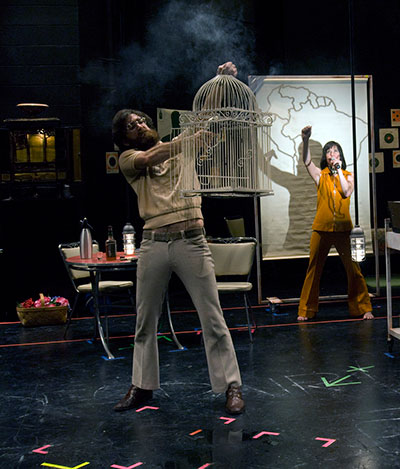 Being vulnerable in public isn't easy, and the show really focuses on the emotional strain of any collective endeavor. On the surface, it's the story of a theater collective struggling to stay together after their guru has abandoned them. In the 1970s, Stella Burden's acting company spent nine years rehearsing their production of A Streetcar Named Desire, a production from which all the major characters have been cut. The Method Gun strives to re-create that company's experiences leading up to that production, showing us the final few months of rehearsal, after Burden fled to South America without explanation.
When they first began working on The Method Gun in 2007, the Rude Mechs were fascinated by alternative approaches to acting. Lynn explained that as a group, they primarily come from the Viewpoints school of acting and performance, which approaches a work from the outside in. "You first make a picture and put your body in space and then the internal state of being is sort of up to the individual actor." For them, the Method Acting approach and Stella Burden's technique, called simply "The Approach," work from the inside out. "You get the right emotional state of being, and you're authentic in your emotional performance, and the outside sort of takes care of itself."
So they began experimenting with various techniques, and the show takes us right into the rehearsal space, featuring a number of acting exercises such as crying and kissing practice. It also shows us what it's like to try to make theater as a group.
Actor and co-producing artistic director, Lana Lesley, points to a surprising moment involving balloons and full frontal nudity as "exactly what it is to be an actor making work. It's the perfect metaphor for how insane what we do is and how crazy we can go when we're in a room together trying to make a piece collaboratively. And that happens. It's what happened at Orchard Project," the artists' retreat where they first began working on the show. "It's super-meta and super-autobiographical. It's a perfect physical depiction of what it is to be an artist making work, trapped in a room with other people. It's a celebration of it, too."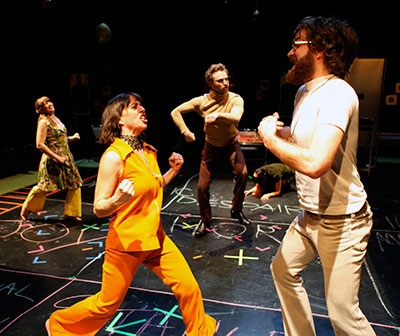 Lynn also commented on the autobiographical strains running through the show, which came at a time when the Rude Mechs themselves were struggling to stay together. "There are notes of our real lives sort of floating through the backdrop, authentic fights that we had." And the story of a nine-year rehearsal process seems even more apropos given that the Rude Mechs have been working on and performing The Method Gun for seven years themselves.
Although the show is tremendously layered and focuses on actors and acting techniques, Lesley and Lynn both pointed out that it's much bigger than just "theater for theater people." For Lynn, "The big spirit that runs through it is the notion of honoring your teachers. And the notion of gurus both for good and for ill."
Similarly, Lesley explained that "it's about this woman who was a guru to these people, and it's about this group struggling to work together, and so it's all of those issues that everyday people who are not theater-makers deal with: like your office mates, or that class you took one time, or your yoga teacher, or your hairdresser."
In fact, Lesley points to an audience experience they had during their performance run at Yale in 2011 as an inspirational jumping off point for one of their more recent original works, Now Now Oh Now. As Lesley tells it, a group of evolutionary biologists came to see The Method Gun and were so taken by the performance, they stayed after and invited company members Hannah Kenah and Thomas Graves to tour their lab. As a result, Now Now Oh Now features a lecture on ornithology, which is one of Lesley's favorite parts of the show to perform.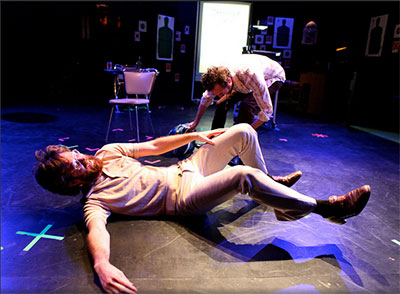 That's how most of the Rude Mechs' works seem to begin with an idiosyncratic combination of ideas. Now Now Oh Now, which kicks off a national tour this fall (at Duke University, Sept. 24-27, New Orleans, Nov. 19-27, Yale in December, Miami, Feb. 20-March 20 and Philadelphia in 2015), began with an interest in science, puzzles, and Deleuze and Guattari's philosophical text, A Thousand Plateaus. Although the science element remained, the show now draws inspiration from the Brontës, and live-action, role-playing games.
Again, Austin got to see the first few versions of that show at workshop productions in February and May of 2012, but the show has continued to evolve, and Lesley bemoans the fact that it's unlikely we'll get to see the finished version in Texas.
As is often the case in artistic endeavors, the problem is financial. Since the Rude Mechs are committed to keeping their productions and programs affordable for audiences, ticket sales simply can't cover the costs. The company writes grant proposals to find seed money for the shows that start in Austin, but the sad truth is that touring pays the bills. And since their creative process entails shaping and re-shaping shows in front of an audience, the plays are usually "finished" far from home.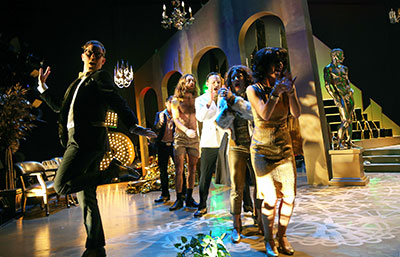 Luckily for Texans, the Rude Mechs' most recent original work, Stop Hitting Yourself, has been booked for the Dallas AT&T Performing Arts Center's new theatrical series "Off Broadway in Flora" next May. After a sold-out, six-week run at the Lincoln Center in New York, even that show continues to evolve.
Aside from their original pieces, the Rude Mechs have two intriguing performance series that do stay on their home turf: "Contemporary Classics" and "Fixing Shakespeare." In the Contemporary Classics, they strive to re-create productions of iconic experimental theater from the 20th century. The series began with a re-enactment of The Performance Group's Dionysus in 69, and next on the agenda is a piece from the Ridiculous Theatrical Company. Fixing Shakespeare is Lynn's take on the Bard's lesser works, and the series kicked off last fall with Fixing King John.
Since he figures he "ripped it off of Shakespeare," Lynn has made Fixing King John available to anyone, and No Name Players of Pittsburgh (PA) just finished a run of the show. Next in Lynn's series is Fixing Timon of Athens, which will likely be seen in Austin in fall of 2015.
While we may not get to see the Rude Mechs' finished products very often, it's nice that The Method Gun is returning for a sort of victory lap. Lynn suspects that unless the show heads to Europe, it will likely be hanging up its metaphorical jersey after this production—a genuine and triumphant homecoming for all.
—CATE BLOUKE