Claire Domenic-Smith, Sarah Gowdy, Amelia Hernandez, Amy Oden, Maya Parker and Emma Singleton in The Rite of Spring, choreographed by Laura Gutierrez and directed by Matt Hune, The Rec Room, July 6, 2017.
Photos by Mark Wozny.
---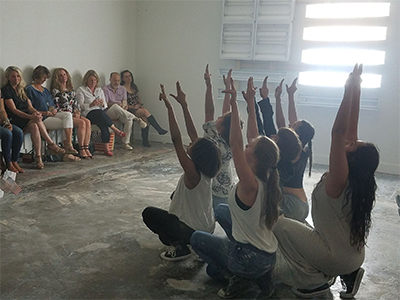 The young women have spoken and not a word was uttered.
The powerful women in question, Claire Domenic-Smith, Sarah Gowdy, Amelia Hernandez, Amy Oden, Maya Parker and Emma Singleton, performed The Rite of Spring, a movement/theater/action piece, choreographed by Rec Room artist-in-residence Laura Gutierrez and directed by Rec Room artistic director Matt Hune.
Movement/theater/action because I am not comfortable calling this simply a dance or theater piece. The last time I saw movement created with such broad strokes, not attached to any one stylistic tradition, was at Matthew Bourne's A Play Without Words. I've been aching ever since to see someone use movement this way again.
Stravinsky's iconic score (even with the awesome Bad Plus version they used) may have played a part in the design of the piece, certainly its epic nature did, but for me the music took a back seat to the commanding presence of these six young women. All are current, recently graduated or former HSPVA students, aged 16-19 approximately, evenly split more less from dance and theater backgrounds and on the threshold of their lives. What unites them as a tribe is their youth, gender, and astonishingly potent presence. Just the way they entered the Rec Room's understated back room took my breath away. I had this weird feeling, a kind of "I feel safe now, the young women have arrived now to take care of business." And that they did in Gutierrez's cleverly orchestrated pedestrian choreography that never stripped the woman from the movement, never defaulted into "steps" or familiar modern dance tropes, never demanded that any of them move alike, never separated them into actors and dancers. They simply commandeered the room.
I may never know the working dynamic between Gutierrez and Hune, but I do know that it's working, and in a way we rarely see in Houston. By building movement into a theatrical frame that has the sensibility of dance without its self consciousness, they are playing with meaning and abstraction in a way that keeps us guessing.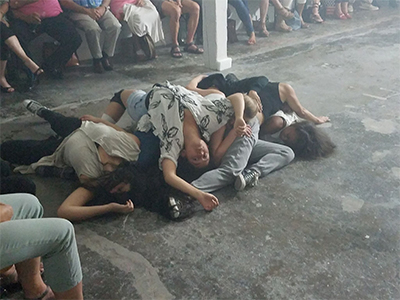 There is a sense of ritual, more so than sacrifice, a kind of going through the paces necessary to stake their claim. We never really know what that claim is, or what's at stake. Much remains a mystery. As it should. There are moments of confrontation. They were at once a group and a room of six individuals, each with their own superpower, or "power stare." Once or twice they interacted with the crowd, who had gathered around the perimeter in witness formation. Some of us got first hand knowledge of their "never let down steely gaze."
The intense atmosphere, amplified by Sydney Gallant's blazing florescent lighting installation, lightened up once or twice. A quick scurry to the corner to retrieve dollar store coolers containing an odd assortment of provisions,  made for a welcome break to the hyper focused proceedings. Even superheroes need to chill.
In 40 minutes, Rite delivered a much needed infusion of hope. We were left with a "something happened here" feeling for sure. Exactly what, we couldn't all agree on. Audience members lingered hoping to get a glimpse of the performers.
This was a Rite for right now, as our buffoonish President continues to demean women, it's time to rise in whatever way we know how. For Gutierrez, Hune and these six young warrior/performers it was through art.
Perhaps I should confess that I had seen Wonder Woman less than 48 hours before seeing his show. Female empowerment was on my mind, and this Rite, not some multi-million dollar Hollywood movie, is what it looks like.
—NANCY WOZNY