KINETIC Ensemble
Photo by JinHee Park.
---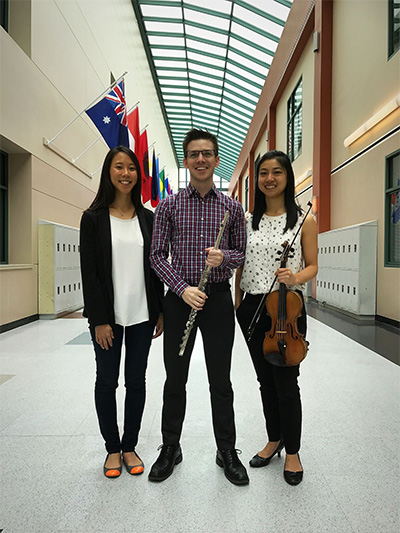 WindSync seems plenty youthful when you look at a photo, but let's take another vantage point. The Houston quintet spends about 120 days a year on the road — hardly the mark of a fledgling group. The 2018-19 season will mark the 10th anniversary of WindSync's emergence from Rice University's Shepherd School of Music, where its founders studied. So its members see themselves in a new role.
"We feel very strongly about supporting the younger musicians who are coming out of Rice now," says French horn player Anni Hochhalter. "While I think WindSync is still considered young, we're a few years removed. We enjoy providing whatever mentoring or resources we can to the generation that's coming out now."
That includes sharing WindSync's April 28 concert at Zilkha Hall with Kinetic, the conductorless string orchestra that debuted in Houston in 2015. Like WindSync, the 16-player group has sprung from the Shepherd School, where many of the musicians study and the founder, violinist Natalie Lin, is working on a doctorate.
"Kinetic has been on our radar for couple of years," Hochhalter says. "When we saw them, we were so excited by what they are doing. They're such adventurous performers — performing chamber music without a conductor, and appealing to the audience in that accessible way that is also a huge part of WindSync's mission." Bringing in Kinetic as a guest, she adds, was "a natural choice."
The concert will belong to WindSync's first festival: the Onstage Offstage Chamber Music Festival, running April 25-30. In addition to the Zilkha concert, the performances will include free concerts at the Rice University Farmers Market, Houston Methodist Hospital and the revamped Levy Park near Richmond Avenue and Kirby Drive; a concert and brunch at Archway Gallery; and daytime sessions working with 70 elementary-school string players from the Houston Youth Symphony's Coda Music Program.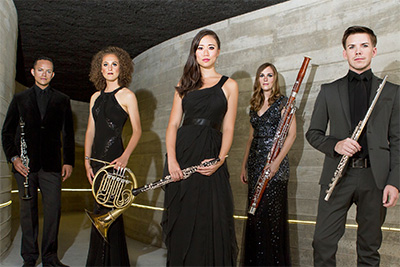 "Because we tour so much, we wanted to come back to Houston and give back in a big way," Hochhalter says. During the festival week, Kinetic will work alongside WindSync coaching the Coda program's budding musicians, who attend Jefferson Elementary, Looscan Elementary ahd Sherman Elementary schools in Houston's Near Northside. The Zilkha concert will feature everyone: WindSync and Kinetic will perform individually and in tandem, and the Coda youngsters will join both groups in Mark Buller's The Town Musicians of Bremen. Based on a Brothers Grimm fairy tale about animals who flee their owners to avoid death, Town Musicians is a Da Camera commission dating back to WindSync's stint in the organization's Young Artist Program. It's tailored for WindSync to perform with student orchestras.
"It's a little reminiscent of our adventures performing Peter and the Wolf, when we do that with costumes and theatrical elements," Hochhalter says. "In this one, we each play an animal character as well. It allows us to tell the story in a kind of theatrical way, in a really nice collaboration between us and the young musicians." The concert also will include works by Jean Francaix, Steve Reich and others.
WindSync already is brainstorming for its 10th anniversary season, Hochhalter says. Taking its cue from Michael Gilbertson's The Cosmos, a concerto it performed last season with the River Oaks Chamber Orchestra, the group wants to explore more projects about space, in honor of its hometown. Regardless of how that unfolds, 10 years is a major milestone.
"What's so special about WindSync, and I think the reason is has gone on as long as it has, is that we really were bonded initially by our mission to reach children, families, all members of the community with innovative, interactive chamber music programs and outreach programs," Hochhalter says. "This mission is larger than the five of us."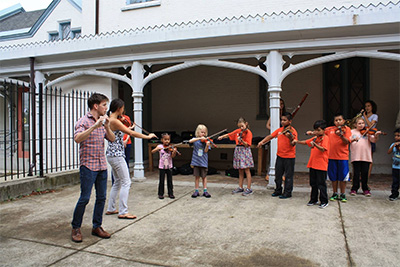 So as WindSync's membership has evolved, the mission has been the constant, Hochhalter says. Flutist Garrett Hudson is the last of the founders still on board. Hochhalter and oboist Emily Tsai came later; the newest members are clarinetist Julian Hernandez and bassoonist Kara LaMoure, who joined in 2016. Hernandez, a Puerto Rico native, grew up in El Paso, and LaMoure was raised in the Dallas area. "We've never had any Texans in the group," Hochhalter says. "It's really cool to have people who were born and bred in this culture."
A WindSync alumnus, bassoonist Tracy Jacobson, is one of the musicians Lin has tapped for advice about launching Kinetic. "She has a wealth of knowledge," Lin says. "I think it's really great to have two organizations like this team together. I think it says a lot about the really friendly climate in Houston."
After polishing off the joint program with WindSync, Kinetic will turn to its own concert May 6 at the MATCH. The group will play the Texas premiere of String Theory by Rice's Pierre Jalbert, and the bill of fare also includes works by Benjamin Britten, Dmitri Shostakovich and Anton Webern. As the end of Kinetic's second season approaches, Lin declares herself "blown away by the support from the city and the community that has some to the concerts." Kinetic has begun its own education program, which brings youngsters in to rehearse and play in the group, and it's refining its system for operating without a conductor.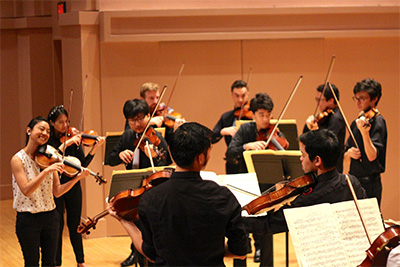 "Part of if it is cultivating a culture in which people are given permission to voice their opinions," Lin says. "Sometimes it's a little chaotic, which is why we've had to improve our model and balance leadership structure with the environment. I've done a couple of field trips to visit other conductorless orchestras in New York and Boston. That was really interesting. No conductorless orchestras is the same as another in the way they rehearse and figure out problems. But I think the problem is sort of our strength as well. It really engages musicians in a different capacity. The end result is that we feel so invested in the final product."
— STEVEN BROWN