---
IMAGE: Houston ballet soloist Allison Miller and pianist Lang Lang in Stanton Welch's Sons de l'aime. Photo by Sebastien Mathe.
---
The Dallas Museum of Art appointed Gavin Delahunty its new Hoffman Family Senior Curator of Contemporary Art. Delahunty, who will join the DMA in spring, is currently the head of exhibitions and displays at Tate Liverpool, part of the family of Tate galleries, and was previously a curator at the Middlesbrough Institute of Modern Art.

---
The Idea Fund, a re-granting program administered through DiverseWorks, Aurora Picture Show, and Project Row Houses and funded by The Andy Warhol Foundation for the Visual Arts announced the 2014 grantees: The Flinching Eye Collective (Houston, Austin, San Antonio); Friends of Angela Davis Park / Regina Agu & Gabriel Martinez (Houston); Habitable Spaces / Shane Heinemeier & Alison Ward (Kingsbury, TX); Autumn Knight (Houston); Michelle Monseau & Barbara Perea (San Antonio / Mexico City); Nomadic Beats / Dustin Chad Gann, Kelly McCann & Harbeer Sandhu (Houston); Cavanaugh Nweze (Houston); Robert A. Pruitt (Houston); Phillip Alan Pyle, II (Houston); and Suplex / Max Fields & Olivia Junell (Houston).

---
The Blanton Museum of Art at The University of Texas at Austin appointed Beverly Adams its adjunct curator of Latin American art. Most recently at the Diane and Bruce Halle Collection in Scottsdale, Ariz., Adams served as assistant curator of Latin American Art for the Blanton (then the Archer M. Huntington Art Gallery) from 1989 to 1995. Adams then worked as curator of contemporary art at the San Antonio Museum of Art, where she was responsible for research, development, and interpretation of its contemporary North and South American art collections, and as curator of Latin American art at the Phoenix Art Museum.

---
The Harry Ransom Center at The University of Texas at Austin has been awarded a $500,000 challenge grant from the National Endowment for the Humanities to establish an endowment that will sustain the institution's exhibition program. The Ransom Center has four years to match NEH's $500,000 challenge grant with $1.5 million in private contributions to create a dedicated $2 million exhibition endowment.

---
The Mitchell Center is one of only six organizations nationally to be selected for a Building Bridges grant, funded in part by the Association of Performing Arts Presenters; Building Bridges, Campus Community Engagement Grants Program, a component of the Doris Duke Charitable Foundation and Doris Duke Foundation for Islamic Art. This grant will fund INTERSECTIONS, an project that engages four artists in residence directly with the University of Houston's diverse student population over a two year period.

---
The Texas Art Education Association's Awards Committee honored Kate Carey, the McNay Art Museum's director of education, as the 2013 Museum Educator of the Year at its annual conference.  Carey joined the McNay staff in 2004 as a museum educator and in 2010 was named director of education.  A museum statement said during her tenure "participation in education programs has risen and the variety of programs have shifted to meet the interests of college students with  Free College Night; high school students with Free Teen Night  and the Teen Art Guide Program; and infants and caregivers with  ArtStrolls."

---
Earthen Vessels presented its final performances of Amahl and the Night Visitors on December 14-15, a celebration the company's 16-year history.  A former soloist with the Houston Ballet and its first African-American ballerina, Earthen Vessels Founder and Artistic Director Sandra Organ Solis formed Earthen Vessels in 1997 with a focus on bringing dance to new and diverse audiences.

---
The Houston Center for Contemporary Craft has hired Elizabeth Kozlowski as its new curator. For the past two years, she has served as the Windgate Curatorial Fellow at the Arizona State University Art Museum, where she was responsible for a wide-ranging initiative that explored concepts surrounding craft within the context of contemporary art. The fellowship culminated in a national traveling exhibition and catalogue, Crafting a Continuum: Rethinking Contemporary Craft. HCCC will host the exhibit in 2015.

---
Suchu Dance announced the opening of its new home at 3480 Ella Blvd, a space that formerly housed the Swayze School of Dance and the Houston JazzBallet Company, both founded and directed by Patsy Swayze.

---
Asia Society Texas Center announced the appointment of Bonna Kol as executive director, concluding an international search conducted by Russell Reynolds Associates. Kol comes to Asia Society most recently from KIPP Houston Public School, a charter school serving more than 10,000 students in the Houston area, where she served as Chief Advancement Officer in charge of operations of development, marketing, community relations, and advocacy.

---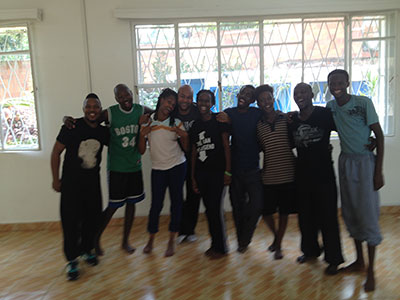 Urban Souls Dance Company traveled to Rwanda in December to conduct artist workshops in Kigali. The company set new works on Mashirika Theater Group of Rwanda and will perform together for the 20th commemorative anniversary in April 2014, produced by the government of Rwanda and Stephen and James Smith.

---
Two Star Symphony is 2014 artist-in-residence at 14 Pews. Two Star is known for its work creating unique music events and film scores.

---
Houston Ballet dancers Charles-Louis Yoshiyama and Allison Miller have been promoted to soloists.

---
The National Center for Arts Research (NCAR) at Southern Methodist University in Dallas, Texas, completed its inaugural report assessing the health of the nonprofit arts industry, the first of its kind for the arts, creating a data-driven assessment of organizations' performances industry-wide and identifying drivers of performance.

---
Animal Architecture, founded by Houston architect Ned Dodington, has been invited to mount an exhibition organized by the Global Arts Affairs Foundation in Venice during the 2014 Venice Architecture Biennial.

---
The San Antonio-based Attic Rep has been named the resident theater company of The Tobin Center for the Performing Arts by CEO by Mike Fresher.

---
The Austin Symphony Orchestra (TX) has announced the appointment of Todd Waldman as its new director of development.

---
The Meadows Museum presented Christopher Blay its 2013 Moss/Chumley Artist Award. The award is given annually to an outstanding North Texas artist who has exhibited professionally for at least ten years and has a proven track record as a community advocate for the visual arts.

---
The Dallas Symphony Orchestra and music director Jaap van Zweden have signed a new contract to keep the conductor through the 2018-19 season. He led the DSO on a European tour this past March, and the DSO's own CD label has released five recordings under his baton.