What do Carrie Fisher, the Wicked Witch of the West, and a rabbit have in common? It's not a trick question, but a sampling of the roles Shannon McGrann has played over her years onstage and in front of the camera.
The South Dakota-born actress grew up in Oklahoma and Texas, eventually settling in Fort Worth after a short stopover in San Francisco. Now, she's one of the most in-demand performers in Dallas-Fort Worth, having recently won four DFW Critics Forum Awards (more than any one person in a season). Up next is the role of Sara in the regional premiere of Church and State at Stage West, and an educational outreach show for Bass Performing Arts and The Van Cliburn Foundation. She somehow found time between acting, spending time with her husband and 15-year-old son Owen, and obeying the wishes of her cat Rosie to visit with A+C writer Lindsey Wilson.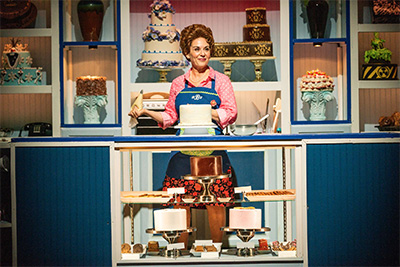 I feel like I've seen you everywhere, especially lately. What theaters have you worked at?
My experience in the DFW area includes the Dallas Theater Center, Lyric Stage, WaterTower Theatre, Second Thought Theatre, Uptown Players, Casa Mañana, Stage West, Theatre Three, Circle Theatre, Theatre Arlington, and Fort Worth Shakespeare. Outside of DFW, I've worked at the Shelton Theatre in San Francisco and Lyric Theatre of OKC. Now, if you want to talk about all the theaters I've auditioned for, that's a much longer list.
What's it like working here?
The wonderful thing about DFW is its community of artists. I think the talent level here is on par with what you'd find anywhere else in the country, even in larger markets. What is different here is the pay and the number of opportunities … and the driving. Oh, my gosh, I spend a lot of time in my car! Hours upon hours. Sometimes it's difficult to balance the work with family. Theater rehearsals and performances are generally held nights and weekends—key family times.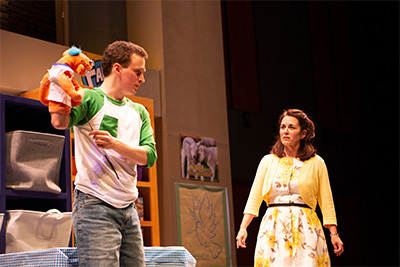 Was there a particular show that felt like your big break?
Honestly, every time I get cast in something, I feel like I'm getting a big break. I think the main reason that I've had so many great opportunities lately is that Joanie Schultz cast me in Hand To God at WaterTower Theatre last year. She trusts her actors implicitly and reminded me of what I bring to the table. I know doing that show led to others that I've had since.
You're definitely known for comedy. Has that always come naturally to you?
I spent several years as a resident actor in the Casa Mañana Children's Playhouse when the theater was still in the round, and I was lucky enough to perform in over 30 shows for thousands of children. I spent a lot of my time being different witches, evil stepmothers, and countless animals. Every show was a gift. I got to immerse myself in pretend and stretch every acting muscle I had. I learned so much from those audiences of squirming, noisy, delicious children. They don't miss a thing, and if you're not being honest in your portrayal—no matter how over the top or how much you're pushing the boundaries of imagination—they will hold you accountable. I loved every single show and every ridiculously complicated costume. I could have a serious, in-depth conversation with you about how pigs and rabbits should use their "arms" on stage.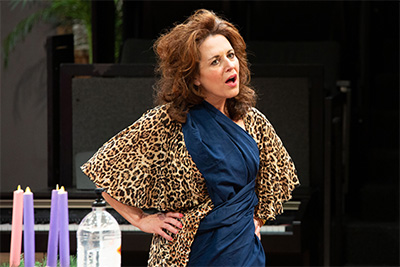 Recently I've seen you play more complicated emotional roles, such as Della in The Cake at Uptown Players and Nora in A Doll's House Part 2 at Stage West. What's a role that stands out to you?
My all-time favorite experience was playing Almira Gulch/The Wicked Witch of the West in Casa Mañana's Bass Hall production of The Wizard of Oz. I got to fly on a bike and on a broom. I got to melt into the stage. I got to throw fireballs and cackle, and, offstage, I got to play with the darling dogs that portrayed Toto. It was glorious. I've done the role three times, and it's one that I feel like I could play forever and never tire of doing. When I was doing the show for Lyric Theatre of OKC, I found out I was pregnant with my son. I love to think that his stage debut was with me, flying over munchkins.
Any other pivotal experiences?
My first summer stock show at Casa Mañana was Oklahoma!, directed by Joel Ferrell. I hadn't done any musical theatre since college, and I was blown away that he would even consider me. I think it was the moment that my brain told my heart that I was on the right path. It led to so many other musical theater roles that I know I wouldn't have even looked at if Joel hadn't first taken a risk.
If I'm being honest, I'm probably not known for subtlety onstage. I know I'm capable of it, but, darn it, I love a good spit take. In 2017, I got to play Carrie Fisher in a television series, The Price of Fame, on Reelz. That scored huge points with my son. It was great fun to channel her for a short period of time.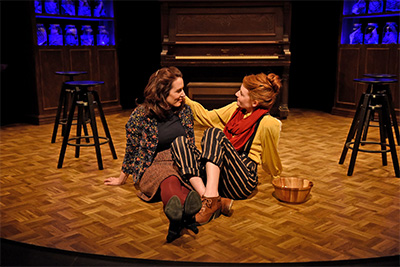 Do you have any advice for actors starting out in DFW?
As a young actor, I spent a lot of time just enjoying the experience and not really paying attention to the business of acting. I don't know if it's advice as much as it's something I really wish I would've been better about: Use every experience onstage or in front of the camera as a learning experience and treat it like it's a job interview for the next one. Forge relationships, go see all kinds of theater, take classes, be on time, leave the drama on the stage, and do your homework.
—LINDSEY WILSON