Dameon Lester, Suspended Up Close.
---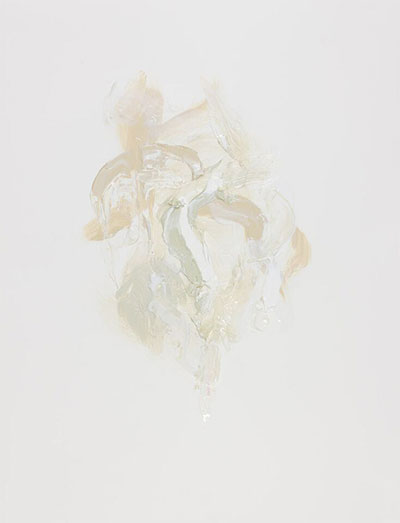 Eliminating the image at Northern-Southern
Our modern lives are bombarded by images. The more time we spend peering into screens, the more the picture—once primarily the province of art—becomes a screen itself, a medium through which we encounter the world around us. Consciously or not, we spend our lives deciphering images. It can be exhausting. It's also why Almost Nothing, an exhibition at Austin's Northern-Southern Gallery feels refreshing, like a cold shower for the image-addled brain.
Curator Shawn Camp has collected works (mostly wall-hangings with a few sculptures thrown in) from a dozen artists (mostly local), all of whom eschew the traditional language of the image, which is to say: "here is a thing." If the works in Almost Nothing have a single through-line, it's that the thing depicted has been removed from the equation. We're left with a kind of minimalism that has less to do with the capital-M art-historical category and more to do with Zen, mindfulness, and other au courant philosophical-practical reactions to our hyper-mediated age.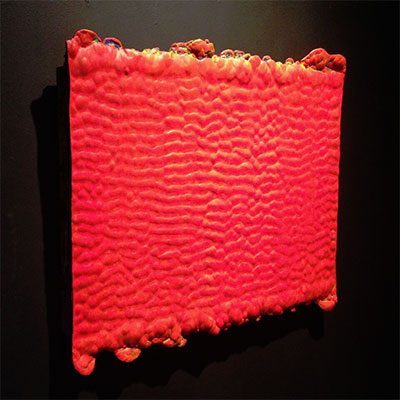 Perhaps the most literally anti-pictorial piece in the show, Taylor Holland's 1840 French Neo-Rococo  (2013), presents a gold-leaf frame such as one might encounter at a fine arts museum, except instead of containing a picture, the frame's ornamentation fills out the entire rectangle. Along somewhat similar lines, Claude Van Lingen's 1000 Years from Now, 1000 Layers (undated) presents, if the title is to be taken literally, a thousand layers of paint on a canvas. The top layer, monochrome red, is interesting mostly for its texture—a series of ridges that magnify, one imagines, tiny variations in coat thickness several hundred layers down, calling to mind sandy, hard-packed earth after a rainstorm. The painting is more visually appealing from the side, where the rainbow of layers can be picked out almost one by one.
With any minimalism there's a risk of coming across as a gimmick. The macho postwar labors on immortal display at Chinati and Dia:Beacon are not immune from this criticism; neither are several humbler minimalist-kitsch works featured in Almost Nothing. But a few stand out not just for pointing and grinning at the limitations of their media, but for beginning to develop a sui generis non-figurative language.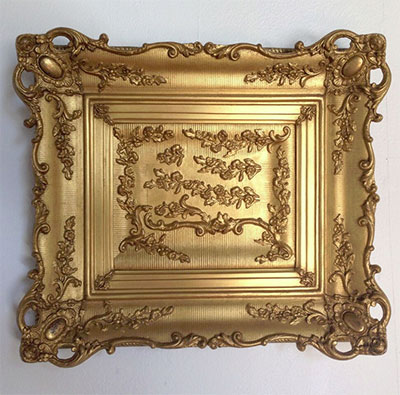 Ender Martos's hanging sculpture Metamorphosis of Three Concentric Circles (2015) invites the viewer to walk underneath it and enjoy the strange shapes of light refracted through its crisscrossing microfilaments. Trippy, yes, but engrossingly so. Nearby, Dameon Lester has hung his Silhouette Series (2009) of laser-engraved dark felt on wood panels. They're nearly impossible to see in the dark, and eerily engaging if only for how they invite us to try to make sense out of shadows. In several paintings around the gallery Caitlin G. McCollom is working out a form of expression through the brief gesture of a swirl of white and red paint on white paper. And so on.
The experience of viewing Almost Nothing is not earth-shaking, nor is it meant to be. It is, however, calming to the mind. It seems somehow appropriate that the gallery is only open on Saturdays, a day of rest. Camp's curation is generous, forgiving, like the easy chair Matisse said his art set out to be.
—MICHAEL AGRESTA