Rehearsal shot with SMU alums Joshua L Peugh (Dark Circles Contemporary Dance) and Jennifer Mabus. Photo by Sarah Carpenter.
---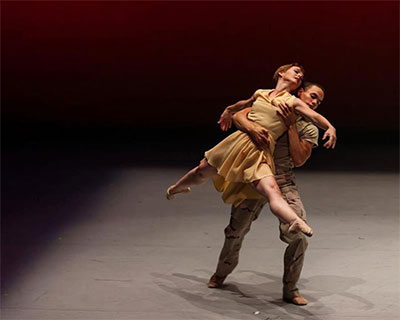 Southern Methodist University's Meadows School of the Arts in Dallas is home to one of the nation's most highly regarded and rigorous dance programs. The Division of Dance releases graduates who leave with the training, talent, and drive to pursue a career in dance performance and who have gone on to dance with such legendary companies as Alvin Ailey American Dance Theater, Dance Theatre of Harlem, Martha Graham Dance Company, Paul Taylor Dance Company and more.
A few fly back. And some stay to build their own nest.
The ones who choose to stomp ground primarily in Texas go big right here at home. These leaders and influencers in Texas dance are releasing shockwaves, some of which are felt far beyond state lines. Each has a unique voice, like the fiercely independent Jennifer Mabus, or the sharply focused Lydia Hance or the creatively charged Alex Karigan Farrior and Albert Drake, or the indefatigably nimble Joshua L. Peugh. They demonstrate one common trait: A powerful ability to carve their own niche. Perhaps there's something in the water at The Meadows.
"In the first year, students take a class called the Dancers Toolbox, which looks at developing skills that support a sustainable and long lasting career in dance," says Associate Professor and Division of Dance Chair at Southern Methodist University (SMU) Patty Harrington Delaney.
In fact, throughout a dancer's academic career at SMU, opportunities to prepare for the artistic and economic challenges of dance and dance making are provided. Standing out among these are well-established events like the Brown Bag series, a faculty-mentored showcase for student choreography, and senior-year trips to attend the Association of Performing Arts Presenters (APAP) Conference, where students encounter a large number of dance companies from all over the world. This year, students will participate in a workshop at New York City's Gibney Dance Center, where they will develop skills for building a support network, take part in a mock audition, and ask questions of established artists.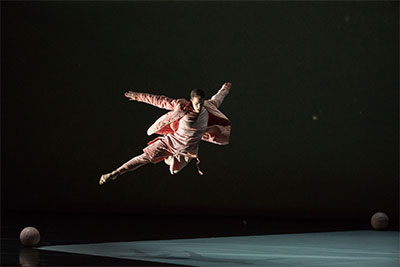 In 1993, when Mabus, a Dallas native who grew up in the shadow of SMU wrapped up her time at the Meadows, sticking around post-degree wasn't possible. There were no professional contemporary dance companies within which a highly-trained dancer could ignite a career, so she set out for New York City. While there, she performed with Battleworks Dance Company, Takehiro Ueyami, Heidi Latsky, and the Amy Marshall Dance Company. After well over a decade in the Big Apple, however, Mabus felt she'd reached her goals as a performer and needed to decide whether to settle into the next phase of her dance life in New York or elsewhere. The urge to be near family was strong, and in 2007 she returned to North Texas.
"When I moved home, I thought that my focus would shift from being an artist and that I would focus on teaching," recalls Mabus. "I was surprised by the amazing and varied opportunities that I had as a performer and creator, as well as a teacher."
While Mabus was away, some key players in the Dallas contemporary dance community had been moving things forward.
"The cultural life in Texas, particularly in the dance genre, has matured significantly in the last 5-10 years," observes Delaney. "I would say this is particularly true in Dallas. We now have three major modern dance companies: Dallas Black Dance Theatre, Dark Circles Contemporary Dance, and Bruce Wood Dance Project, all of which are doing significant work in significant venues locally and nationally."
As she settled back into a Texas way of life, Mabus took on teaching roles at Texas Christian University and Booker T. Washington High School for the Performing and Visual Arts but her performing life was far from over.
Mabus danced with Bruce Wood Dance Project (BWDP) for two seasons and there connected with Dark Circles Contemporary Dance (DCCD) founder/artistic director and 2006 SMU dance alum, Joshua L. Peugh, with whom she continues to dance as a guest artist.
"I used to joke about the 'SMU mafia' because graduates tend to look after SMU graduates, even those much younger," says Mabus. "There is a cross-generational tradition of working within the dance alumni."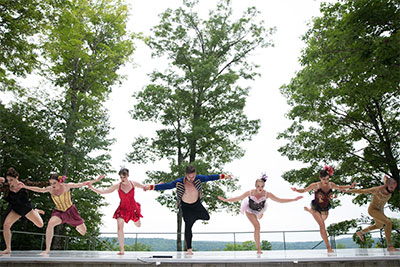 In 2013 Mabus migrated a little further South on I-45 to enroll in Sam Houston State's M.F.A. program, a move she says gave her confidence to emerge as a dance-maker. She has since performed as a guest artist with NobleMotion Dance and DCCD while establishing herself as a teacher and choreographer in Houston. Mabus joined the faculty at Houston's HSPVA and, most recently, San Jacinto College. She was selected as a choreographer for Noble Motion Dance's 2016 Next Step Series, presenting The Art of Losing last January. In August, she continued to explore Alzheimer's disease and healing through art with collaborating sound artist, Lynn Lane to present fading... at the Houston Center for Contemporary Craft.
About working and creating in Texas, Mabus remarks, "In a larger community, one can get pigeonholed by their experience, and here an artist can follow their creative interests with more freedom."
The late Bruce Wood can take more than a little credit for helping the North Texas contemporary dance scene take steps in the right direction, as well as for giving more than one SMU alumni a reason to consider dance careers based in the Lone Star State. He tapped Mabus early for participation in Bruce Wood Dance Project, an initiative that developed after the close of Wood's traditionally structured dance company but Mabus was not the only one.
Born in Houston, Albert Drake graduated from SMU Meadows Division of Dance in 2012 with a B.A. in dance performance, becoming a founding member of BWDP while still a student. Frequently impressive in nearly 20 of Wood's creations, Drake has also been recognized in his work outside the company; In February, he featured prominently in Storm Front, a four-minute piece by Andy Noble and Dionne Sparkman Noble of Houston-area company NobleMotion that aired on the ABC drama American Crime. In May, he appeared at Soluna Festival in Dallas in the multidisciplinary work Rules of the Game featuring Jonah Bokaer's choreography, with scenography by Daniel Arsham and an original musical score by Pharrell Williams. At 25, Drake is an Artistic Associate for BWDP and répétiteur of Wood's work. He created his first world premiere, Whispers, for BWDP's 5th anniversary celebration in June 2015, and in June of next year will debut a new work scored by award winning composer Joseph Thalken. The Arts Community Alliance (TACA) Donna Wilhelm Family New Works Fund granted an unprecedented $70,000 to BWDP for this premiere, which will focus on refugee experiences across cultures.
Wood also had a hand in Peugh's return to Texas. Peugh moved to Seoul, South Korea to join Universal Ballet Company after receiving his dance degree from SMU. Dark Circles Contemporary Dance was founded there in 2010 but after submitting work for selection for a Division of Dance-sponsored alumni event, Wood made Peugh an offer he couldn't refuse.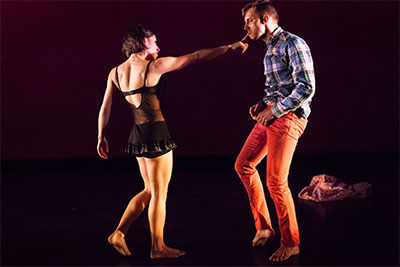 "Bruce Wood was one of the adjudicators," says Peugh. "He loved my work and invited me to create on his company. After a few subsequent e-mails, he offered me the position of resident choreographer with his new company."
Peugh took on the role while continuing to lead his own company in South Korea until finally biting a Texas-sized bullet and making the decision to return to the Big D in 2013. Since then, Peugh has been on fire, stockpiling accolades as choreographer for DCCD and for his commissioned work for companies BODYTRAFFIC, BalletX, Tulsa Ballet, Ballet Memphis, Whim W'Him, Company E and more. In July, DCCD performed at Jacobs Pillow Dance Festival and, for its fourth season and first full program since the company began, will present four new works, including For Allen a world premiere by New York City-based choreographers Jonathan Campbell and Austin Diaz of MADBOOTS, on Nov. 18 & 20 at SMU's Bob Hope Theatre.
"Right now, out of 10 dancers, four are SMU alumni and seven out of 10 board members are SMU dance, music, theater, or business alumni or currently on staff," Peugh points out.
One of those dancers is Alex Karigan Farrior, a 2007 SMU dance division graduate who was also raised in Dallas. Like Mabus, Farrior went to New York City after receiving her B.F.A. and spent seven years there dancing professionally at home and abroad with Amy Marshall Dance Company, BODYART, and ModArts Dance Collective. Farrior was a featured artist in a Dance Magazine On the RISE column in 2015, and has worked with the nation's most iconic dance photographer, Lois Greenfield, appearing in several photos throughout the artist's third monograph, Lois Greenfield: Moving Still. In 2012, Farrior returned to Dallas with her husband to enroll in TCU's M.F.A. program. Unlike Mabus, Farrior was more certain she had something to come home to; What a difference five years makes.
"I knew moving away didn't mean ending my performing career," insists Farrior. "I was committed to continue my dance career in Texas and actively sought opportunities to plug into the dance community. Reuniting with SMU faculty and local alumni being a large part of that."
Farrior adds that what she finds unique about working in Texas is that there is room for ambitious artists to make substantial contributions to the artistic community. "The potential for growth is what excites me most," she says.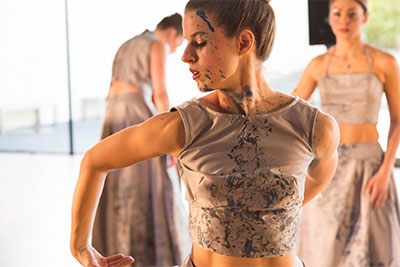 Yet another SMU alumni (2007), Frame Dance Productions' artistic director Lydia Hance has also chosen Houston as her base of operations despite having been raised in the San Francisco Bay area and spending time as an artist-in-residence in Virginia. As a choreographer who looks for new spaces to create work (including her memorable MetroDances on Houston's light rail and Truck Dances in which dancers perform in the back of U-Haul vehicles), she appreciates the city's ever-changing landscape as well as the energy and innovative spirit of its people who seem determined to make Houston just a little cooler.
"I think that because we don't live in a place that is known for its physical beauty, we work a little harder to make it sparkle," muses Hance.
Hance has built a significant body of dance for camera work and has proven an innovator when it comes to multi-generational dance education and performances. In addition to being a new mother, she is currently working on the next iteration of MetroDances and working on a new collaboration with Robert McClure, the 2013 winner of the Frame Dance Composer Competition and self-described InterArtist, Mark Hirsch that will feature interactive projections, dancers and new music. Hance has made it part of her mission to use original music in her work, drawing out and awarding emerging composers with the opportunity to collaborate. It's a refrain in her work that began during her days at SMU when she co-choreographed an entire Bach cello suite for a music student's final recital. The musician? Her now-husband, Jonathan Hance.
As diverse as the dance artists who have emerged from SMU's Division of Dance and infiltrated contemporary dance in Texas are, they are allied by the high standard of excellence demanded at Meadows.
"For those of us who are still in the field," Hance observes, "I think we are pretty good at carving our own paths. We also bond over the intensity of the training. I think it's some kind of badge of honor."
Mabus remembers crying more than once during professor Bob Beard's Graham technique classes. Though by her senior year she had begun to "lose confidence" she recalls a critical meeting when Beard reminded her that she could trust herself as an artist.
"I can say that I had moments like this with each of my professors there," says Mabus. "I remember these kinds of teaching moments and try to emulate them in my own work as a teacher."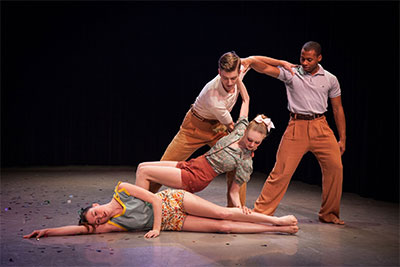 Farrior recognizes that the groundwork in technique and the challenge of embracing new methods and philosophies in a variety of dance genres at SMU served her well as she went forward in her dance career.
"Through well-rounded and inclusive training, I refined my dancing ability, which opened up a range of possibilities for careers as a dance artist," she says.
Delaney says she hopes that every dance artist that graduates from Meadows School of Arts Division of Dance will have a unique artistic voice and have the skills to confidently and, through proactive research and networking, be able to speak with that voice, "embracing every possibility with an open mind that is supported by artistic and intellectual maturity."
With all Meadows B.F.A. majors under one roof, dancers at SMU are instilled with a culture of collaboration and artistic curiosity. "I was constantly hearing musicians playing, vocal performers singing, theater majors rehearsing on my way to class," reflects Farrior. "In this way, Meadows' rich, artistic learning environment influences dancers to be more curious and go into the world perceptive of the multitude of sources for inspiration and hungry to get involved."
That SMU grads like Peugh, Mabus, Drake, Farrior, and Hance have chosen to feed that hunger at the table of contemporary dance in Texas, is a win for the state. Prepare to dig in as these outstanding dance artists continue to offer a fresh take on the dance menu in the Lone Star State and beyond.
— NICHELLE SUZANNE