Coming of Broadway age in the shadow of the Hamilton juggernaut, Dear Evan Hansen, the seemingly unassuming musical about an unpopular high school kid with social anxiety, managed to turn its misfit story into a multiple Tony® Award winner. Having firmly established its success in New York, Evan is making its way across North America and will soon hit all the major Texas cities, including Broadway at the Hobby Center Nov. 12-24 in Houston, Dallas Summer Musicals Nov. 26-Dec. 8,  Broadway in Austin Dec. 10-15 and Broadway in San Antonio Dec. 17-22.
To get a better understanding of how one socially awkward boy and his series of bad decisions managed to conquer the musical theater world, I talked to the newest actor to play Evan, the one Texas audiences will soon meet, Stephen Christopher Anthony.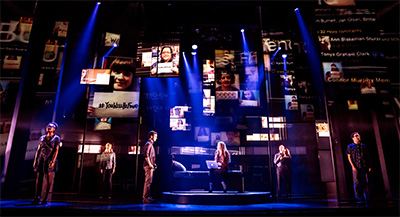 Anthony laid out his complicated love for the character right away when I asked if any of his many other roles in musicals like Book of Mormon or Catch Me If You Can helped him prepare for Dear Evan Hansen. "I don't know if anything could fully get me ready for Evan. It's a beast of its own," he replied.
In the show, Evan gets caught up in spiraling circumstances after he tells one well-intentioned lie. Anthony believes Evan's personality and his love for his working, single mother motivates him to disguise his pain.
"I think he's gotten used to making it seem that everything is O.K, that everything is perfect, for her. He wants to get himself out of the way and not be anybody's problem and of course that's not what happens in the play at all," he explains.
Anthony feels great empathy for Evan, but has difficulty calling him the hero of the story. "He overcomes a lot and learns a lot. There's something heroic about learning to accept all the parts of yourself and make peace with all the things you don't like about yourself. But he's a deeply flawed person, and that's part of what I love about him," explains Anthony, who seems to also love the acting challenge.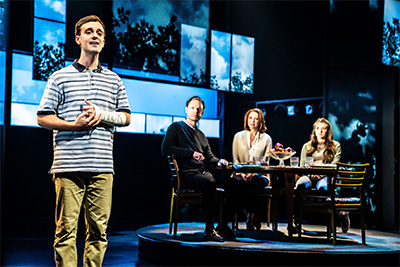 "That requires me to go to a lot of my own really dark places and real experiences I've had in the past when I've made mistakes."
Though the show hit Broadway only three years ago, Evan has become a breakout role for several actors, including originator, Ben Platt. Anthony says he approaches the role with respect for those previous Evans while bringing his own unique presence to the part.
"I have huge respect for everyone who has played Evan before me. I love Ben Platt's work, Taylor Trensch, Ben Ross and I want to pay tribute to the work that they've done, but at the same time I don't want to steal or copy. I think this role, specifically, needs to be authentic to the individual. I need to be showing you something true about Stephen. I can't show you something that was true about Ben Platt. All I can do is bring myself to it."
As Evan is musical theater, Anthony finds that in song, especially "You Will Be Found," he can reveal Evan's inner self to the world and the audience. "He lets all of the walls down, and he's showing everyone around him the darkest parts of himself in the hopes that someone else will feel less alone," he describes of this pivotal song.
As we discussed the show's grounding in its social-media-conscious, 21st-century world while portraying some universal drama and messages, I mentioned that Texas has seen quite a few musicals about young people dealing with darkness and death, like the 20th anniversary tour of Rent which roamed the Lone Star roads this past year and the TUTS revival of Spring Awakening. Anthony feels that it's a feeling of isolation that might have us revisiting these new classics while embracing Evan's own lonely song.
"Great theater, and great art in general, has always reflected the need of the times," he offered. "We're more connected than we've ever been by the internet, but something about having all of that at your disposal makes you feel more alone. I think it's no surprise at all that these musicals reach out to a younger generation, saying: you're not alone in this. You are understood."
Though Anthony might look Evan's high school age, he also teaches young actors on occasion, having given masterclasses in various cities across the country. He says the students inspire him as much as they might learn from him, and at the same time these experiences help to reinforce fundamentals in his own artistic practice.
"The hardest lesson of all is how to bring yourself to a piece," he tells students, while reminding himself. "We spend so much time as actors trying to put stuff on and turn ourselves into somebody else. I wish I had learned sooner that it's all you. The character you're playing is always going to be you at the heart. You can't bring anybody else's heart. You have to find it in yourself. Evan has been such that personal experience."
—TARRA GAINES