Two elements of Ballet Austin's The Glass Project
---
IMAGE ABOVE: Ballet Austin dancers Ashley Lynn, Paul Michael Bloodgood, Allisyn Paino-Martin and Ed Carr in Stephen Mills' Liminal Glam. Photo by Tony Spielberg.
---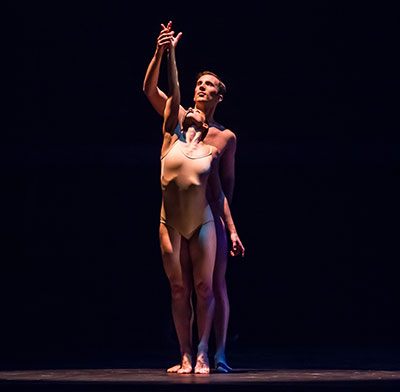 Ballet Austin Artistic Director Stephen Mills is no stranger to Philip Glass' music, nor to the man himself. "I met him a couple of years ago, actually. I was impressed with the way he's so down to earth," said Mills. "His style of music is often imitated. He really defines this era of music."
Mills' The Glass Project, an evening of three contemporary ballets that opens at Austin's Long Center for the Performing Arts this month, involves all 18 of Ballet Austin's dancers; and it's not the first time Mills has organized an evening's worth of choreography around a particular composer. First came The Bach Project in 2010, then The Mozart Project in 2011. But Glass holds a special appeal for Mills.
"His music is not dictatorial music. M from the classical or romance period is very specific…whereas Glass' music is beautifully transparent because it's about rhythm and pulses, which allows the choreographer to put his voice on top of it. It becomes personal music," explained Mills.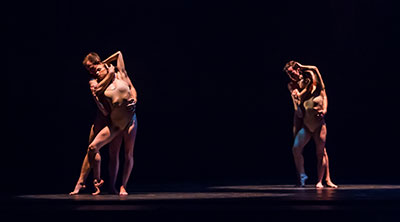 On this note, it's clear why Mills is attracted the Glass'  compositions, and why he's incorporated so many in his productions during his 14-year tenure at Ballet Austin. Both Hamlet (2000, Mills' inaugural season as artistic director), and the last section of his well-recognized Light/The Holocaust and Humanity Project (2005) are set to Glass. Two of The Glass Project pieces are actually revivals for this production: Liminal Glam (2008), a "big, classical, modern ballet" in which the ballerinas don flattened, avant-garde tutus; and the more intimate Angel of My Nature (2010), featuring duets and trios. The third piece, CARBON 53, is a premiere.
Mills says Glass' music "is very often distilled down to this idea of repetitive music structure," but that he believes "it's more complicated than people think at first blush."
Mills plays with this idea of repetition in CARBON 53, but it comes with a twist: "I'm interested in the idea of appropriation, which is used in the visual art world but not so much in the dance world. The idea is, you've got a defined image of something, and what happens when it starts to degrade? It's like a carbon copy."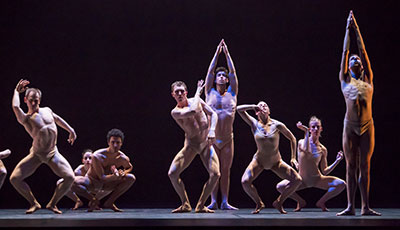 For Mills, the movement is made to mimic this carbon-copy effect through complicated repetition. "I've taken some movement ideas I've worked on in the past and started to 'degrade' them," he explained. The carbon copy theme follows through in the white/black/grey costumes made by Monica Guerra, designed to look ink-smeared.
Ballet Austin dancers Jordan Moser and Ashley Lynn speak to a collaborative creative process in developing the choreography for CARBON 53. "We have been workshopping duets and trios since the beginning of the season," said Moser. "Stephen has us partner with someone and generate a phrase of movement according to a prompt supplied by him. Then we do the same with a different partner until we each have a short phrase with five or six different dancers. Next, Stephen begins modifying and linking these phrases while partners filter in and out smoothly. The process makes for some fun surprises and challenging transition puzzles," Moser concluded.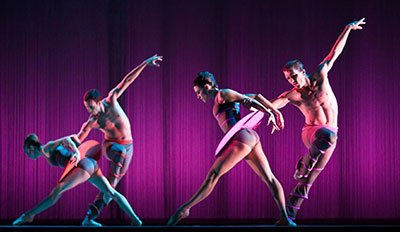 Lynn, who is in her twelfth season with Ballet Austin and will reprise her original roles in Liminal Glam and Angel of My Nature, echoed Moser's commentary about CARBON 53: "[Mills] is really allowing us to work our way through things. You definitely see all of the dancers' personalities in the movement…When you're a part of something that's never been done before, you're excited. When something is being created on you, you are part of the process, a moment in time that's never going to happen again."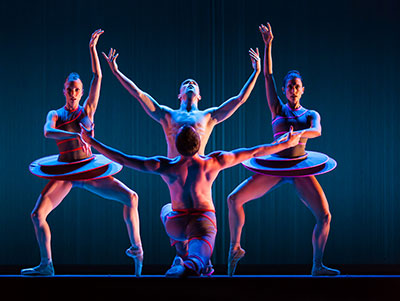 The music for CARBON 53 combines Steve Reich's Clapping Music and Pendulum with the first two parts of Glass'  Songs and Poems for Solo Cello. The varying speeds and rhythms are reflected in the contemporary vocabulary of the dance. In one section, throbbing heartbeats lend a "cool tension" to the piece, according to Lynn. For Moser, the dance reflects a favorite style: "I always look forward to performing contemporary work during our season," he explained, adding, "It offers us dancers the opportunity to delve into a world of emotion and subject that isn't possible through the classical [work]. Also, each ballet in The Glass Project represents vastly different realms. It's a fun challenge to journey through each of them in one night's performance."
Mills has drawn inspiration from Glass for decades, and he has created some converts along the way. "It's something he's shared with me," commented Lynn. "Whenever I've been spending time in the studio with specific music, it finds a way into my heart."