When the script calls for a slap, a punch, or a sword fight, it's not unusual for theaters to hire a fight director to ensure their actors' safety. But if there's a kiss, an intimate touch, or a simulated sexual act, it has often been left to the director or even the actors themselves to block the scene. As more instances of sexual harassment and abuse of power are being uncovered, especially in the theatrical community, more companies are realizing they need an important addition to their creative team: an intimacy director.
"Intimacy direction is vitally important for providing a safe space in which artists can comfortably create," says Dallas-based intimacy and fight director Ashley H. White. "Basically, intimacy directors are trained professionals who are brought in to oversee staged intimacy, similar to how a fight director comes in to choreograph and safely execute fights."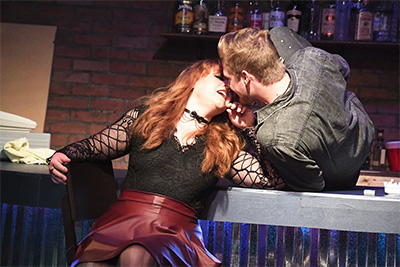 "I was not prepared for how so many in academia and professional theater saw this as revelatory, even revolutionary," says Houston-based intimacy and fight director Adam Noble, who developed the Extreme Stage Physicality (ESP) methodology that's taught at academic institutions around the country. "I really thought that I was just being a master of the obvious! But I have realized that this work is not common knowledge, but a necessary training that is only now being given proper attention."
It's common for those who study and teach stage combat to expand into intimacy direction. The principles of each are similar, with the directors responsible for making the actors know that they are in a safe environment and that a trained person is guiding them, as well as being a liaison and advocate when necessary. Intimacy Directors International, a nonprofit that "adheres to the highest standards of artistry and safety" and of which Noble and White are members, even provides a set of pillars for rehearsal and performance practice. Those five Cs include context (understanding the story), communication (between the director, intimacy director, stage management, and the actors), consent (permission may be given by a director, script, or choreographer, but consent can only be given from the person receiving the action), choreography (which will be adhered to throughout the entire production), and closure (leave the work behind, and walk back into your real life).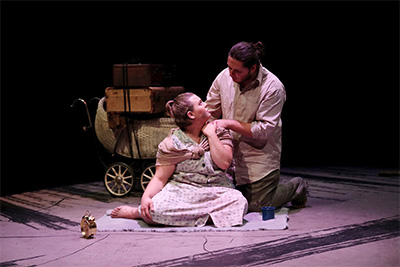 "The stage combat and intimacy communities are very in sync, and there is a lot of crossover between fight and intimacy directors," says White, who is also a co-founder of SC Dallas, DFW's only official resource for stage combat and movement training. "If you think about it, it makes sense. We are focused on safely telling stories of a physical nature. We study, understand, and promote consent in all our practices. We ensure comfort and awareness in our creative settings. We then create safe, realistic, repeatable, and honest stories with our bodies. Intimacy directors also spend a significant amount of time studying and understanding cues for verbal and non-verbal consent, body language, and mental health and safety awareness. I teach entire workshops focused on understanding consent—that it's given, not demanded or implied."
Both White and Noble say they have seen an uptick in theaters hiring intimacy directors since Gregory Boyd, Alley Theatre's former artistic director, and Lee Trull, Dallas Theater Center's former director of new play development, were let go following inappropriate behavior. However, circumstances don't always have to be so extreme for people to abuse power, or for performers to feel uncomfortable.
"The fall of powerful abusers around the country, and grassroots movements like #NotInOurHouse and #MeToo, have sparked a national debate regarding the lack of adequate systems to protect performers when it comes to sexually charged material," says Noble. "The rules have finally started to change, and the 'just shut up and do it' status quo is no longer being tolerated."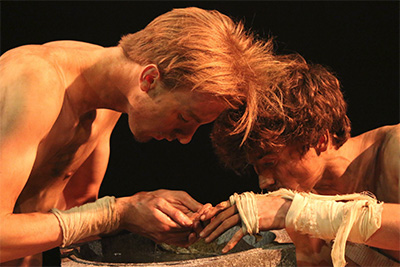 White recalls a recent show she worked on as intimacy director: "At the end of the first run, I checked in with the actors and one of them looked at me, eyes wide, and said 'I never realized this didn't have to be terrifying.'"
Physicality is a large part of onstage intimacy, but emotions are just as necessary for making a scene look believable. Sometimes it isn't physical touch that crosses the line, and when not properly directed those brief, intense, sexually charged or emotionally vulnerable moments can disrupt a performer's mental and personal safety.
"We abandoned using candles and lamps in the theater as better technology arose to take their place," says Noble. "That is precisely what is happening now for intimacy direction. We know there is a better way."
"I choreograph sex scenes, yes, but I do so much more," says White. "I am often a sounding board, and always provide a safe and confidential place for anyone in the production to express any concerns, fears, or discomforts they have. I help find a way to ease them. I've laid onstage next to an actress and coached and choreographed her vocalizing an orgasm. I structure and frame everything from kisses to caresses in a way that makes the actors comfortable, is repeatable, and is believable and in line with the story we are telling. I sit in every angle of the audience and ensure and reassure that the actors are not overly exposed. I research and follow laws for nudity onstage. And I always, always have mints."
— LINDSEY WILSON