The National Theatre of Scotland in Let The Right One In.
Photos by Manuel Harlan.
---
Depicting the everyday wonders and occasional psychological horrors of childhood and adolescence on stage and screen is something of a specialty for British writer Jack Thorne. In fact, his latest theatrical exploration of those painful growing years is the obscure little play Harry Potter and the Cursed Child.
The choice of Thorne as playwright for such a global theatrical sensation was certainly not mere happenstance. Several years before he would collaborate with Potter creator J. K. Rowling and Cursed Child director, John Tiffany, Thorne adapted for stage another otherworldly coming of age tale, Let the Right One In and its very original take on the vampire genre. Now after a successful run in London and New York, the National Theatre of Scotland brings Let the Right One In to Texas, through Texas Performing Arts in Austin Jan. 18-29 at UT McCullough Theatre and Houston's Alley Theatre Feb. 17-March 19, giving local audiences the chance to bite into this genre tale of that most dangerous journey through childhood.
Based on the Swedish novel and film by John Ajvide Lindqvist, the play Let the Right One In was first performed at the Scottish Dundee Rep Theatre in 2013. Yet, when I recently had the opportunity to speak with Thorne by phone, he was happy to take a look back at this earlier theatrical work even as he rides the success of Cursed Child and his continuing television and film projects.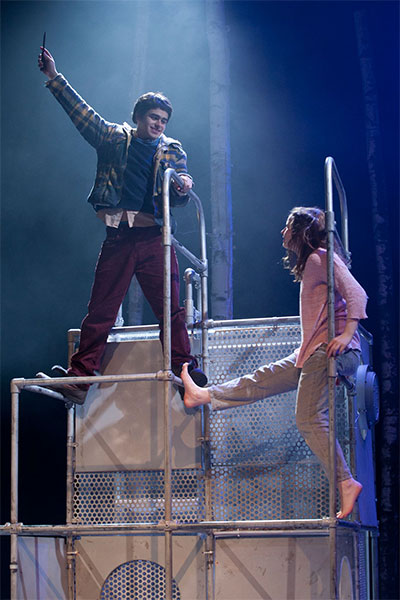 "I love this play and I love being a part of it. From the very beginning working on it has been such a joy. Lundqvist has created a work so profound and brilliant, that I just feel lucky to have been a part of it," Thorne confessed.
Let the Right One In was the first time Thorne worked with director John Tiffany, but Thorne, a British Academy of Film and Television Arts (BAFTA) award winner had already made a name for himself both as a writer of horror and as someone who could create nuanced child and teen characters.
"I was brought the project by John, who saw a genre piece involving lonely children who were a bit screwed up and didn't quite know how to live their lives. I was the best writer for it, in the context that I was a lonely, weird child," Thorne explained.
When I asked Thorne why the adolescent years are the ones he returns to frequently in his television and theatrical writing, he was not wary of making a personal connection.
"The reason I go back to it again is because I didn't work out how to do it at the time," he explained, and added that during his own teen years trying to traverse the ordinary struggles of day to day growing and living, "everyone else seemed to know how to do it, and I never quite did, and so I spent a lot of time watching them do it and not doing it myself."
For Thorne the playwright, another reason to return to childhood and teens years, at least with his characters, is his belief that this is the time we discover and become our real selves, and so rich food for drama on stage and screen.
"I think it is when you work out what sort of person you are going to be," he explained.
When I asked why the National Theatre of Scotland was first interested in producing a play version of Lindqvist's story of a bullied boy who befriends a mysterious, dangerous yet tragically lonely girl after Let the Right One In had already gone through several incarnations as a novel, a film and then an American remake titled Let Me In, Thorne's answer went back to the fundamentals of theater.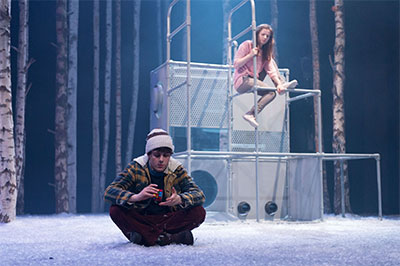 "I think because it's profound, beautiful and poetic. The things that stage can bring to that is very different from the ways you'd read it or watch it on film."
Thorne has worked with Tony and Olivier Award-winning director John Tiffany on three very different plays now, starting with Let the Right One In with the latest being Harry Potter and the Cursed Child. Their second theatrical collaboration, Hope, a rather non-commercial political play about government cuts at a local level, would seem to be the antithesis of a plays about child vampires or wizards, but Thorne says at their core they hold political similarities.
"Genre does allow you to tell quite big stories about people and the world. I think both with Potter and Let the Right One In we found quite a political story, and the originals I think are quite political. J.K Rowling is very politically motivated and so is Lindqvist"
After working with Tiffany now on three very different plays, Thorne has nothing but the most ardent analysis of his work.
"John has changed the way theater works quite profoundly. He challenged the form of theater quite profoundly. And so I've dug in by my fingernails and I've tried to hold on to him as he ascended into the stratosphere. He'll keep ascending and I'll keep trying to hold on to him."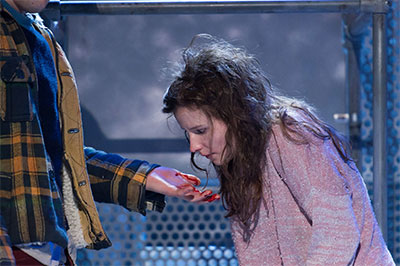 While Thorne has won accolades for his own creations, like the spooky television series The Fades, which was seen in the U.S on BBC America and most recently National Treasure, which will find an American broadcast home on Hulu, he revels in adapting other writers' work for stage and screen. He's now at work on adapting for television Philip Pullman's His Dark Materials fantasy novel, which also contain adolescent main characters.
"The thing I look for when adapting someone else's work is that there's got to be things that I can't wait to write, scenes or sequences of scenes that I just think what they've done is so brilliant that I can't wait to try to workout how to put those on stage or screen," Thorne explained, and then added a thought that might also go back to a kind of wise adolescent mindset for working out the best way to navigate the world.
"I do try to do my own stuff, but when you're offered working with Lindqvist or Rowling or Pullman you can't not do that because they're geniuses, and you hope to learn from their genius."
—TARRA GAINES