Cohn Drennan Contemporary has mounted a stellar show of three strong Texas artists – each with a unique point of view and artistic vocabulary.
Giovanni Valderas is the "frayed elements" part of the show title with his piercing satire and crisp subject examination.  Valderas' works are mixed media that reach off the wall construction-like and combine delicately rendered realistic charcoal portraits with fabric, paint, finely fringed newspaper, and these wonderful homemade tinker-toy-like constructions held together with colorful taped joints.
Two of these pieces especially struck me – both for the questions they leave the viewer with.  First, Post-Nostrums is a portrait of power – a leader of a military power – with a resolute expression.  Valderas has augmented the portrait with army drab construction elements including a stitched fabric uniform collar and a smattering of the fringed newspaper.  Does he represent good or evil? The Cup Runneth Over is the largest of Valderas' pieces and shows a scene of brotherhood – of one man caring for another lying in a hospital bed.  There are both realistic touches and quite abstract ones here, including the large three-dimensional newspaper and stick construction draped over the top of the image. This is a tender scene – what is the relationship of the two men?  Soldiers who served together in war?  Brothers?  Lovers?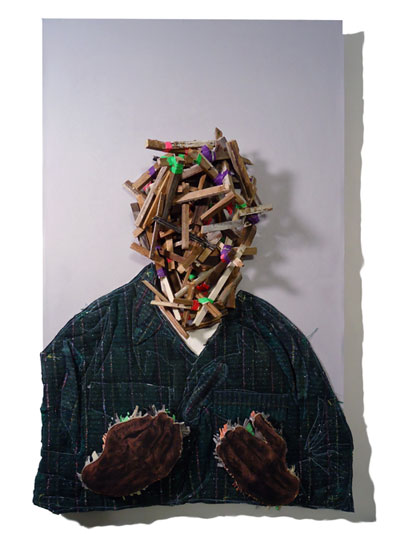 Michael McKenzie's colorful non-objective world is the "surface tension" part of the show.  McKenzie paints a dream world we don't live in, but might want to.  He is a preeminent colorist who paints full canvases of shapes created with brushstrokes, lines, spatters, impasto, and washes. Chiron Lost (Seven Sisters Chakras) is a five by six foot canvas of deliciously colored organic objects layered on top of one another.  McKenzie uses color like Kandinsky did – to create a feeling in the viewer.  His organic shapes interact with one another to ultimately read as a story that evokes the feeling that we could walk right in.  Visit From a Muse (Ella Oraculo proclama "Orale") works in this same vein – the objects in this painting float on a blue and white background as if we could take shelter from a storm in them.
Finally, Allison Gregory contributes the "eye candy" in the show with her luscious shiny jewelry-like works of "acrylic, sugar, enamel, resin, pen/ink, sequin, glass beads, gold leaf flakes, glitter" – to quote the medium list for pop art mini-mural Loop d' Loo.  Gregory's work screams "THIS IS MODERN ART" with its shaped canvases, bull's-eye patterns, nail polish colors and that incredibly polished resin surface.  Gregory's work creates smiles – why can't art be pretty?  Why not, indeed.
—KENT BOYER
---
frayed elements, surface tension and eye candy
Cohn Drennan Contemporary, Dallas
May 18-June 22, 2013