From Shakespeare to SciFi, actors often return to a beloved character to find new life in the role. Yet, very few of these revisits hold such a unique offstage story like acclaimed international film, television and stage actor Sasson Gabay. He played the part of Tewfiq in the Israeli film that inspired the Broadway musical, The Band's Visit, and now reprises that role on the North American tour of the show. In its visit to Texas, it stops in Houston presented by Broadway at the Hobby (Jan. 28-Feb. 2) and Dallas presented by Dallas Summer Musicals and AT&T Performing Arts Center's Broadway Series  (Feb. 4-23). I spoke with Gabay to learn how he came to reclaim this old friend of a role for himself.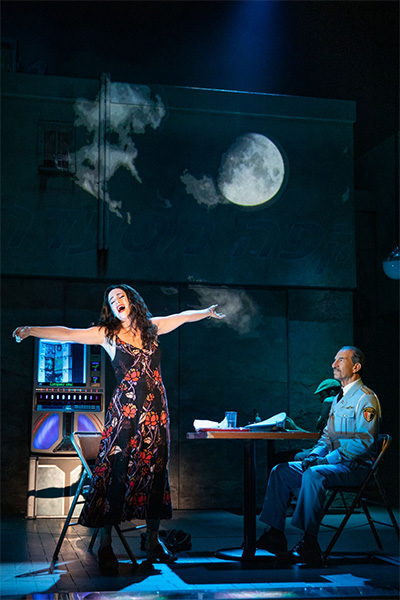 The 2007 internationally award-winning film, The Band's Visit, tells the story of how an Egyptian police ceremonial band on a cultural tour suffers a series of travel mishaps and finds itself stranded in a small Israeli desert town devoid of culture.
In 2010 the Broadway producer, Orin Wolf, reached out to Gabay early in his quest to create a musical from the story, gauging the actor's interest in reprising the role. "I said, of course, but at the bottom of my heart I thought it was the craziest idea I ever heard. The film is so delicate, gentle and human. I thought to myself: How will they turn it into a play or a musical?" recalls Gabay, with a soft laugh.
Seven years later the show's ten Tony® Awards serve as evidence for the story's stage possibilities. Because of his busy schedule, Gabay wasn't available for the initial Broadway run, and actor Tony Shalhoub ended up taking home one of those Tonys for his portrayal of Tewfiq. When Shalhoub left the production to return to television, Gabay was ready to pick up the character's conducting baton once more, first on Broadway and now on tour.
"I'm doing the same character, though 10 years elapsed from the film to the Broadway show, so the character has matured with me," says Gabay, who also notes the other big difference: Tewfiq sings in a few scenes, including a solo and a pivotal duet with the character of Dina.
Rich in pauses, silences and camera close-ups, the film allowed the actors to say much without saying a word. That kind of intimacy is difficult to achieve in theaters holding 3000 people, so I asked Gabay if the musical numbers create some of those character reveals.
He replied the music and lyrics are sometimes "the extension of the feelings of the characters," adding "It's not a razzle-dazzle musical. That's not what people are going to get, but they're going to get the human experience, a musical artistic experience. Some scenes are quiet and slow and some are full of life," he explains.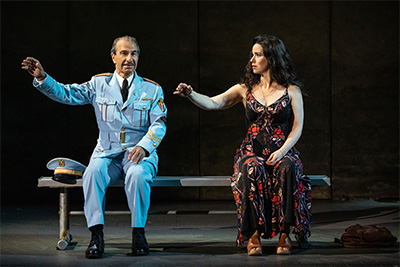 As something of an acting icon in Israel and now on Broadway, it might seem unusual that he would sign up for The Band's Visit tour, but Gabay says he wanted to see America with Tewfiq. "I like the musical. I have a big place in my heart for this character. Secondly, it's the way I make a living. I'm an actor; an actor should work."
Another enticement is that his son, actor Adam Gabay, plays Papi in the touring production and Gabay senior has the rare proud-father thrill of watching him every night from the wings.
"I know New York and I know the west coast, but I don't know America. This is a good chance to see America, and with my son that's another bonus," he says, noting with a laugh, "At my age this is an opportunity to have a unique journey in a play and character I like."
When I noted that this continental road trip with his son strangely reflects The Band's Visit story of strangers in a strange land, he affirmed he saw the similarities. "Yes, in a way it's the same situation. I'm a stranger in a new place," he describes. "What is beautiful about this play is that everything is exposed, the locals and visitors need each other. Each one of us needs comfort, love, somebody to listen to him. Sometimes you make connections with strangers more than people you live with. Sometimes you're more open and daring to talk about yourself and problems with people you know you're not going to see the next morning."
His poetic descriptions made me ask if those connections between strangers could also describe the relationship between actors and audiences. "Yes," he agreed. "With 2000 people sitting in the house, I expose my feelings, my emotions, weaknesses and happiness, with strangers. I'm willingly doing it. It's a peculiar situation when I think about it. I'm so experienced with it, I don't even think about it. But as you said, it's a kind of sharing with strangers your inner feelings."
—TARRA GAINES