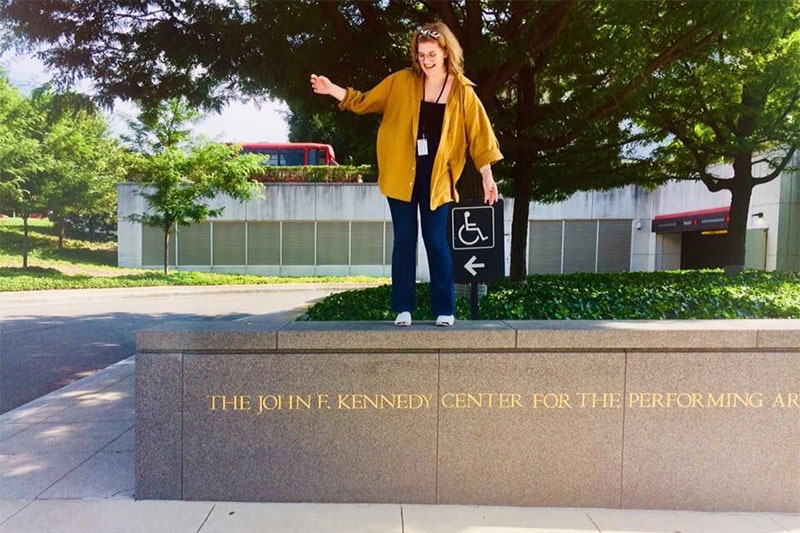 Since its founding in 1998, the National New Play Network has produced 85 rolling world premieres. Dallas's Kitchen Dog Theater, formed in 1990, is one of NNPN's founding core theaters, and hosts the longest-running new play festival in Texas.  Now, to help KDT continue to develop and stage new work, NNPN has awarded the company its very own producer-in-residence, Haley Nelson.
Nelson is no stranger to KDT, having worked there since 2016 (her senior year at SMU), first as a lobby display dramaturg and later as the manager of literary and community initiatives. She also manages the annual New Works Festival, which mounts one full production in addition to six staged readings and the PUP (Playwrights Under Progress) Fest, an afternoon of short plays written and performed by Dallas students. This season, the main stage show is A History of the Life and Voyages of Christopher Columbus by Washington Irving, written by DFW scribes Michael Federico and Cameron Cobb, and it will run as the festival's centerpiece in June 2020.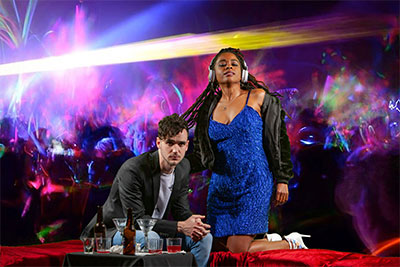 "Our 2019/20 season is chock-full of premieres, with two world premieres from local playwrights (A History… and Jonathan Norton's A Love Offering) and the NNPN rolling world premiere of Alabaster by Audrey Cefaly (which is on a record-setting 10-theater roll around the country—KDT is stop number two on this trek), so it will be incredible to have an active dramaturg in the room as we develop these plays," says KDT co-artistic director Tina Parker. "Haley will also work with the Kitchen Dog staff to oversee some of our outreach efforts and long-term goals, such as the development of a new community storytelling engagement program, the creation of an ongoing new play development program not specific to production, and the increased awareness of our free ticketing program, Admit:ALL."
Nelson is one of seven producers in residence who will help their theaters, from Alaska to Chicago to Boston to Dallas, revolutionize the way they support rising leaders in the new-play field. Over 10 months, Nelson will become immersed in the production, day-to-day, and seasonal operations of a new-play theater, learn about successful models for collaboration, deepen KDT's connections, and increase the company's visibility to the field.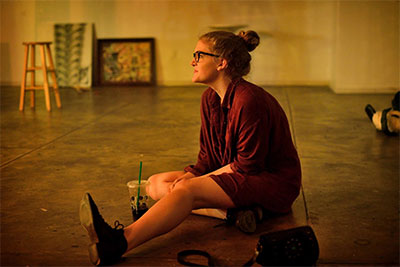 "I have a strong working understanding of the business of a production, but I've never gotten to be part of the everyday administrative decision-making of a nonprofit theater," says Nelson. "It's impossible to talk about the future of theater without a thorough, hands-on understanding of its current processes and challenges, so I'm excited for the opportunity to fill in my knowledge gaps on the operational and nonprofit development side."
Nelson is actually KDT's second NNPN producer in residence, and Parker says each time the appointment has arrived at the perfect moment for the company.
"The residencies are voted on by a jury of our NNPN peers from theaters all over the country and are highly competitive, with only a few being awarded each season," says Parker. "So to be awarded one of these grants is a huge vote of confidence for us as a company, and will hopefully usher in a new period of growth for Kitchen Dog."
Like all theater companies, KDT has faced the challenge of programming seasons that stay true to the company's bold and independent mission while maintaining enough commercial appeal to lure in audiences. Being a part of NNPN has given KDT a community from which to draw strength and inspiration, and a nearly bottomless well of support when it comes to bravely selecting titles that may be unfamiliar to the masses.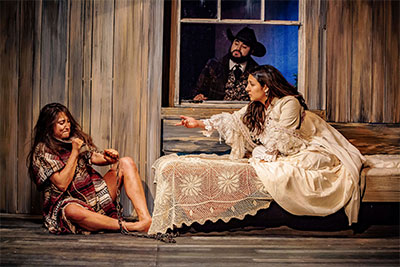 "As with any small to mid-sized nonprofit, ideas and dreams are big but staff size and budgets are usually small," Parker continues. "There are always things you want to do and change within your organization and for your audiences, but often this is simply not possible for your already maxed-out staff. Having Haley in the office to really focus on some of the new works and community outreach initiatives we've been dreaming and scheming about will hopefully mean some of these will finally come more fully to fruition."
Also a freelance dramaturg and playwright—she's a member the 2019 Dallas Theater Center Playwrights Workshop—Nelson has provided dramaturgical services to Dallas Theater Center, Circle Theatre, Theatre Too, Spoke Media, and Artstillery, as well as assisted with several new works festivals including the Kennedy Center MFA Playwrights' Workshop.
"I'm particularly excited to be physically in residence, to physically be in a room of theater artists every week," she says. "As a freelance dramaturg, I'm often working independently or outside the context of a rehearsal room, so it will be nice to have a regular dose of that communal theater spirit."
—LINDSEY WILSON