In Obie Award-winning playwright Will Eno's latest work, Wakey, Wakey, the endearingly befuddled Guy takes the audience along on a somewhat bumbling memorial journey through his life on the way to his death. In January 2019, Austin's Hyde Park Theatre will partner with Houston's Catastrophic Theatre to take Guy and Wakey, Wakey on a Texas excursion to the University of Houston and will bring the real Will Eno along for the ride.
Hyde Park Theatre has been producing Eno's plays for over a decade, beginning with Thom Pain (based on nothing) in 2007. Eno himself reached out to HPT artistic director Ken Webster in 2013 after he had heard through a mutual friend that the plays were in good hands in Austin. Since then, Webster and Eno have continued to correspond, and Webster wanted Wakey, Wakey for HPT's spring 2018 season as soon as he learned of its debut in New York.
"One of my greatest pleasures in 40 years of making theatre has been bringing Will's work to Austin audiences. But the Eno play that has brought me the most joy is Wakey, Wakey, a beautiful, moving, and surprisingly hilarious play about life, death, and healing," declares Webster, who both directs and plays Guy.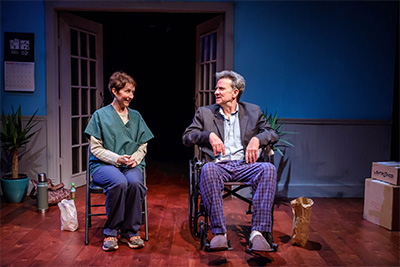 Of their discussions, Webster says Eno has always been "generous with his time," and "helpful in answering questions. A huge part of our success with Wakey, Wakey was due to his invaluable input and encouragement," describes Webster. "He became a great champion of our bringing this show to other venues."
Yet Eno gives credit to Webster for the critical acclaim for the Austin production.
"I directed the premiere of Wakey, Wakey, and I passed along some thoughts about the tone and feel of it. I really trust Ken and his theater and maybe that trust on its own and the general feeling that everything is going to be all right is as important as any tip I might be able to pass along."
After the production's success, Webster looked into bringing it to other Texas cities, and Catastrophic Theatre came to mind, as a company he greatly admires and one which has also produced several of Eno's plays. Webster said the process was helped along because Eno "championed" the idea.
Catastrophic's 2018-2019 season for their home at the MATCH had already been set, but thinking about other possible venues, their close relationship with Dr. Rob Shimko, the director of UH's School of Theatre and Dance, led them to University of Houston. From there came the idea of taking the project a step further and inviting Eno himself to Texas for a short residency during the Wakey, Wakey run (Jan. 24-Feb. 3, 2019).
Catastrophic Theatre calls the play a "spiritual bookend" to the brilliant Thom Pain, a description Eno likes.
"In Thom Pain I was trying to ask some complicated questions in a pretty aggressive way; whereas, Wakey, Wakey is more to do with gently asserting some simple statements," says Eno. "But with both plays I was interested in trying to guide a bunch of people through a number of thoughts and feelings. And in both cases the guide is vulnerable, susceptible, to the thoughts and feelings he is hoping to guide us through."
The most obvious similarity between the two works is that Wakey, Wakey begins like Thom Pain as a monologue, with Guy, like Thom, addressing the audience and creating a dynamic, sometimes conflicted relationship with them. However, unlike Thom, Guy is eventually joined on stage by another person, the care-giving, unobtrusive Lisa (Rebecca Robinson).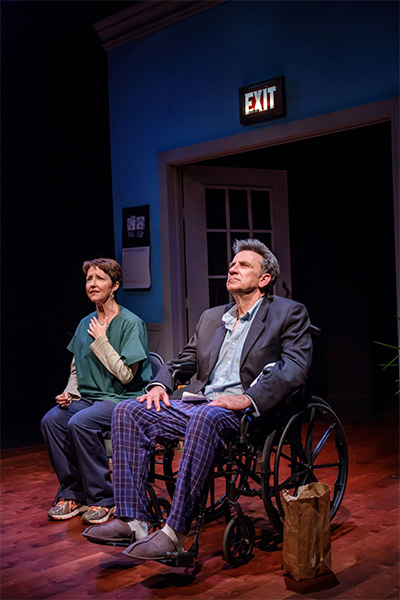 Eno gives two reasons as to why he broke the structure that many fans will recognized from his work. Both reasons perhaps touch on Guy's uniqueness and his every-guy universality.
"One is to do with life; we need other people. The other has to do with formal considerations; I was excited by the idea of a character not being able to make it through his own one-person play, and needing help from someone else. Which, I guess, no matter how formal a consideration that may be, and no matter how exciting an idea it was to me, it's probably just an expression of that first thing, the thing from life, that we need other people."
For Eno, the nature of Lisa's supportive relationship with Guy creates a different "matter-of-fact" relationship with the audience.
"Guy is embarked on this personal journey with the audience and with his own soul, and then Lisa arrives, and her main relation is to Guy and to her own work," notes Eno. "It was fun to create that particular relation, Lisa's, where she is aware of the audience, and interested in making a connection, but only up to a point. As a character, she is a constitutionally caring person, but she is also mindful and respectful of the limits of how much she can and should do for us."
Though Eno's residency at UH came about through the Catastrophic partnership, Eno says he had already been introduced to Shimko years ago by the great playwright and UH professor Edward Albee.
"The idea of being there with the play and also doing some classes with students seemed just perfect. Teaching was really important to Edward and I know he really got charged up by his time in Houston," says Eno, who also finds similarity between the act of teaching and some of the themes and ideas of Wakey, Wakey.
"Both are concerned with refining what we need, refining what we don't know. Both involve putting forward difficult ideas with clarity, but also with openness and humility. And trying to recognize and talk about what is mysterious and in fact maybe a little unknowable. I'm incredibly excited and grateful about the whole thing."
—TARRA GAINES