A visit to the cavernous EaDO warehouse at 908 Live Oak Street in Houston, the physical home of the groundbreaking non-profit design house Magpies & Peacocks (M&P), leaves a mélange of aesthetic impressions that reflects the environmental sustainability mission of the organization, yet defies definition.
"Everything here was donated and upcycled," explains M&P Founder and President Sarah-Jayne Smith. The wine/coffee bar was rebuilt from an old science lab. The reception desk was an old Macy's retail counter, trimmed in leather and accented with metal studs. The chandeliers over the lounge area were made from strips of discarded wood pallets by Artist-in-Nesting Sanjay Sharma.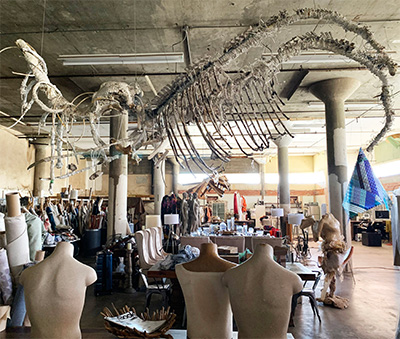 A giant skeleton whale swims in the air, overlooking the mannequins draped in couture, sewing machines on work tables, scattered art pieces, a retail marketplace, and bolts of fabric in stacks and barrels. Artist Stephanie Darling's whale is made from recycled PVC pipes, with waste plastic hanging from the bones as a dire warning of ocean pollution.
Orange construction fencing shaped into giant cones then woven with multi-hued silk ribbons hang from exposed pipes girding the concrete ceiling. Artist Nicola Parente upcycled this material for an art installation in Hermann Park, then gave it a second life here in the warehouse.
Giving post-consumer textiles and other materials a meaningful second life is a big part of M&P's creative solution to reducing waste and achieving sustainability. The 6,000 square foot warehouse is a rich resource library for the arts and design community. "It's obviously a bit messy and quite ambitious," Smith admits as she looks around the space where every nook and cranny is crammed with donated textiles, clothing, miscellaneous accessories, and even furniture. "But that's how we work. The more we divert from landfills, the more we have to manage."
Since its founding in 2011, M&P has diverted over 110 tons of textiles from landfills. "We measure our success on our impact. Whatever comes in, we make it our duty to do the best we can with it." When the Super Bowl rolled through Houston in 2017, M&P partnered with the NFL in what became the largest material reclamation in the history of the Super Bowl. "It's absolutely exciting that Houston was able to do that!"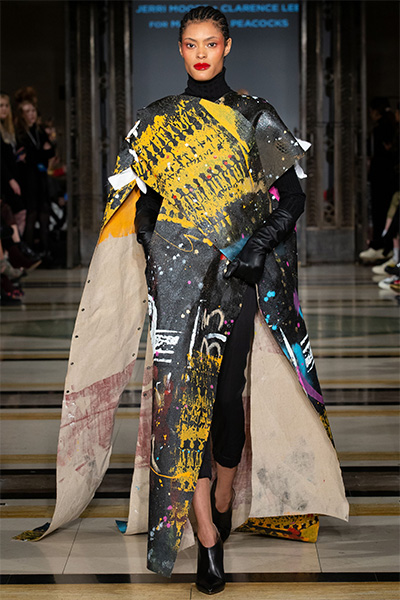 And here is where M&P connects all the dots, building a community driven by a collective purpose. Artists and designers are collaborating to create sustainable collections. This year, two innovative collections of zero-waste, upcycled fashion were featured on the runway at London Fashion Week. Nicola Parente painted two bolts of table linens for Houston designers Jerri Moore and Clarence Lee's collection "Undone." With raw edges, unfinished looks, and that boldly painted fabric, the collection tells the story of a woman on a journey to find herself. "She's just out there living," explains Lee. "She's shedding layers."
Working with M&P has allowed Lee to explore his creative side. His signature cocoon dress changes every time he cuts it. He lets the fabric decide where he goes with it. The concept was a combination of several things Lee liked—a line here, a sleeve there, a pocket position, an arm hole, a negative space reversed. It's a zero-waste way of designing something. He thinks of the fabric in its entirety and figures out how to bring out its positive attributes so nothing goes to waste. "There's a whole art and science to it," says Lee. "It's a dress that will constantly evolve."
His new project "Rework" transforms discarded men's button-down shirts into something new. Lee welcomes the challenge of reworking existing garments—"I want to reimagine the piece in a way that's new and still holds the integrity of the original garment and still retains the soul from its previous life." Everything Lee does for M&P is focused on quality. Each piece is individual and personal.
Lee's final piece on the London runway this year was created from a cut of upholstery fabric painted by renowned Houston artist Robert Hodge. The paint had thickened the already difficult material. Lee had broken 3 needles on his industrial sewing machine the night before his flight to London. He had to make it work somehow. He spent his remaining hours putting on hundreds of eyelets, then looped strings through them. When he finished draping the model, it was exactly what he had envisioned for the finale of "Undone." The kind of unpredictability that leads to creative improvisation, turning challenges into the extraordinary, is exactly what Lee loves about working with M&P.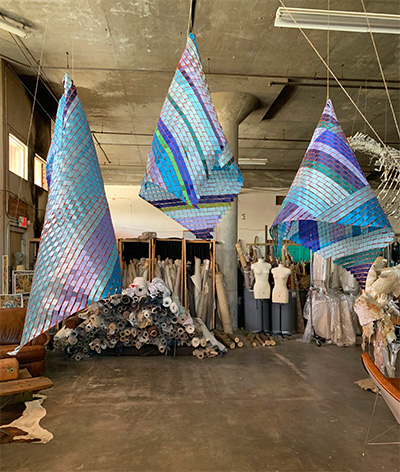 Rene Garza, stylist to Simone Biles, John Legend, Naomi Campbell, and other celebrities, is a lead designer and resident artist at M&P, as well as a board member. His studio sits in the back corner of the warehouse. Here he has stretched table linens into canvases, fused fabric within it, taken vinyl pieces and sculpted them into folds and layers to give it memory, and hand-knotted scraps from men's suits into large scale art pieces. He is currently stitching photographs of vinyl sculptures onto trench coats. Garza's sustainable collection for M&P this year, "Re:ne(w)," shown at London Fashion Week, reflects the aesthetics of the dimensional and conceptual artwork in his studio. Freeform designs from reclaimed textiles flow according to their texture, shape, and drape.
Pulsing underneath the art and high fashion, the heart of M&P is its sustainability message. Every dollar is poured back into education programs that help emerging designers understand the origin of the materials, develop the skill set needed for deconstruction and reconstruction, and realize the creative and economic potential of upcycling. Each year, M&P provides raw materials and mentorship to students in the Textiles and Apparel Division at UT Austin, helping them create sustainable collections for the largest student-run fashion show in the country.
Every artist and designer who works with M&P is committed to the education aspect of the organization. The M&P "Phlock"— young artists, models, musicians, and professionals in various fields who are passionate about social responsibility and ethical fashion—are ambassadors who spread the organization's message in their own creative mode.
The fashion industry is second only to the oil industry as one of the world's largest polluters. What can each individual do about it? As designer Clarence Lee puts it, "We need to save the planet. We can't do it alone. If I can make garments that make people think about what's in their closet, that's my little part. That's what I get out of it."
—SHERRY CHENG