Troy Schulze as Paul and Amy Bruce as Eve in the 2000 production of María Irene Fornés' The Danube,  Infernal Bridegroom Productions at Atomic Cafe.
Catastrophic Theatre reprises this play, Sept. 25- Oct. 17.
Photo by George Hixson.
---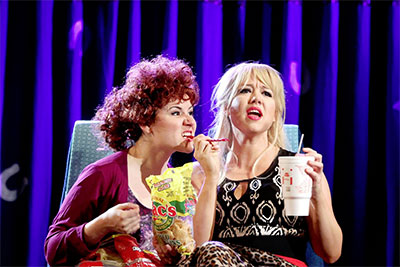 In the past few years, theater has gone through momentous growth and change in Houston; many new companies have been created while others have expanded. Two of city's staples, The Alley Theater and Main Street Theater, will complete multi-million-dollar building renovations by the fall. Outside the 610 Loop, the old Country Playhouse changed its name to Queensbury and just built a new two-stage facility, while the MATCH (Midtown Arts and Theater Center Houston) is set to open its many doors in October. So admiring all the activity, I judged the beginning of the 2015-2016 performing arts season the perfect time to try to map Houston's evolving theatrical landscape, to categorize and define the theatrical topography of the city's many stage scenes.
This is my tale of failed cartography. As a seasoned explorer of this dramatic terrain, I thought surely it would not be too challenging to draw up a guide to the city's theater, to identify the best companies for a family-friendly farce, contemporary play of ideas, or Shakespeare re-imagining. I soon found myself flailing in my quest, not just because the Houston theater community has become so vast, but because like the zoning-free city that spawned this performing arts haven, it has become difficult to discern any pattern in that landscape.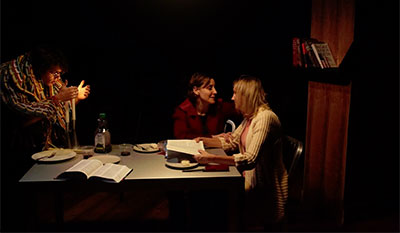 Theaters in Houston won't be confined in one district, nor will companies be defined by set categories, genres or types of plays produced. If there is any innate Houstonian quality to the city's theater, as a whole, that distinguishes it from Dallas, Austin or even New York, it might be a rather swampy nature, reflective of the original terrain that gave rise to the cement, steel and glass of the nation's fourth-largest city. You might think you're on stable ground, but wait a few minutes for a good downpour and suddenly the familiar land you thought you knew has become a rushing, swelled bayou, murky and beautiful, but also quite impossible to chart.
At the onset of my adventure, I put on my imaginary pith helmet, and began naively by surveying the largest and most historical landmarks, The Alley Theatre, founded in 1947 by one of regional theater's pioneers, Nina Vance, and Theater Under the Stars (TUTS), which began in 1968 as a resident company at  Miller Outdoor Theatre. Both companies now call the downtown theater district home. The Alley specializes in plays, TUTS musicals. How hard could it be to pin them on my metaphorical map?
Actually, pretty darned hard. Almost every season, audiences can find the latest Tony Award winning drama produced on one Alley stage, while the silliest crowd-pleasing, aging farce is performed on the other. TUTS brings in big touring Broadway shows and mounts revivals of classics, but in their spin-off TUTS Underground debuts smaller, more adult musicals to Houston.
Frustrated at my inability to easily classify even the biggest companies, I moved on to the mid-sized theaters like Main Street Theater, celebrating its 40th anniversary, and Ensemble Theatre, the oldest and largest professional African American theater in the Southwest. Yet their eclectic seasons also eluded definitive classification.
A good example of this ever-shifting theatrical ground is Stages Repertory Theatre. It seems to have at least one show in a season that will please everyone, though not with the same play: You're just as likely to find a light jukebox musical you'll feel safe taking your hip grandmother to see as regional premieres of edgy contemporary plays like Aaron Posner's Stupid Fucking Bird and David Adjmi's Marie Antoinette.
When I asked artistic director Kenn McLaughlin how he sees Stages' place on Houston's theatrical landscape, he looked to history. "Stages grew from the Regional Alternative Theatre (RAT) movement that began in the early 1970s," McLaughlin explained. "The movement formed as a response to the rise, in the previous two decades, of large regional houses like the Alley. The programming was intentionally alternative and spoke to audiences somewhat outside of the mainstream. Stages continues in that vein today and is perhaps the largest theater in town doing so."
Some companies do wear their brands on their costumed sleeves. For plays about millennial and the sometimes-annoying, sometimes-exquisite growing pains of 20-somethings, audiences should seek out a Black Lab Theatre production. For plays over a hundred years old, look to Classical Theatre Company. The title says it all. Contemporary women playwrights can find refuge under Mildred's Umbrella. In the mood for something a little experimental, but with an actual narrative, head to Catastrophic Theatre.
Yet here too Houston theaters continue to resist categorical confinement. Black Lab takes chances that no one else in Houston will—for example, on young plays and playwrights, like Kim Rosenstock's Tigers Be Still and Paul Downs Colaizzo's Really, Really. Classical revives the standards with 21st century innovative results.
Though Catastrophic always produces world premieres each year, they're also just as likely to revive a 35-year old Wallace Shawn play. While critics have sometimes used the word "experimental" to describe the company, co-artistic director Jason Nodler prefers "avant-garde" saying, "We traffic in extreme emotion; we are a theater that seeks to make its audience and artists feel, rather than think. I feel Houston has a very healthy theater ecology. And I feel it's important that any major city have a theater that is focused on the avant-garde, whatever that term might mean to you."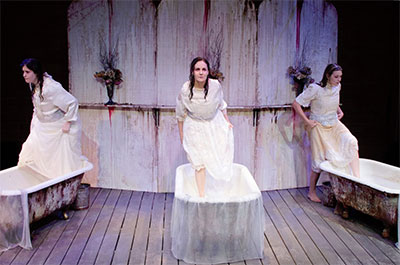 And yes, Mildred's Umbrella specializes in plays by and about women, but it also produces some of the most lyrical, dream-like drama I've seen in the past few years, though some dreams, like the recent The Drowning Girls and last year's Red Death are intentional nightmares.
When discussing Mildred's history as a "little experimental theater"  artistic director Jennifer Decker finds, "I think what we add to the community is partly the strong focus on women, but also that we are still trying to maintain our experimental aesthetic."
While the bigger companies renovate and some of the smaller ones settle down into one, permanent space, even if it's a rental, others like Horse Head Theatre, which recently staged a one-man Moby Dick retelling in a geodesic event dome, and one of the most experimental companies, BooTown, which uses shadow puppetry and stop motion animation in some of its productions, make it part of their mission to create drama outside the theater. They also run the uber popular Grown-Up Story Time, where crowds of 200 or so show up at Rudyards to hear stories read by local actors and others. Their newest project is Neo Benshi produced in collaboration with Beta Theater, where anyone can submit a Benshi short video.
"We never do any scripted plays, and instead focus on devised work that we come up with as a team. We also never do work in a traditional theater space because we want to bring the work to the people, instead of make them go out of their way to see a performance," explains BooTown's co-creative director, Emily Hynds.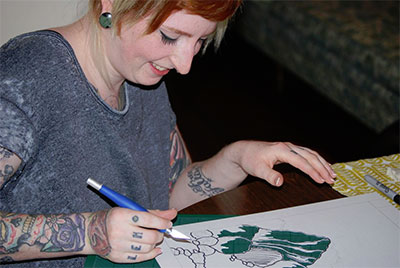 One thing there's no lack of in Houston is space for performances. This, along with what Hynds calls a theatrical "DIY Houston culture" is perhaps the cause of the deluge of new companies formed in the past five years, with names like The Next Iteration Theater Company, Standing Room Only Productions and Bayou City Theatrics. Some companies jump in immediately to full seasons, while others dip their toe into the bayou with one or two productions a year. Some artistic directors are new arrivals to the city; others like Alley Theatre Resident Company member David Rainey, founder of The Landing Theatre Company, are seasoned Houstonian pros.
Kenn McLaughlin believes the rise of so many new companies is a good thing. "The whole community has seen such growth with the rise of smaller professional companies which have begun to fill out the landscape and do much to create a more fully realized theater ecology overall," he observes. "The more work that the community as a whole can support, the stronger the caliber of artists the city can attract and thus, the work for every single company gets stronger as well."
Yet, when it comes to the smaller theaters, audiences might have difficulty distinguishing between community, which is mostly staffed and cast by volunteers, and professional theaters, where cast and creative crew are paid. A multicultural city like Houston needs a multitude of community theaters to serve its diverse populations, but Stark Naked Theatre's artistic director Kim Tobin-Lehl, believes audiences need better education about the differences between "professional art, semi-professional art and amateur art."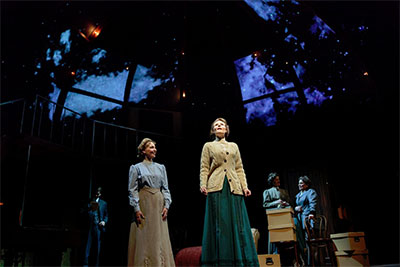 "All of these forms are important in the cultivation of a truly thriving and growing artistic culture and landscape—and not just for the attending patrons, but for the artists themselves to understand the hierarchy and what to aspire to. If any art form is not qualified through a set of professional standards and understood by the audience base through an education system supplied through active participation and qualified media, then the hope of a true community of thriving professionals is not realistic," she argues.
Colton Berry, artistic director of Bayou City Theatrics, perhaps Houston's most ambitious new company, staging a musical a month, gives credit to Houston's ever expanding theatrical circle. "In BCT's very short time as part of the community, we have been met with all sorts of support, even when experiencing the growing pains of creating an ambitious not-for-profit company," says Berry. "I have been able to connect with directors, producers and creatives with many more years of experience with the Houston theater scene."
Tobin-Lehl agrees: "Small theaters support each other and talk to each other about who is doing what and go to each others productions, it is a very supportive and collaborative community in regards to its desire to grow and expand in an effort to be economically viable for artists and the theaters themselves."
As Houston's population continues to grow and becomes ever more international, its theater scenes will likely keep transforming, forever thwarting my attempts to capture it. But in the end, which is just the beginning of a new fall performing season, I'm happily resolved to my cartographical failure.
One of my favorite spots in all of Houston is a stretch of hike and bike trail that wanders into downtown along Buffalo Bayou. From beneath the muddy bayou waters giant pillars grow to support the several stories high Interstate 45. For me, this place, just a splotch of blue, green and grey on any map represents both the Houston experience and its theater, as wetlands gives way to skyscrapers. When I want to climb up from the concrete enforced banks of the bayou to the bustling city street, a set of stairs takes me not to the towers of energy and commerce—those are about a block away—but instead to the city's theater district.
—TARRA GAINES