Four world premieres and more than 20 total works are the foundation for Dallas Black Dance Theatre's 47th season, and that's the sort of abundance that artistic director Melissa M. Young loves to see.

"The DBDT repertoire is like a lavish buffet—there will always be favorite works to savor, with the introduction of new works to entice you and keep you coming back for more," she says.
Many of those new works have exciting names attached, from global award-winners to talent grown within DBDT's own ranks. The company is also bringing back the option to stream and enjoy on-demand viewing at home. Following the 18th annual DanceAfrica Festival & Marketplace at Moody Performance Hall and Klyde Warren Park in early October, the season takes off with the curated Director's Choice showcase.
The program includes two world premieres, one by 2023 Guggenheim Fellow Nejla Yatkin and another by the award-winning Norbert De La Cruz III, in addition to a performance of Francesca Harper's Instinct 11.1. Young describes Yatkin's full-company work as a fascinating interplay of her Turkish culture and music, various movement influences, and her relationship to space and patterns.

Cruz shared that one of his inspirations was "wabi-sabi, which is a Japanese aesthetic about this outlook on life, that everything is imperfect, incomplete, transient, and that there is a possibility to bring something back home after it's been broken." Those who wish to delve even deeper can pose questions at the post-performance talkback, held after each show on Nov. 10-11, 2023, at the Wyly Theatre.
"Dallas' art scene has been thriving for years and has become a city whose community embraces the robust and rich nature of dance in all forms," says Young. "World premieres are a way of showcasing the constant evolution of DBDT, acting as a mirror to how our city is growing, and reflecting the genuine effort of connectivity in humanity.
"I never seek out choreographers solely for their résumés, as the work must be meaningful first," she continues. "The inclusion of these two remarkable choreographers is my effort to showcase interesting dance stories that come from unique individuals who have layered personal stories that bring an extraordinary amount of significance to the stage and bring out the best in my dancers. Both Nejla and Norbert are grounded in who they are and understand how to communicate with artists in very special ways to allow them to be their authentic selves throughout the artistic process, and their works are timeless."
Cultivating local talent is also important to Young, who has been at the helm of DBDT since 2018.
Behind the Scenes
(Nov. 20-21, 2023) and
Black on Black
(Dec. 1-2, 2023), both at DBDT Studios, give audiences an insider look at the company, with performances that also include Dallas Black Dance Academy students and DBDT: Encore! members.
Black on Black
even features a pre-show reception with light bites and cocktails, and a DJ-led afterparty (all guests must be 21 and up to attend this one). Students are also spotlighted during the holiday favorite
Espresso Nutcracker
, Dec. 9, 2023, at the Majestic Theatre.
Cultural Awareness, Feb 9-10, 2024, at the Wyly Theatre, amplifies the unifying language of dance with two more world premieres. Postmortem by Hana Delong, a nine-year DBDT company member, explores the different uncontrollable experiences that affect our lives, from love and heartbreak to greed and over-consumption and everything in between. A solo work by former DBDA student and Princess Grace Honoraria award-winner Alysia Johnson is rounded out by His Grace by Christopher L. Huggins and ODETTA by Matthew Rushing.
"Often dance companies try to prove their artistic value by building their repertoire with choreographers who may not have ties to the company or use the 'it' choreographer of the moment to generate public interest," Young says. "One of the golden keys that I hold close to my heart is opening my eyes to the possibilities of what is right in front of me. Opening the pathway and deepening DBDT's legacy by exposing choreographers like Alysia and Hana shows that opulent and noteworthy art can be cultivated and blossom within our own house."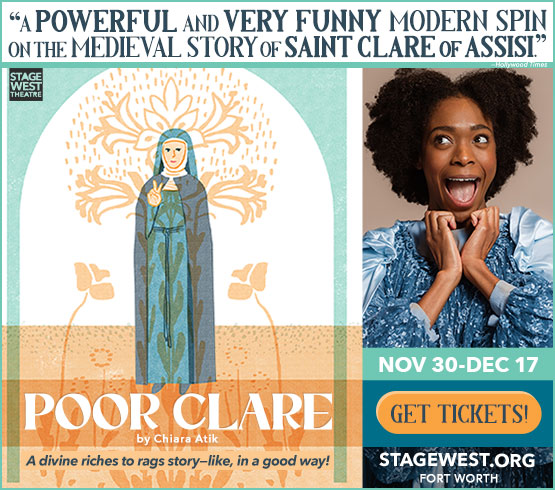 DBDT hits the road in March 2024 with
Dancing Beyond Borders
in Fort Worth and Richardson, and then puts the DBDT: Encore! company center stage with
Rising Excellence
April 19-20, 2024, at Moody Performance Hall. Prior to the much-anticipated annual fundraiser The BIG Dance on June 1, 2024, where DBDT's academy will celebrate its 50
th
anniversary season, is the
Spring Celebration
.
Held May 17-18, 2024, at the Wyly Theatre, this grand finale features performances of From Within by Nijawwon Matthews, Black in Time by Kameron N. Saunders with an original composition by Brandon Finklea, and a special guest performance by The DASH Ensemble.
Having made its world premiere in 2022, Black in Time is "an emotionally intricate and dynamic work," says Young. "Inspired by the future, particularly the future of Black people, Kameron's mission was to create a work that was valuable, important, and had a message. It simply makes you feel good and leaves you better than when you came."
—LINDSEY WILSON