As that infamous theatrical adage goes: dying is easy; comedy is hard. Yet when finding ourselves watching a staged world created by Will Eno, we'll likely see the two ideas blend into one. Though perhaps never outright ha ha funny, Eno often peoples his plays with perplexed humans, not so much raging, as comically meandering against the dying of the light.
In the latest Eno production in Houston, 4th Wall Theatre's The Realistic Joneses (now through Feb. 8), we meet the Joneses and the other Joneses, two isolated couples who find some solace in their existence by becoming nosey neighbors. As directed by Jennifer Dean, the fine four person cast, delivers Eno's strange and lovely observations on life, death and human connection in such a way it startles a laugh right out of us.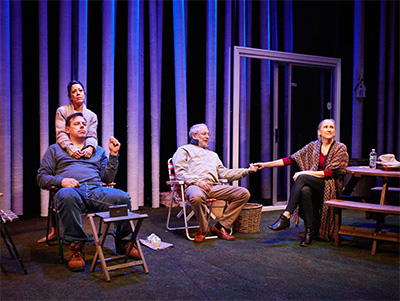 With several ways to read the title, the mundane sounding Realistic Joneses does signal, if not necessarily strict realism, then at least a somewhat more traditional structure than previous Eno productions that have landed in Houston in the last several years. The characters never acknowledge the audience as they would in Thom Pain or Wakey, Wakey or even in the local-news-team-broadcasting-from-an-apocalypse format in Tragedy, a Tragedy, which Catastrophic Theatre just produced last fall. Instead Joneses becomes a slice of neighborly life (and death) as two sets of Joneses do indeed attempt to keep up with each other, but in very Eno-centric ways.
Much of the story takes place in the backyard of Bob and Jennifer Jones (Philip Lehl and Kim Tobin-Lehl). At first we get the impression of a couple comfortable in their middle-aged marriage. Yet their twilight conversation on the beauty of the evening and possibly painting the house masks a prickly unease. Only when their new neighbors, John and Pony Jones (Drake Simpson and Vaishnavi Sharma), trample in unannounced from the bushes with a bottle of wine offering does the first part of the metaphorical unknown that lies hidden in the growing dark reveal itself. During their rambling introductions to each other–in one moment of awkwardness among many–Jennifer tells the second Joneses that Bob has a rare and likely fatal neurological disease.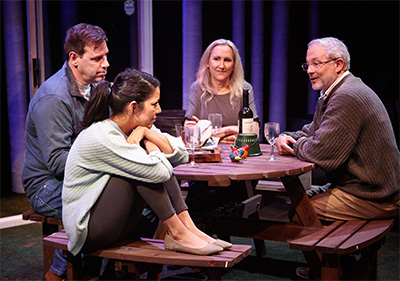 This is Eno so don't expect a three act structure and a definitive happy or tragic resolution for the 100 minutes show. Instead, we get shortish scenes of the four in various combinations, as the Joneses weave themselves into each others' lives, needling and sticking themselves along the way.
Tobin-Lehl who has played both tough and occasionally manic characters in the past gives Jennifer a softness and determined yet sympathetic air as the wife who has to become forceful administrative nursemaid for her husband. Meanwhile, Lehl inhabits Bob as a man half checked out of life and both uncertain in his lingering and resentful he needs to commit to either staying or going.
The slightly younger Joneses are rather perfect for each other in their constant contradictions. Their relationship seems to change from moment to moment, but then so do their individual, surface personalities. It becomes clear early on that John is protecting his wife from some hard realities, but only during private conversations with Jennifer does the shape of that reality become evident. Pony who claims to want to face life head on is extreme in her squishiness. Under Dean's direction, Sharma intentionally never makes it clear when Pony is genuinely clueless and when she feigns to avoid confrontations, if only with herself.
While great actors can usually make any role their own, and I hate to break out the born-to-play cliche, Simpson appears to have a soul connection with this particular Eno creation. He effortless brings John to life with all his gloriously weird asides and casual comic desperation so that every remark he utters possess a myriad of meanings.
Many of the sharpest lines, in both comic and tragic capacities, come from Simpson, but Dean makes certain the whole cast gets their own time to talk the everyday joys and minutiae of life to death and death to life.
Since Joneses is one of Eno's most naturalistic works, Kevin Rigdon's set and lighting design, which leans more abstract, provides fascinating contrasts, somewhat like the Joneses themselves. Freestanding glass backdoors represent each home and a forest of white poles play the role of surrounding birch or aspen trees. Together with the lighting and many blackouts the set becomes like painterly gestures on the canvas of these lives where we only see glimpses of the reality behind the glass and amid the trees.
Near the end of this tale, (spoiler alert) Jennifer and Bob indulge in an after-dinner mint. It's nothing special, but like many little moments and utterances in Realistic Joneses perhaps represents so much more, a hard comic shell to make easy that bittersweet taste of the end.
-TARRA GAINES