Cleo playwright Lawrence Wright and Lisa Birnbaum, who will portray Elizabeth Taylor in the world premiere of Cleo April 6-29, 2018 at the Alley Theatre.
Photo by Lynn Lane at the Museum of Fine Arts Houston.
---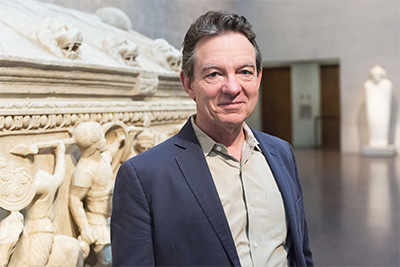 Everything in the world connects to Texas, and everything in Texas is connected. This theory of a kind of Texas-centric universe resonates through Pulitzer Prize winning author Lawrence Wright's new book, God Save Texas: A Journey Into the Soul of the Lone Star State.
Written in response to New Yorker editor David Remnick's request that Wright explain Texas to him, the book takes readers on a trek through Texas from the dawn of the Republic to the 2016 election, and Texas  space, from Houston to Marfa, Dallas to El Paso. Along the way, God Save Texas maps both the light and dark soul of the state. Yet, I discovered when I recently talked to Wright about both the debut of the book, and the world premiere of his play Cleo at the Alley Theatre April 6-29, that this was not a writing trip he had planned to make.
"When I left Texas Monthly, my feeling was I was never going to write about Texas again. I didn't want to be pigeonholed as regional writer. But it turned out I never left Texas. That created a puzzle in my mind. I don't work in Texas. My work is in New York or LA, but there was something that held me there. I was interested in exploring what that bond was."
To understand Texas's dichotomous imprint and strengthening influence on the rest of the world, Wright decided to use the first person point-of-view and put himself in the story.
"I tend to use it very sparingly" he said of the "electrically charged pronoun I," but also noted this project was somewhat different than his other bestselling nonfiction work, like The Looming Tower: Al-Qaeda and the Road to 9/11, which has recently become a Hulu television series, and Going Clear: Scientology, Hollywood, & the Prison of Belief.
"You have to find someone whose voice the reader trusts," Wright explained of his nonfiction narrative philosophy. "You want that someone to be able to take the reader into places he'd never been, in this case Texas, or at least my Texas, the way I see it. I realized there was only one voice that could do that, my own. It became an intimate experience for me to look inside and see what it was that Texas meant to me."
Organized by themes and geography, Wright drills deep into Texas politics, arts, culture, big cities, border, and energy. Wright's often-humorous voice becomes a trusted guide when discovering Texas's lost stories as well as confronting painful tragedies.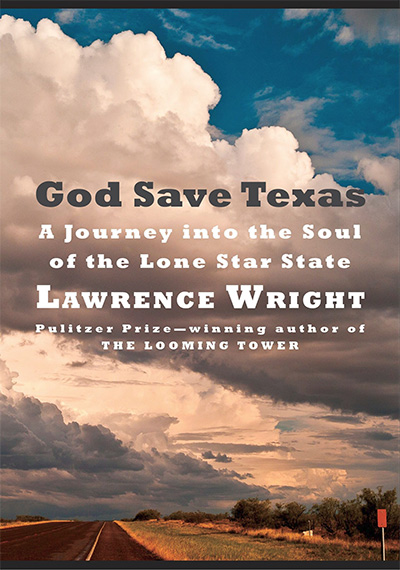 When I mentioned how the book gave me a new understanding of how influential Texas had become to the rest of the world, Wright explained that was something of a strange discovery for him as well.
"When I was young and living in Dallas, Texas was a kind of marginal player in the national scene and certainly internationally, excepting oil. It had very powerful political figures in Washington, but the state itself, culturally and politically, didn't have a whole lot of influence. That's what was so surprising to me when I sat down to write again about Texas, at how central it has become in our national affairs and a big player internationally as well."
Just one example of Wright filtering Texas through his eyes, while letting the state and its larger-than-life personalities be the real stars, comes in the Houston chapter. It begins with the city's namesake, Sam Houston, chronicles its rise as the nation's most diverse city, exploring its energy industry, medical center, Astrodome and NASA along the way before ending with Hurricane Harvey, which nearly drowned Wright's other big debut this month.
Cleo, the theatrical depiction of the Elizabeth Taylor/Richard Burton affair on the set of the film Cleopatra was set for production last fall at the Alley Theatre when the hurricane flooded the Houston Theater District. God Save Texas not only examines Harvey's continuing impact on the city, it gives one of the best descriptions of what actually happened when flood waters overrun the downtown theaters that I've read.
Wright has been working on Cleo off and on for about 20 years, so a little thing like a massive hurricane couldn't keep the production down for long.
Those two decades of writing pale in comparison with how long he's been fascinated by the affair. He writes in God Save Texas that as an adolescent, he was "radiated by the romance, which happened to coincide with the onset of puberty." When I asked him what kind of half-life such romantic radiation has, he indicated a lengthy one.
"Some things touch you at a certain moment when you're vulnerable. Up until the big scandal, I had the feeling movie stars never had sex," he described of an era when movies depicted married couples sleeping in separate beds. "Then suddenly: Wow. The covers are pulled back and you see what's really going on. It was incredibly titillating."
As with much of his work, Wright's insights illuminate a deeper cultural significance to even something like a Hollywood illicit romance. "I think it's not too much to say that it was the opening notes of the sexual revolution, which followed right there after."
The majority of the 2017-2018 season at the Alley features plays dramatically depicting real people and re-imagining history, but Wright as a nonfiction writer, who also writes screenplays and plays, had a journalistic approach to the material. He interviewed some of the still-living industry people who worked on the film, including Rosemary Mathews, script supervisor, who fell in love with Cleopatra's director, Joseph L. Mankiewicz. (Their love had a much longer happily-ever-after than Taylor and Burton's.)
"I go about writing a play or movie the same way I go about researching a magazine article or book," Wright says. "For me, it all starts with research. I'm always delighted and surprised by how much more interesting the real story is than the one which you made up."
Though Wright says he doesn't consider himself a "man of the theater," he loves the form. "One of the pleasures of writing for the theater is where language is really honored, as a dramatic force. One of the joys of theater is just hearing the language."
One problem Wright does have with the theatrical world is the need for a big star if a work debuts on Broadway, and Cleo has had more than one famous actor attached to it, and therefore tied to the actor's schedule. But at the Alley, the play itself, not a famous name became the focus, perhaps one benefit of life and art in our Texas-centric reality.
Lawrence Wright reads from God Save Texas April 17 at Central Presbyterian Church, presented by Texas Book Festival and Austin Film Festival, and at St. Paul's United Methodist Church in Houston, April 30, presented by Brazos Bookstore.
—TARRA GAINES