---
IMAGE: Selven O'Keef Jarmon. Photo by EE Kachinski.
---
Profiles in Leadership are conversations about cultural influence, aesthetic visions and seizing opportunities. Recently, Sixto Wagan, director of the Center for Arts Leadership at the University of Houston, visited with Selven O'Keef Jarmon, a Houston-based fashion designer/visual artist.
Inspired by a desire to incorporate social consciousness into his work, Jarmon moved to South Africa to connect his visual art with the social, cultural and political climate there. His investigation and research inspired the KWANDA – COMMUNITIES WITH SOUL Reality Makeover Show, which aired in prime time on South African network television to over 14 million viewers.
Within the scope of the KWANDA television show, Jarmon founded the KWANDA Klothing Label, a collective of South African fashion graduates who worked with poor and rural communities. He was recently featured as part of the Dallas Art Fair and will have a large-scale installation, entitled 360 Degrees Vanishing, at the Art League Houston in Spring 2014.   Below is an excerpt of their conversation.
Sixto Wagan: How does social consciousness come into play in your work as a visual artist and fashion designer?
Selven O'Keef Jarmon : After September 11, I had to figure out how my work figures into the context of what's happening in the world.  It just had to go beyond commerce for me.  I read about Carlos Miele's work in Elle magazine [incorporating rosettes created by artisan collectives in Brazil into his clothing brand] and thought, "this is what I want to do."
SW: What drew you to South Africa?
SJ: I was talking to my sister, and she said I needed to do this in South Africa. She had just been there with Habitat for Humanity. "Why don't you just go? If you just went, you'd know." South Africa is very extreme:  Extremely beautiful, extremely complicated; extreme politics, extreme love and extreme hate.  It's all mixed in that one place, one country.
SW: With everything so complicated, where did you start?
SJ: I focused on school uniforms, because they struck me as very Eurocentric. Culturally speaking, what does this say? The culture had been suffocated by proxy under the old regime.  We could create an industry re-envisioning these school uniforms, and it would give a chance [for these rural communities] to build skills and sustainability.
SW: How did your work lead to change in those communities?
SJ: KWANDA was a real reality-makeover show. It asked five different communities how to feel better, work better and to address their own social challenges.  It needed to be about the communities helping themselves, because government can't; they don't have enough money to do so. The outcome of this show was a clothing line built by people in these impoverished communities. I hired five different designers, who were recent graduates from South African fashion schools to pair with each of these communities.
SW: So you're a reality-television star in South Africa, how are you leveraging that role?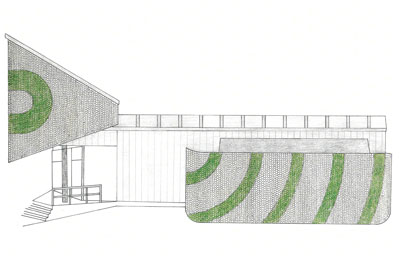 SJ: During my last trip, in just five days, I was able to get backing for 360 Degrees Vanishing exhibition from the South African Minister of Art and Culture, the Deputy Chairperson of the Eastern Cape Arts Council and others.  They are funding the transportation of all 14 South African beaders to Houston. Nothing ever moves that fast in South Africa.
SW: Why beading?
SJ: These were not objects just meant to be sold on the streets to tourists as they are now. It had so much meaning and use in the culture: as a currency, in the house and in ceremonies.  As these ceremonies disappeared and as people moved from the rural to the urban [areas], the significance and meaning was lost.
SW: Covering the Art League with these beaded tapestries is a big change of scale from a simple tourist keepsake.  Why bead a whole building?
SJ: I am hoping that this exhibition can re-imagine the possibilities that could happen with this craft, and for the South African beaders, link their craft to a new economic socket. It should connect young people to this craft, otherwise it is going to die on the tourism vine. When people see this big building covered in beads from South Africa — made by people from these small communities—it makes people reflect on things in their own culture that are disappearing and want to do something about it.
---
This is the first in a series of interviews as part of a partnership between A + C and the Center for Arts Leadership at University of Houston. The Center for Arts Leadership investigates, creates and tests leadership practices in the arts through gatherings and strategic partnerships.