Radical visions—that's what lead programmer, Jazmyne Moreno, says we should look for at this year's Houston Cinema Arts Festival (Nov. 10-16). In the past, the filmmakers' perspectives showcased at HCAF have always leaned towards the original and sometimes even revolutionary. But for 2022, Moreno thought it time to give those visions their own thematic category, along with Films about Art, Spotlight on Houston and OUTsiders. Yet looking at the roster of documentaries, genre, narrative and shorts this year, it's hard not to see radical visions as a declaration for the whole festival.

As a film scholar and programmer for the Austin Film Society, Moreno has attended the festival in the past and previously acted as a moderator on a panel, but this is Moreno's first year as a HCAF programmer. She spent much time thinking about the festival's past and possible future.
"I talked to a lot of people to get a sense of what the festival means to everyone. It was really important to me to understand the significance of a festival in a place like Houston which is this big, big city but at the same time you don't get as many opportunities to see films like this outside of the museum."
That combination of Houston's diverse audiences and the unique opportunity to present rarely-seen films led to some radical vision selections. Moreno says she wanted "to shine a light on people who perhaps don't get to see themselves on screen but are there in Houston. Coming from Austin I don't always get to play those films. I don't always have those wide and diverse audiences."

­­­
The 2022 festival features a wide range of international offerings, including films like
Sick of Myself,
a particularly artistic revenge plot set in Oslo,
Holy Spider
that depicts a journalist's tracking of a serial killer of sex workers in Iran and director Lukas Dhont's
Close
, which took the Grand Jury Prize at the Cannes Film Festival.
That radical focus also led to Moreno selecting a personal favorite subset of fictive works—genre films.
"I wanted to experiment and see how far I could push it; how far can we go. It's not just radical visions in terms of the film themselves and how crazy they are. But again, we're kind of looking forward. Maybe the festival looks a bit like this and audiences do like genre films."
Along with Sick of Myself, Moreno says a genre highlight of the festival will be the French film Five Devils.
"I love a creepy kid. I love witchcraft," says Moreno of this "striking" film. But genre doesn't have to mean horror or supernatural. Take for example The African Desperate, a chronicle of the sometimes comic, sometimes fantastical and psychedelic day and night in the life of a newly minted MFA graduate artist. It too can become a radical new kind of genre film.
In keeping with HCAF's roots in showcasing films about the arts, some of those radical visions will include documentaries about visual and performing artists, including
Rewind & Play
taken from footage of a 1969 Thelonious Monk interview on French television; a new look at the life of opera great Marian Anderson with
Marian Anderson: The Whole World in Her Hands
; and the world premiere documentary
With Peter Bradley
. The Bradley documentary will be accompanied by a show of selected works by the abstract artist at the DeLUXE Gallery.
"I definitely wanted to speak to where the festival has been and where I see it going," says Moreno on programming a variety of films about artists and the artistic process.
The festival's OUTsider selections give voice to queer stories.
"Each of these films speak to the queer experience, and I think do so beautifully," says Moreno. Even a quick glance at the festival lineup gives evidence for the diversity in those experiences—from Sirens, a documentary about a Lebanese female metal band to the festival's opening night feature, The Inspection, a narrative film about a young, gay Black man joining the Marines.
Of course, it wouldn't be HCAF without a spotlight on Houston with screenings of films like Selena, starring Jennifer Lopez and the new documentary on Houston's iconic nightclub Numbers, Friday I'm In Love.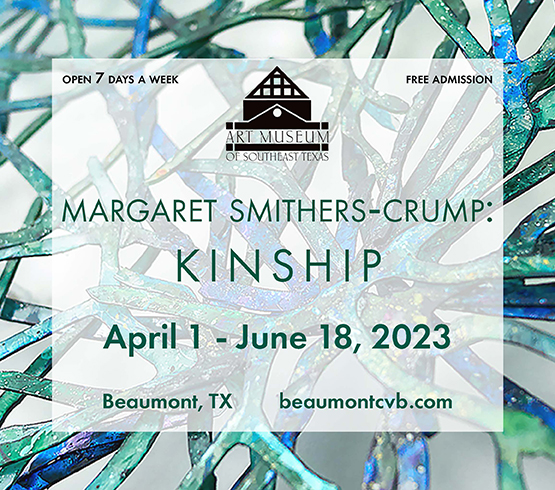 The festival always brings Houston cinephiles one of the best chances to see visionary short films. This year, it features the eighth annual CineSpace, the short film competition developed by the Houston Cinema Arts Society and NASA. Filmmakers around the world use NASA footage for their creations. This will also be the third year for Borders | No Borders the short film competition open to filmmakers from Texas, bordering states and Mexico. This year's festival also brings a new program of Environmental Shorts, moderated by Jasmine Jones, which presents filmmakers who focus their lens on environmental injustices impacting communities throughout the world.
As always, the festival invites some of those radical visionaries to town for conversations and panel discussions, including Les Enfants Terribles
director Ahmet Necdet Çupur, director Jenny Waldo for a staged reading of her new script Martha's Mustang, as well as many of the short filmmakers. In what Moreno is calling a centerpiece of the festival, actress, Texan and HCAF Honoree, Judith Ivey will be on hand for the screening of Women Talking to discuss her latest role. Moreno believes this film, directed by Sarah Polley, will be on many critics' year-end best lists.
Looking at the selections and what's to come, Moreno reveals some pretty rad visions of her own. "I wanted to see possibly what the future looks like not just in terms of the festival but in terms of cinema."
—TARRA GAINES