Of all the classic Disney princesses based on European fairy tales, Beauty and Beast's Beauty (a.k.a Belle) has always possessed the most contemporary, spunky spirit. An intellectual dreamer who resists bullies, she ends up saving herself, her father and beastly boyfriend. Best of all, she doesn't have to spend the climax (of the story) stuck in a magical coma.
Twenty-five years ago, to the month, Theatre Under the Stars world-premiered Disney's Beauty and the Beast in its pre-Broadway run and introduced this independent Belle to the stage. As a grand holiday offering (through Dec. 23), TUTS now revives the show for its 50th anniversary season. The production, directed and choreographed by Broadway choreographer Chris Bailey, reminds us some heroes can change the world, or at least a village, while rocking a bright yellow princess gown.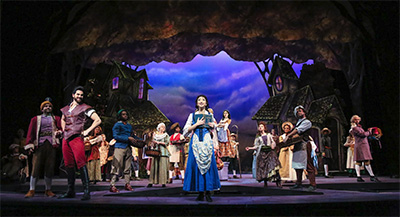 For those unfamiliar with the original Gabrielle-Suzanne Barbot de Villeneuve's La Belle et la Bête or any of its later variations, or the Disney animated film, or the staged musical based on the animated film, which had its debut pre-Broadway debut in Houston in 1993, or even the 2017 live action movie, Beauty and Beast delivers the rather dangerous moral that a good woman's love really can turn a beast into a prince. Yet, the show also holds some empowering messages about finding home in oneself for all those little girls, tweens, and a few adults, in the audience cosplaying Belle.
With a gorgeous score by Alan Menken, lyrics by Howard Ashman and Tim Rice, and book by Linda Woolverton, the show gives both Belle (Delphi Borich) and Beast (Michael Burrell) a layered complexity beyond stock fairytale lovers.
Borich brings life to a Belle all the more beautiful in her imperfections and growing pains. Her voice rings loveliness through the production, whether she's doing introspective soul-searching, "A Change in Me," or singing along with dancing golden silverware. While gruff and grumbly, Burrell reveals the Beast's arrogance stems partly from frustration in his own limitations. Burrell does miss the mark a bit when trying to make the Beast intimidating, but that's a difficult task while wearing adorably fuzzy hand and foot paws.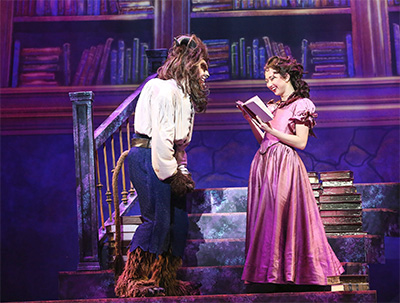 Their once-upon-a-time begins with the original curse that turns the prince into a beast for his lack of hospitality to a stranger. Then, from the opening number "Belle," where our hero knows there must be more to her story than provincial life, to songs like "Home," to Burrell's Felis catus (house cat) mannerisms whenever the Beast is feeling vulnerable, director Bailey seems to be making a distinction between taming and domesticating.
The Beast's love for Belle civilizes him, while she learns marriage might not be so bad if it becomes a partnership that also comes with a castle holding the biggest library in the land. Yet Belle and her beast achieve a happy ending by not attempting to snuff out that core fire and wildness in each other.
The main outside threat to our couple arrives in the burly, brawny, "especially good at expectorating" Gaston (a hilarious Keith Hines), a hunter who plans to tame Belle as his wife and kill anything furry along the way. Hines adds enough touches of insecurities to Gaston's reveling villainy that we might wish a correcting curse on this monster as well, perhaps to be broken by the love of his sidekick, Lefou (Barrett Riggins) in a sequel musical.
As many a British costumed drama have taught us, the downstairs domestic hijinks can sometimes rival any upstairs love story, and Beauty and the Beast is no exception with the servants turned into castle-hold objects stirring and brewing up, sometimes literally, much of the musical fun.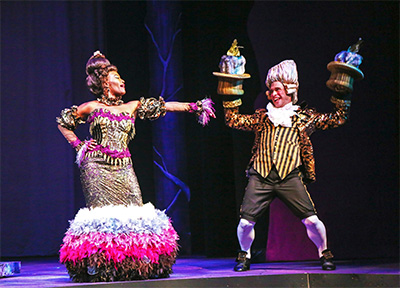 Broadway veterans Price Waldman as Cogsworth and James Patterson as Lumiere in particular make even the most groan-worthy old joke seem as fresh-faced as young cup Chip (Brennan Emeka in a performance highlighting the talent coming out of TUTS's The River Performing and Visual Arts Center). Miss Potts (Carla Woods who does sweet justice to the title "Beauty and the Beast" number), Babette (Nasia Thomas in fine diva form) and Madame de la Grand Bouche (a funny Jana Ellsworth) make sure Belle has female role models with moxie.
One dark cloud over the production is the actual absence of light that sometimes shrouds Kelly Tighe's set. While the cursed castle and its inhabitants are supposed to be marred in metaphorical darkness, the spooky atmosphere created by the lighting and set design sometimes goes a little too far. I had trouble discerning the onstage action in some scenes and then almost blinded by sudden golden blaze on stage in another. Particularly disappointing was when a cool effect with large wolf puppets got lost in a black, foggy soup.
But in the end, light does prevail, both figuratively and physically, in this 25th anniversary production for TUTS 50th season, and leaves us with one happily ever after holiday message: love doesn't deign to conquer so much as it enlightens and humanizes us all.
—TARRA GAINES