One bustling summer stands between Marlana Doyle and a milestone—the 5th season for Houston Contemporary Dance Company (HCDC) and the Institute of Contemporary Dance in Houston (ICD) two organizations she founded in 2019.

Having just completed HCDC's annual performance at Houston's Hobby Center for the Performing Arts, Doyle's summer segue begins with the staging of
Moving Myths
, a production depicting stories from multiple cultures and designed for students and families.
Moving Myths was developed and written for METdance by playwright, educator and novelist Elizabeth A. M. Keel. At the time artistic director of the now-disbanded company, Doyle contributed the choreography as well as many design elements, and her husband Ben Doyle, a photographer and videographer, contributed original sound. With rights to the production now in her hands, Doyle has adapted Moving Myths for her company. The show at the Hobby Center involves HCDC's professional dancers and 65 participants from the community, including students from the Institute of Contemporary Dance and other Houston dancers.
On the heels of Moving Myths, HCDC will also perform as part of Miller Outdoor Theatre's 100th anniversary season, presenting Restore on June 9, live at Houston's unique, open-air theater and before a livestream audience.

Of the five works on the
Restore
program, three will feature the work of female choreographers, including a premiere by McKinley Willis. Willis is a Dallas native and has been a member of Dallas Black Dance Theatre (DBDT) for eight seasons. She's choreographed several works for DBDT's annual Black on Black series and will soon present her first mainstage work for the company. Doyle's pre-professional company Houston Contemporary 2 (HC2) will also guest, performing a work by another DBDT company member, Carman Cage.
Kia Smith is the founder and executive artistic director of South Chicago Dance Theatre and in five years has become a major player in Chicago's dance scene. Smith's commissioned work featuring HCDC's Avery Moore and founding company member Genene Wallis-McGrath, which premiered during the company's recurring program of duets in February, gets a repeat performance during Restore.
"I'm interested in finding choreographers, not emerging but on the cusp," explains Doyle, citing her company's 2021 commission of Thai American choreographer Keerati Jinakunwiphat, who recently debuted work as part of New York City Ballet's 21st Century Choreography program, as an example.
Doyle's eye for talent turned similarly toward Alexander Anderson. The Juilliard-trained dancer began his career and quickly gained critical acclaim as a member of Nederlands Dans Theater. Appointed an inaugural Choreographic Fellow with Gibney Company in 2022, Anderson is now steadily commissioning work throughout the U.S. and beyond.
"He's starting to create more and so I thought I'd grab him before he gets too big and too hot," says Doyle.
HCDC presented their premiere of Anderson's work at their April Hobby Center performance. His piece, along with an encore of Peter Chu's 4yous, which the company presented last fall, will show again during Restore.
Doyle maintains a small but busy company of 4-6 versatile performers, who must be able to bring their artistry to a diverse repertoire and their energy to commercial events or collaborations booked to extend the company's reach within the community. These dancers are at the top of her mind as she makes artistic choices with the intent of keeping them engaged and further developing them as artists.
"In a repertory company, it's really about stimulating the dancers, sometimes having them go through processes that perhaps aren't their favorite or finding artists that get them excited," Doyle remarks.
In September, the company is looking forward to working with Norbert De La Cruz, an award-winning, Filipino-American dance artist and freelance choreographer.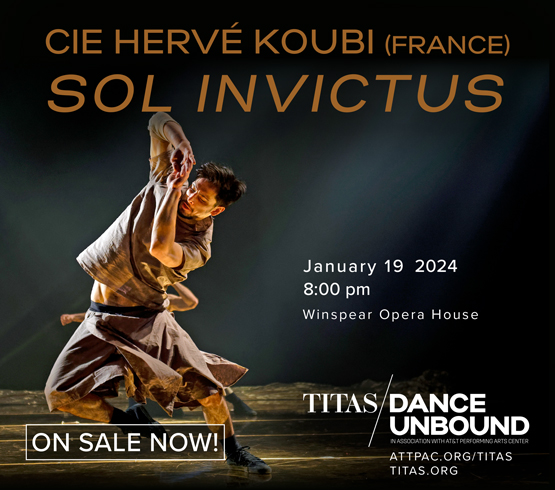 HCDC and the ICD in Houston come together during a six-day summer workshop for pre-professional and professional dancers. Doyle serves as president & CEO and company member Genene Wallis McGrath serves as studio and education director for the ICD's students and its staff of 29 people.
"I've told a lot of people that this year feels like year one because shortly after we received our certificate of occupancy, it was one teacher and one dancer and everyone else on a screen," says Doyle. "We now have more kids, more adults, more people interested. It has not been easy but we're being smart about what the community needs."
The need Doyle describes is that of a dance training facility. "We're always adjusting and shifting as much as we can while staying consistent for the sake of our students." To that end, ICD provides regular training for monthly tuition rates for a portion of their students and drop-in classes for adults and students 11 years old and up who are part of their PATH Program.

Launched and immediately tested by the challenges of a few very abnormal years, Doyle has moved her fledgling companies forward with persistence. Her dancers, the work and the organization have noticeably matured.
"At the five-year mark, you're official," Doyle chuckles, acknowledging the consensual indicator of a dance organization's stamina. Looking back with appreciation for the obstacles overcome but ahead for her company, Doyle finally sees an opportunity to consider strategy instead of survival. "I think if we're continuing to present great work, people will continue to follow."
—NICHELLE SUZANNE