Jerry Ochoa, Jo Bird, Margaret Lejeune and Debra Brown of Two Star Symphony.
Photos by Sarah Prikryl.
---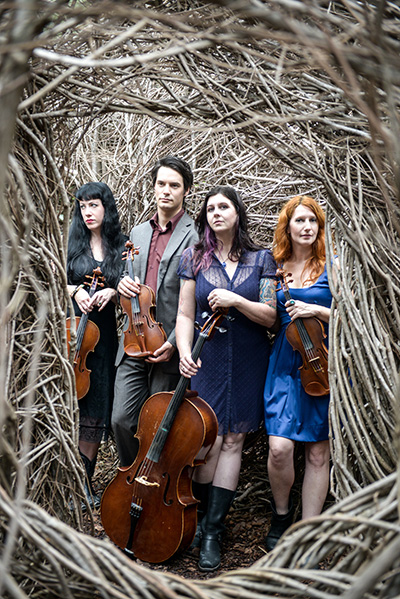 Houston's Two Star Symphony isn't your typical four-string quartet. The group's work has the characteristics and sensibilities of classical music, but with an alternative, more human bent; As violinist Jerry Ochoa likes to say, "it's playful, dark, and catchy.   It's very dark, but I don't think of it as depressing."  The rest of the quartet—violist Jo Bird, violinist Debra Brown, and cellist Margaret Lejeune— seem to agree.   (For larger projects, Two Star expands to include Cathy Power, Chris Bakos, John Deboise and Kirk Suddreath.)
Listening to Two Star's latest EP, Seven Deadly Sins, the music is true to Ochoa's description. Each track is melancholic, almost mournful, as an album about sinful inclinations should be. But there's also a light-hearted, humorous undertone that pervades each movement, a kind of inside joke that these mortal behaviors are everyday patterns that each of us slips in and out of.
Accessibility is one part of Two Star Symphony's large appeal, which is a result of the commercial nature of the group's creative process. "I'm a sucker for a really good hook and really catchy melodies," says Ochoa. "Our music gets instantly stuck in your head; it's classical pop in a way, with the hooks." This combination of relatable pathos and musical sophistication has won them critical acclaim and full houses for more than a decade. Though the quartet has no plans to stop making new music anytime soon, the quartet is now shifting its focus on becoming successful in a key area of all mid-career artists: sustainability.
Each member of Two Star Symphony is quick to point out that they're not kids anymore. They are all approaching forty, and now things like insurance and retirement are becoming top priorities. "Our pattern year after year is that we end up with cool partnerships, create a ton of cool music, but then the year is already gone," explains Ochoa. "We're not by any means finished, but we've never made a living at making music. We've put so much time and so much passion, and now it's time to get the music out there and beyond our immediate circle."
It's not hard to see why the group is looking for a payoff. It's not easy to keep an arts organization of any kind up and running for twelve years, especially with an output of consistently high caliber. In addition to Two Star Symphony's published work, the group has created countless hours of unrecorded music, including a repertoire of five silent film scores. Ochoa also happens to be a filmmaker, and it's in the realm of motion pictures that Two Star is hoping to get a break. "Our music is good movie scoring stuff," he says.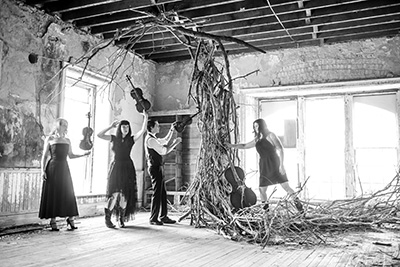 As it turns out, the challenges of mid-career artists are similar to those of emerging artists. "Geographically and economically, we're in the same place," says Ochoa. "As a career aspiration, you want to keep raising the bar." For Two Star, the bar was set at a considerable height from the beginning. After the quartet left the Austin music scene for the regular paid gigs, they were being offered in Houston, success came quickly. They were hired by the City of Houston to play on Main Street as part of an effort to revitalize downtown.
The gig came with a free meal, which was a big incentive for a band of musicians living in a warehouse two blocks away from what is now Tout Suite Café. In a living space with no mailing service and no natural light, the group found themselves writing some of what they consider to be their best music. Without even realizing it, they found themselves with a commission from celebrated Houston-based choreographer Dominic Walsh. They wrote a fifteen-minute original piece for American Ballet Theatre, played it to a 900-seat theater, and enjoyed a review from The New York Times. Despite performing for a 100-year-old dance company, the quartet was hardly on easy street. "We would play that gig, and then we would perform on the street so that we could have dinner to eat," recalls Ochoa.
Back in Houston, they found steady work in the local arts community, along with some early career surprises. Brown recounts getting a call on her cell phone from the Clear Channel with an offer to play the Verizon Center main stage to open for the Stanley Clarke Trio. She initially said no because Two Star was already booked that night, but fortunately their original engagement was willing to push back their performance time so that they could benefit from the opportunity of playing a 5,000-seat venue. As Ochoa puts it, the group has a habit of stumbling into cool things, including participating in Houston's inaugural TEDx event. None of the four knew what a TEDx Talk was, but when they mentioned the offer to their extended band, they were urged to call the organizers back and accept.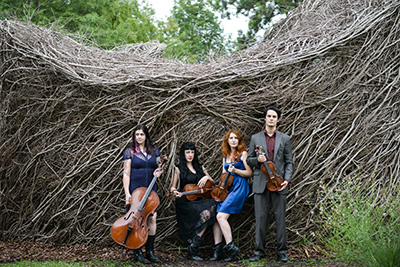 One of Two Star's most significant collaborations came in 2004 with Joel Orr and Bobbindoctrin Puppet Theatre's for Danse Macabre: The Constant Companion. Over the next two years, the puppet play about suicide expanded into a trilogy with Two Star writing and performing the music to each installment. For their 2014 residency at 14 Pews, they decided to revive the original play. "We've always considered it one of our better projects," explains Ochoa. "But also one we attempted very early on in our careers and we wanted to try it again with our newer instruments and additional performance experience. We talked to Joel and he was into the idea, then he talked to his original crew and found out all the puppets and props were still around."

Only two years later, the Museum of Fine Arts Houston commissioned Two Star to score The Cabinet of Dr. Caligari. The project was well-received, and was later performed at Discovery Green's opening celebration. Performances at the Orange Show, the University of Houston- Downtown, and the University of Houston -Main Campus followed.

Not bad for a team that started out with humble aspirations. In fact, the original motivation for creating music was to score some free dessert. "Margaret [Lejeune] and I were living together and there was an opportunity to get free ice cream at an open mic," explains Brown. "She had been playing for most of her young and adult life, and I had just started playing violin. We wrote three songs based on the idea of pirates, so we asked everyone to dress as pirates, and come to the show."

By that time, Brown had already met violinist Jo Bird working on a different project. The three moved to Austin and played as a trio before Lejeune met Jerry Ochoa at St. Edward's University. "Margaret played me a cassette tape, and the second I heard the first song, it registered and struck me," recalls Ochoa. "Margaret said I should play with them. I was terrified because I had been playing my whole life, but I had never tried to write music. I just loved the way their stuff sounded. As soon as I started playing, I dropped right back out of school and I switched my whole focus to music."

That early synergy between the four has created a unique writing process, one that results in not a single page of sheet music. "Margaret or Jo Bird usually creates the framework of the piece – the bass lines, the overall rhythm and structure," explains Ochoa. "Then Debra and I add melodies, harmonies, counter-rhythms, whatever the song needs. At some point, Jo Bird and I might start swapping melodies, playing off each other. We throw out ideas and give each other feedback in real-time and by the time we've figured out the music and arrangements, we've memorized it, so we move on to the next section or piece." At this point, the quartet has five albums and five film scores memorized and ready to perform. Because there is no written score, no one else can play Two Star music, and if one member of the quartet is missing, a performance is impossible.

Twelve years is also a long time to be collaborators and workmates. Early on, Ochoa experienced a major crisis that led to a temporary split from the group. He found himself depressed because he had quit school and a paying job as a music video director in Austin to live in Houston's warehouse district as a struggling musician. A broken leg and a windowless living situation didn't help matters, and created a growing sense of animosity between himself and Two Star's ladies. He never thought he'd return to the group, but a call from Lejeune inviting him to help score a silent film brought him back, and a few projects later his return was official. Now it's been seven years, and the quartet has created four albums and traveled to Europe together.

There's a unifying thread among the four, and that's the fact that Two Star has always come first. They've quit jobs and quit relationships for the sake of the group.  The sacrifices are why the next step in Two Star Symphony's career is so crucial.  With such a rich and extensive body of work, the focus is now to get the music in the hands of someone in the film industry who can use it. At this point, touring isn't much of an option. Successful touring requires six months of time, which the group doesn't have. With families and full-time jobs outside of making music, Two Star doesn't have the freedom to travel.

But quitting isn't an option, either. "The intense sadness of not playing would prevent me from walking away," says Brown, who had only been on the violin for seven months before performing with the group. "Just the thought of it has taken me to therapy."

"The only thing I can really do and do well is play music," says Bird. "There's not much out there for me. The thought of me not playing music with Two Star and not continuing the journey is sad to think about. Sometimes my job will be pushing a mop across the floor. Jobs like that aren't very inspiring, but you have to have faith in the music and in yourself." As Bird points out, they don't have retirement plans of 401ks, "but when you stick to something like this, you give up all those other possibilities."

However, getting work on Hollywood films might change all that. Currently Two Star offers non-exclusive licensing to just about any filmmaker that's interested in their catalogue, and they've experienced mild success with placements in a few Lionsgate releases and films shown at major festivals. Hiring a PR firm in New York City and LA hasn't been a budgetary possibility, and cold calls to talent agencies haven't opened up any opportunities. Ochoa is considering a move to either of the coasts with plans to further his filmmaking career, and then he would be able to hire Two Star for scoring. But that would mean the quartet would have less working time together, which isn't conducive to its creative process.

The group has set aside all possible collaborations to focus on getting into the film industry, but they still plan on performing in Houston, especially more Seven Deadly Sin shows. If their reception in Houston over the past decade is any indication, it will happen sooner than later, and the dream will have come full circle. "It's always been kind of Margaret's dream since a very young age to write cartoon music and score things for film," says Brown.

In the meantime, the respite is a much-needed one. "When we do a film score, we practice every night, sometimes for weeks. It can get exhausting. We are currently taking a break, which we've never really done in the last twelve years," says Lejeune, who the other three describe as the heart and soul of the group. It's a break, but her response suggests Two Star Symphony will never be on hiatus. "At first it was nice, but I'm starting to really miss it."

—ADAM CASTANEDA