Vincent van Gogh, A Pair of Leather Clogs, autumn 1889, oil on canvas, Van Gogh Museum, Amsterdam (Vincent van Gogh Foundation).
---
To tell the true story of a life, we sometimes have to see anew the places we wandered and how those explorations changed us. This influence of setting seems especially true for the decade Vincent van Gogh took up pencil, then paintbrush, to become an artist. The momentous new exhibition Vincent van Gogh: His Life in Art at the Museum of Fine Arts, Houston (through June 27) traces Van Gogh's physical journey through the Netherlands and France to the places that changed his work, but also shows, through the masterpieces themselves, his starry rise to become one of the greatest visual artists in any time or place.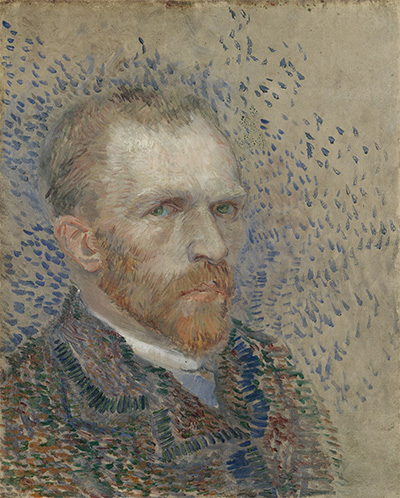 With more than 50 drawings and paintings, the exhibition takes us chronologically through Van Gogh's life in art, from early sketches to paintings, culminating in 1890, when he took his own life. The work on exhibit comes primarily from the Van Gogh Museum, Amsterdam, and the Kröller-Müller Museum, Otterlo, along with additional loans from other institutions, including Dallas Museum of Art; McNay Art Museum, San Antonio; Musée d'Orsay, Paris; Wallraf–Richartz Museum, Cologne; the Virginia Museum of Fine Arts, Richmond; and Art Institute of Chicago.
While moving through time, the exhibition also moves through place to illustrate through Van Gogh's own work how much the villages, woods, wheat fields and Parisian streets he walked upon transformed his art.
One of the exhibition's organizers, David Bomford, Audrey Jones Beck Curator, Department of European Art, says that by focusing on Van Gogh's whole artistic life, structuring the exhibition in such a way was quite natural.
"It is chronological, but also it concentrates on the various phases of how he moved around from place to place and each place became a sort of identifiable change in his style," says Bomford. "As he moves, you can see how he's developing and how this amazing trajectory is transforming his art."
For 27 years, Van Gogh tried and failed many trades from art dealer, like his brother Theo, to missionary to teacher, until Theo suggested he become an artist.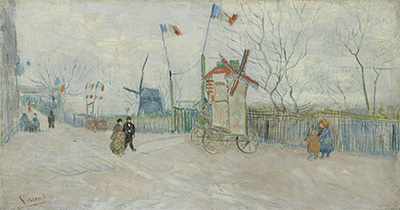 "From that point onwards he then had this rapid trajectory–from rather naive beginnings through his discovery of Impressionism in Paris, through his absolutely astonishing light-filled paintings in the south of France and then what we now in hindsight think of being rather melancholy works that he produced in Auvers just before he died," describes Bomford.
Vincent van Gogh: His Life in Art follows the remarkable path through that decade, many times with each gallery showcasing a change in his work corresponding with a move to a new location. The first several galleries focus on his Dutch period when he began his artistic practice by copying the works other artists. In these early years, Van Gogh also concentrated on depicting peasant and village life and the exhibition provides several haunting portrait studies from his time in Nuenen, including Head of a Woman Wearing a White Cap. These galleries also highlight Van Gogh's successful attempt to master drawing, and visitors to the MFAH will see evidence of his standing as one of western art's greatest draftsmen.
Appropriately situated about midway through the exhibition the gallery chronically his move to Paris to live with Theo then comes alive with color. As Bomford puts it, in Paris: "he's feeling his way through the new Impressionist world."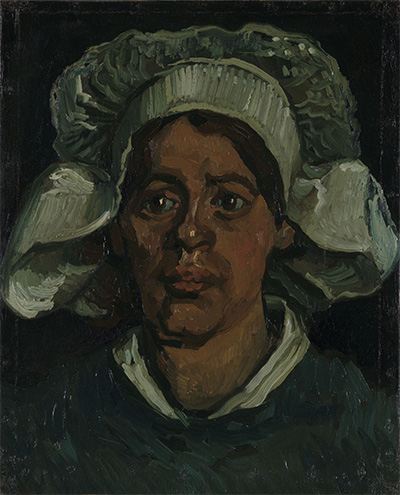 In this section we see Van Gogh's next transformation as he depicts a colorful Parisian world of flower still-lifes (Vase with Gladioli and Chinese Asters), Impressionistic wooded-landscapes (Trees and Undergrowth), his intimate involvement with cafe society (In the Café: Agostina Segatori in Le Tambourin), and himself, including an extraordinary Self-Portrait. But after two years in Paris, Van Gogh moves on, chasing his ideal light in Provence, and so does the exhibition.
"As soon as he moved from Paris, where he was being a sort of proto-Impressionist, as soon as he moved to the south of France, suddenly this absolutely astonishing sunlight sort of invaded his spirit. His whole style changes. It's very much an art of place that he's practicing," explains Bomford.
Even as his interior world grew more dark and tumultuous, his landscapes and still-lifes depict places and spaces of vivid color and light. In his last years, when he sought some peace at the asylum at Saint Rémy, he finds and depicts great beauty in the hospital gardens (The Garden of the Asylum at Saint Rémy). Later when he settles in Auvers, closer to Theo, he becomes entranced in the local wheat fields and the exhibition ends with his almost abstract studies of wheat that he then uses as a background for Portrait of a Peasant Girl in a Straw Hat.
Bomford admits that in some ways this type of life survey of Van Gogh is an "unfashionable" approach.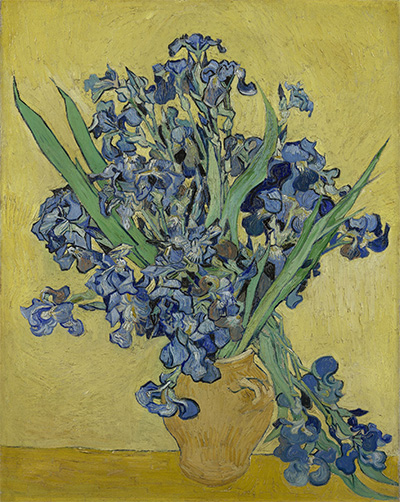 "We're doing something that hasn't been done for a while," he explains, noting: "Van Gogh exhibitions tend, these days, to be very thematic or concentrating on a particular place or period, maybe still life, maybe portraits. To do an entire career survey is not a common thing."
But he believes this will give Houstonians and Texans a different perspective on Van Gogh beyond the well-known iconic images.
"They'll be seeing some of the famous works, of course, but they'll be seeing the life. And that's the whole point, the life as an artist from tentative beginnings, through the soaring peaks of his achievement," describes Bomford and then adding: "They'll see the whole life, the whole career laid out in a beautifully coherent way. That's what we're offering people here."
Along with Tudors to Windsors: British Royal Portraits from Holbein to Warhol, which closed in January, Vincent van Gogh: His Life in Art has become something of a mic-drop show for Bomford, who is set to retire this month.
"To finish with that exhibition and now this one, I think is a pretty wonderful way to finish my career in museums, which I'm delighted by. I couldn't imagine a more perfect way of saying goodbye to being a curator."
—TARRA GAINES