Texas New Music Ensemble founder Chad Robinson.
Photo by Lynn Lane.
---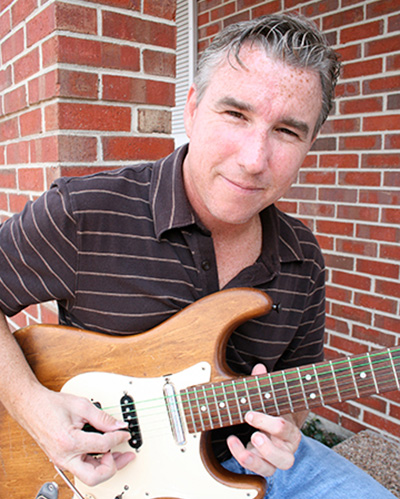 Texas composers have a champion in Chad Robinson, founder and artistic director of Texas New Music Ensemble (TNME). Concluding its 4th season, TNME will highlight its unique mission and growing accomplishments with its annual celebratory summer concert on Aug. 12th at MATCH. In a relatively short span of time, TNME has already featured more than 30 different Texas composers and their compositions on its wide-ranging concerts, taking contemporary art music statewide to large metropolitan areas as well as small outlying communities.
A native Houstonian, Robinson's Texas roots go deep, but his path to music was anything but conventional. He played the piano as a youngster, but was never a serious practitioner, enjoying music as something he could do on his own. As a teenager, he was inspired by pop music, and bought a Vox Jaguar portable organ to play in a '60s style Psychedelic rock band called the "Mirrors," which he describes as "a mix of the Doors and Sonic Youth."
What followed is a chronicle of fortunate events. While figuring out what's next in life as a student at the College of the Mainland, newly arrived faculty member John Kiefer offered a group composition class that changed Robinson's life. He fell in love with composition, wrote three pieces for the class, submitted them on his application to the University of Houston, and formally began the pursuit of his new passion.
At the UH Moores School, Robinson studied with Houston composer Marcus Maroney, whose expert guidance took him to the next level: "He taught me the technique and craft of composition, being in control." It was enough to get Robinson into Carnegie Mellon, one of the best schools in the U. S. for the study of composition. He spent two years there, studying with famed Spanish composer Leonardo Balada, who forced him out of the purely technical process of composition and encouraged him to "go crazy." To this day, Robinson still marvels at his good fortune at being accepted to the composition program at King's College in London, the top program in the UK and one of the top three in Europe. Out of hundreds of applicants, Robinson was one of only two students accepted that year.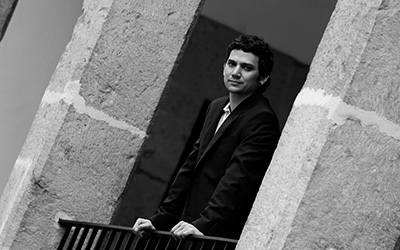 Robinson's three years in the UK were fruitful in many ways. He developed his own compositional method, one focusing on interval collections rather than pitch collections; in his own words, "composing in negative space, and creating music that is modern without reacting to the past." He likes to talk about the "principle of absorption" in which music is taken down to its basic building blocks, but is able to absorb principles from 12-tone, tonal, and polytonal methods, a non-limiting musical vocabulary open to experimentation. He spent those years approaching music in a very cerebral way, reading books and studying scores, copying Fux's counterpoint exercises, analyzing Schoenberg's 12-tone system, and reading Adorno's theoretical writings.
While finding his own path as a composer, Robinson dreamed up the Texas New Music Ensemble as he was finishing his Ph.D. in London: "London is such an amazing city for music. One of the things I appreciated was that the people of the city were so enthralled by living British composers. They just believed in their composers." Composers were embedded in the community and given the resources, the opportunity, and the environment to create. He wondered why we could not transport this concept to Texas. "There is an inherent Texas pride in every aspect of life, from food to sports," Robinson poses. "If there is one place in this country where people are fearless enough, proud enough, and courageous enough to take the path less traveled, to create a community based around composers in the community, isn't that Texas?"
With typical Texas gumption, Robinson started researching nonprofits and called up friends in the music business to help, and began the hard work of building Texas New Music Ensemble. Yes, Houston is already a notable "new music" city, with venerable organizations such as Musiqa and the Foundation for Modern Music leading the way, up-and-coming performing groups such as Loop38 and composer collective Houston Composers' Salon testing new waters, and many performing arts organizations (ROCO, Apollo Chamber Players) regularly commissioning new works.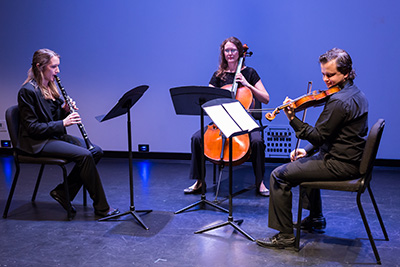 What makes TNME stand out is its spotlight on Texas composers: Nothing more, nothing less—a simple, straightforward mission to make Texas a composers' mecca and build a community that appreciates and supports the works of Texas composers. "I spend so much of my life on composers' websites listening to everything, constantly searching for Texas talent," Robinson admits. "I think composers would be slightly uncomfortable if they knew how much time I've stalked them online discovering these pieces."
Robinson chooses pieces that are accessible and can stand on their own legs as music. There is not much talking about the music at TNME concerts. "The concert is a work in itself," he says. "I don't want the talking to interfere with the concert flow." He quips that composers have talked him out of liking their piece before it even began. He believes in trusting the audience, letting them have a shot at it, to hear the music in their own individual way.
Whatever Robinson is doing, it seems to be working. From the successful debut concert at Studio 101 in the summer of 2014, followed by expanded offerings every season since, TNME has built up an enviable audience and support base. Mariam Khalili, former Executive Director of Opera in the Heights, has just been hired as TNME's Executive Director. Next season audiences will hear TNME in concerts at the Rec Room in Downtown Houston, University of Houston-Clear Lake, and Lone Star College-University Park.
Featured composers are from all over the Lone Star State, including professor Mei-Fang Lin from Texas Tech University, professor Peter Lieuwen from Texas A&M University, professors Panayiotis Kokoras, Joseph Klein, and Andrew May from the University of North Texas, professor Martin Blessinger and Till Meyn from Texas Christian University, professor Russell Pinkston from UT-Austin, as well as Houston luminaries Marcus Maroney, Rob Smith, and Joel Love, among others.
Robinson has his own philosophy on why TNME has become a fixture on the Houston new music scene. "Our audience is really young, which is one thing every group is going after and trying hard to develop. The vibe of our concerts is relaxed and casual. There are young professionals here who go to quasi-pop festivals; maybe they are big Radiohead fans. They want something artistic and not dumbed down pop music. These people are at every concert. There are also many students that enjoy our concerts. 19-year-old kids in music appreciation classes. They have no conceptions. They just want to see what's going on." The musicians who have dedicated their time and energy to TNME are equally committed. Robinson has known many of them since his student days at the Moores School.
This summer's concert will be the first all-commissioned concert in TNME's history. All 5 composers featured are from the Houston area (a rare coincidental occurrence)—Karl Blench, Hugh Lobel, John Kiefer, Chad Robinson himself, and the winner of the 2017 TNME Student Composer Competition Alejandro Basulto-Martínez. Mexican-born Basulto-Martínez has already garnered many awards for his compositions and is currently studying with Dr. Rob Smith at the Moores School, while also serving as the assistant director of AURA Contemporary Music Ensemble. Robinson is especially glad to be able to feature one of his first mentors. Although John Kiefer was never his composition teacher, he was the young professor whose group composition class at the College of the Mainland those many years ago first set Robinson on the path to a rewarding career as a composer. He has never looked back.
—SHERRY CHENG