Chloé Trevor
Photo by Kate Lemmon.
---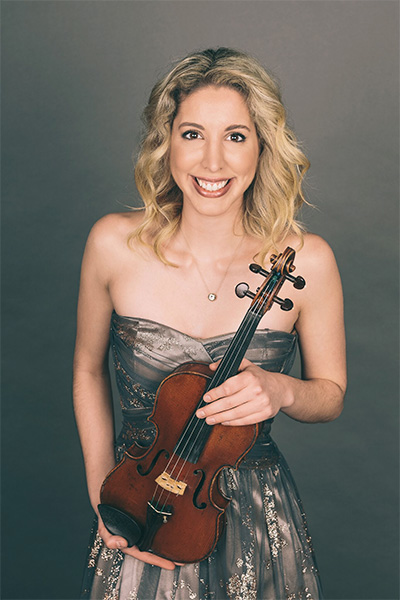 For classically-trained string players, the traditional route to making a living as a professional musician is fairly narrow: win a job in a major orchestra, find a full-time teaching position, or gig like there is no tomorrow. What does it take, then, to forge a unique path and succeed in this competitive field? These five exceptional Texas string divas show us the way.
Violinist Ingrid Capparelli Gerling is literally everywhere on the Houston music scene. In any given week, you might find her performing chamber music with her string quartet (Axiom) or her duo (Gerling-Mut) at one of Houston's two airports through the Harmony in the Air program; you might hear her improvising on the violin or singing bossa nova with Paul English at the Hotel Granduca; you might see her teaching violin or conducting the orchestra at the University of St. Thomas or San Jacinto College; you might experience her creating sound art on a six-string electric violin as part of the Transitory Sound and Movement Collective (TSMC); and you might even catch her strumming on her mandolin, riffing on the pandeiro, or mastering a musical saw when she is called upon to do so. "I have so many passions," says Gerling, "I don't think I can ever just do one thing."
Bossa nova is Gerling's native tongue. She grew up in Brazil singing and accompanying herself on the guitar in that genre. She took jazz voice as an undergraduate, and later, in Houston, connected with jazz pianist Paul English. From him she learned to improvise in the jazz idiom until the language and patterns became internalized.
Her involvement with new music began with the years spent as part of the Aura Contemporary Ensemble at UH and later with Musiqa. Working with new composers prompted Gerling to see her violin in a totally different way. "Suddenly the instrument had all these facets and possibilities I hadn't known about before," Gerling explained. She discovered she had a knack for understanding the purpose of gestures and the composer's intentions beyond just playing the notes on the page. She developed a whole new vocabulary on her instrument to convey the meaning behind the music. "With Lynn Lane's TSMC," adds Gerling, "I now have access to a palette of new sounds and the vocabulary to experiment, improvise, and create."
Teaching is another essential component of Gerling's musical life. She sees it as "a very palpable way to make a meaningful impact, and to set young musicians on the path of discovery." She has singlehandedly grown the University of St. Thomas orchestra from 5 members to 20. "Conducting was another one of those things I didn't know I could do."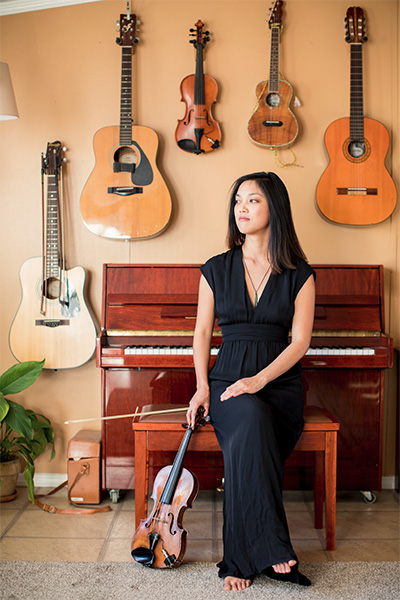 Austin-based violinist Christabel Lin is loving her life right now. "It's really varied and I don't have a chance to get bored of anything." Why did she choose to leave a full-time position playing violin in the prestigious Vienna Radio Symphony? She found life as an orchestra musician in Europe draining and limiting. "The orchestra rehearsed from 9-3 everyday and I had no room or energy in my life for playing more chamber music or anything else," says Lin. "I also realized that Austrians tend to be very traditional and stay in one job their whole life."
Austin turned out to be the ideal place for Lin to explore new interests. "I love going out to listen to live music of any genre. Any day of the week I can do that here." She keeps her hand in the classical world by playing with the Austin Opera, coaching and performing chamber music at the Austin Chamber Music Center, and working with pianist Gustavo Bianchi on a variety of concert projects.
But these days, Lin's mind is on developing the improvisational side of her mode of musical expression. "I love classical music, but because I was lucky enough to have had a career doing a lot of it when I was younger in New Zealand and in Vienna, I feel like most of my aspirations are towards things I don't know," she says. "Classical music is my comfort zone. But I'm just a baby in learning to play in other styles." She's taking it genre by genre—blues, jazz, rock and roll, country, and bluegrass, expanding her language along the way.
Lin has been a core member of the popular Austin flamenco rock fusion band Flamenco Symphony for a few years now. Playing in a band has given her the opportunity to put improvisation into practice. "I've learned that in the moment of improvisation you have to be in a flow state where you are not analyzing at all. You trust the language you have worked hard to absorb, and then you do the first thing you feel. It's very Zen." You can also see her jam in OLÈ ELO, Austin's Electric Light Orchestra tribute band.
Lin started the Austin Classical Jam two years ago, where her love of classical chamber music and her openness to new people and new ideas come together. The monthly, casual, open-reading event, now taking place at Batch Craft Beer and Kolaches, has a distinctly Austin vibe. Lin has met lots of "weird art people" in Austin. She loves jumping into projects with different artists. Next up? A shadow puppet music video project with puppeteer and actress Indigo Rael, based on the solo violin piece Wakatipu by New Zealand composer Gareth Farr. It's based on the legend of a lake demon. Lin envisions something tribal, earthy, and visceral.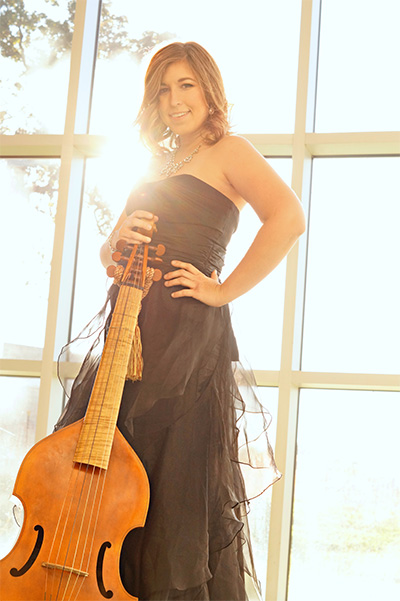 Multi-instrumentalist Stephanie Raby, a native of San Marcos, TX, stays busy shuttling between Austin, Dallas/Ft. Worth, and Houston as a Baroque violinist and early music specialist. Although her undergraduate degree from the University of North Texas is in modern violin performance, she took up the viola da gamba and the baroque violin while participating in the early music ensemble at UNT.
Raby had every intention of continuing to study the modern violin, but when she was accepted into University of Indiana's renowned early music program, she made a commitment to the Baroque violin. "I decided if I'm going to do an early music degree, I'm going to do it 150%. When you play Baroque violin, the technique is not the same at all—the position, the shifting technique, the way I use my bow, it's all different. I needed to drop the modern violin for awhile so I could work out my technique on the baroque instrument."
When she moved back home to Texas, Raby was pleasantly surprised by the amount of work she could find as a Baroque violinist. In Austin alone, she serves as concertmaster of the Austin Baroque Orchestra, plays viola and violin with La Follia Austin Baroque, plays violin and viola da gamba with Texas Early Music Project, and performs in costume on a variety of Medieval and Renaissance string instruments with the Austin Troubadours. In Houston she plays regularly with Ars Lyrica and Houston Bach Society, and in Dallas with Orchestra of New Spain, Dallas Bach Society, and the new-on-the-scene American Baroque Opera Company. "My passion is chamber music," says Raby. "In early music even the orchestral pieces are chamber music. I learned how to lead an orchestra without a conductor. The ensembles are smaller, so we rely on each other. We communicate." Another reason she loves early music? "You can hear the same piece six times and it's literally never the same. Early music encourages improvisation. I love playing with ensembles where I am allowed to be creative."
Raby has poured her passion for early music into establishing two ensembles with very different aims. Les Touches, which she co-founded with fellow IU graduate Pedro Funes, partners with Viols of Houston to bring the experience of learning and performing early music to high school students. Through the Viola da Gamba Society of America's (VdGSA) instrument loan program, they were able to build a viol consort at Oak Ridge High School (Conroe, TX). The greatest triumph for Raby was taking all those students to Boston's prestigious Early Music Festival to perform on the VdGSA's showcase concert last summer.
Co-founding Lumedia Musicworks is a dream come true for Raby. "Lumedia is the closest thing to what I have really wanted to do for a very long time. Our idea is to do three things each half season, one collaborative event, one music video, and one regular concert in the Dallas/Fort Worth metroplex." Envisioning a marriage of 21st century technology to 18th century styles, Raby hopes to put early music in context for people. This spring, look for Lumedia's collaboration with the North Texas Traditional Dance Society (we're talking a Contra and English Country Dance party here), as well as its second video release and a captivating new concert ("Seeing Double") to follow its wildly successful inaugural concert ("Wonder Woman") last fall.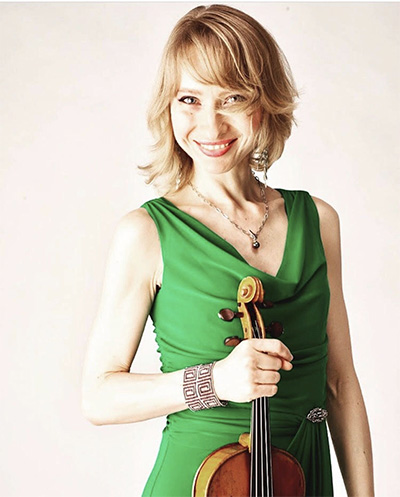 Houston-based violinist Dominika Dancewicz takes a philosophical view of what it means to be a musician. "It's possible to reach people on a very deep level with what we do. We are transmitters of great truths across time. I'm so fortunate to have a voice as musician, as someone who can bring another human being to tears."
Dancewicz resigned from a secure job playing with the Sinfonietta Cracova in her native Poland, also leaving behind her professional family string quartet (father on cello, mother on viola, and brother on violin), to seek more freedom and "soul" in her musical journey.
Although she dedicates a significant amount of time maintaining a large private studio and teaching at the University of St. Thomas Preparatory School and in the Houston Youth Symphony Melody Program, Dancewicz's passion is performing. She is the driving force behind two ensembles that have carved a landscape of their own on the Houston music scene—the Axiom Quartet and the Dancewicz-Doucet Duo (The Duo).
Finding the Quartet's voice was a progressive process. "We always wanted to create programs that would be more diverse than the traditional classical chamber music concert. We knew from audience feedback that after concerts they often felt the music was all a blur." Axiom hit the right note when it played to a sold-out crowd at the Cave Without a Name in Boerne, TX. The unusual venue required something different. "We knew Beethoven alone would not fly with this audience. We had to be creative." They asked composer Carl Blench to create quality arrangements of pop songs and weaved them into a theme of "Music for Strange Places." The program was so successful Axiom decided to adopt this formula for their regular concerts. Dancewicz adds, "Not only does this mixing of genres set us apart, we've discovered that music can be evocative and moving regardless of genre."
Axiom will be releasing its first commercial recording in March on the Parma Navona label and will be on a performance tour in China this summer. They have even been invited to audition for America's Got Talent. "What it shows is that the direction we've taken is very interesting. But we also have a strong commitment to include great classical works in our repertoire. That is our bread and butter. It's what makes us better."
The Duo is an equally important part of Dancewicz's performing life. Finding each other as artistic partners has been extremely gratifying for both Dancewicz and Doucet. "Donald is a Renaissance man. He is not just a pianist, but someone completely immersed in every aspect of the music." They celebrated their history together this January by releasing their debut album along with a biographical concert entitled "The Story." They are embarking on a Texas tour this spring, performing on Dallas's Open Classical's Artist Series and at other venues, including the Cave Without a Name.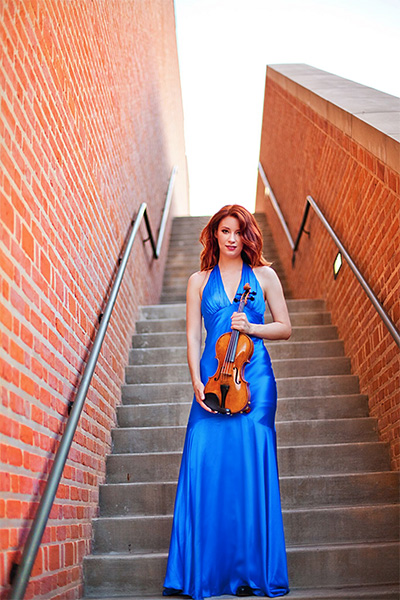 Dallas-based violinist Chloé Trevor has been in love with music all her life. "My parents were both orchestral musicians and I was constantly surrounded by classical music. I was a year and a half when my Dad gave me a real 1/32 size violin and I would play along with my Mom. I always knew I wanted to be a violinist. I would draw pictures of myself playing next to my mom in the Dallas Symphony." Her first solo experience in front of an orchestra at the age of 11 had her hooked.
This season she has performed the Mendelssohn violin concerto with Orquesta Filarmonía in Xalapa, Mexico, Vivaldi (Four Seasons) and Piazzolla (Four Seasons of Buenos Aires) with El Paso Symphony, Philip Glass's violin concerto the American Four Seasons with Aperio in Houston, the Khachaturian Concerto with Southern Arizona Symphony, and the Korngold Concerto with New Life Symphony in Richardson, TX. That's not counting the solo and chamber music recitals on her full calendar.
Trevor has several exciting projects on the horizon, including the release of her new solo album with her long time collaborator, pianist Jonathan Tsay, and her first Christmas album with composer Shane Mickelson. Her biggest upcoming project is the Chloé Trevor Music Academy, an intensive two-week summer training program for pre-college and college level string players and pianists. "I am passionate about teaching all aspects of music—technique and musicality, but also physical and emotional health, how to connect with audiences, how to incorporate movement and dance into musical training." Because of her busy performing schedule, Trevor does most of her teaching during the year through giving master classes at the universities and youth orchestras in the cities where she performs.
Trevor has managed, mostly on her own, to balance a flourishing solo career and her role as a social media influencer. "I like to say that social media happened to me rather than the other way around." She downloaded Instagram in 2012 at a suggestion of a musician friend with no thoughts beyond sharing her musings on life as a musician. Followers began to ask her for practice advice and she took the time to answer them. At 1000 followers she realized this was a valid platform for reaching people from around the world; at 10,000 followers she started getting concert engagements through Instagram; now at 150,000 followers she is making real impact with her star power. "It's an incredible number that comes with a lot of responsibility," admits Trevor, "I want to inspire others to not only practice and work hard but to try to make someone else's day better because I believe that's the only way we as artists will find true purpose and fulfillment in our lives."
Trevor is living the dream of the solo career she imagined when she was a teenager, though she has also realized her other dream, foretold in the picture she drew at age five, of playing beside her mom in the Dallas Symphony (DSO). She regularly plays with the DSO as an extra musician. "I've had many amazing experiences and proud moments," she muses, "but none stand out quite as much as performing the Tchaikovsky Violin Concerto with the DSO and with both my mom and my teacher, Arkady Fomin, on stage with me. I have watched so many incredible artists stand on that stage since I was four. And the fact that I got to stand in that very spot and play my favorite concerto in the world with my family, friends, teachers, and mentors on stage with me is still beyond my comprehension."
—SHERRY CHENG