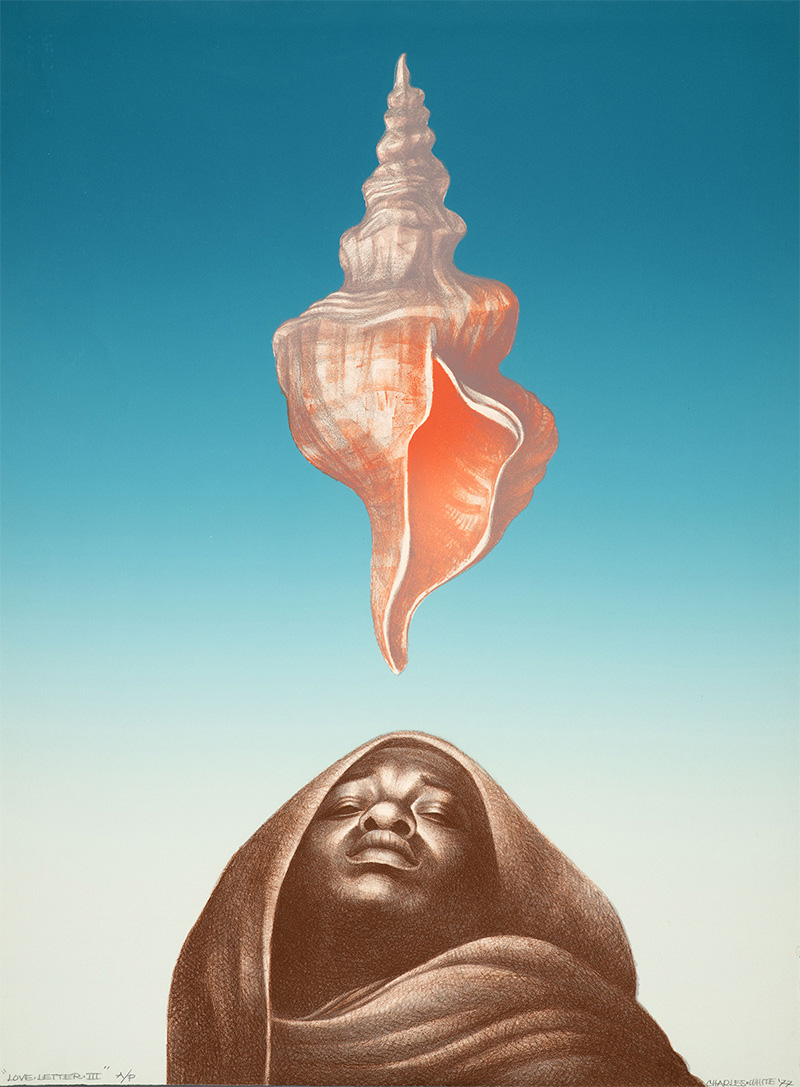 Charles White, Love Letter III, 1977, color lithograph on cream wove paper, 30 x 22 1/4 in., Gift of Susan G. and Edmund W. Gordon to the units of Black Studies and the Blanton Museum of Art at The University of Texas at Austin, 2014 © The Charles White Archives.
---
1) Charles White at Blanton and Christian-Green Gallery

AUSTIN—Charles White is the subject of two exhibitions as UT honors one of the 20th century's most accomplished draftsmen and art educators: Charles White and the Legacy of the Figure: Celebrating the Gordon Gift at the Christian-Green Gallery through Nov. 30, and Charles White: Celebrating the Gordon Gift at the Blanton Museum of Art Sept. 7 – Dec. 1.

Houston Ballet principals Connor Walsh and Yuriko Kajiya in Stanton Welch's Giselle. Photo by Amitava Sarkar.

2) 'Giselle' and a Mixed Rep at Houston Ballet

HOUSTON—Houston Ballet opens its 50th season with Giselle, the very ballet that launched the company, Sept. 6-15, followed by a mixed rep "Locally Grown World Renowned," featuring works by James Kudelka and Edwaard Liang, along with world premieres by Oliver Halkowich and Disha Zhang, Sept. 19-29, both at Wortham Center.

El Greco (Domenikos Theotokopoulos), (Greek, 1541–1614), The Tears of Saint Peter, 1580s. Oil on canvas. The Bowes Museum, Barnard Castle, County Durham, UK.

3) A Taste of Spain at the Meadows

DALLAS—El Greco, Goya, and A Taste for Spain: Highlights from the Bowes Museum will be on view at The Meadows Museum Sept. 15-Jan. 12. Displaying highlights of the collection of eighteenth-century patrons John and Joséphine Bowles, this exhibition will display work from the early sixteenth through the late eighteenth century, a period of great artistic production in Spain.

Ronald K. Brown/EVIDENCE; Photo courtesy of the artists.

4) Ronald K. Brown/EVIDENCE at TITAS

DALLAS—TITAS Presents opens its season with Ronald K. Brown/ EVIDENCE in a powerhouse mixed rep program that includes Gatekeepers, Mercy and Grace, originally created for Alvin Ailey American Dance Theater, Sept. 20 at Winspear Opera House.

Elmgreen & Dragset, One Day, 2015 Aluminium, lacquer, glass, wood, fabric, clothes Boy: 104 x 40 x 40 cm; vitrine: 55 x 145 x 20 cm, Courtesy of the artists. Photo by Holger Honck.

5) ElmGreen and Dragset at Nasher

DALLAS—The Nasher Sculpture Center presents Elmgreen & Dragset: Sculptures, the artists' first major U.S. museum exhibition. True to form, Michael Elmgreen and Ingar Dragset have taken into consideration how their works relate to site—in this case, the unique focus of the Nasher and the multi-faceted nature of sculpture itself. On view Sept. 14-Jan. 5.

Jeff Goldblum; photo courtesy of the artist.

6) Jeff Goldblum & The Mildred Snitzer Orchestra

DALLAS/HOUSTON—The fabulous  Jeff Goldblum & The Mildred Snitzer Orchestra makes two stops in Texas this month: in Dallas Sept. 19 at Strauss Square, through AT&T Center for the Performing Arts, and Sept. 20 at Jones Hall, through Society for the Performing Arts.

Melanie Rush Davis, Self-Portraits series 1970s-2010s.

7) Melanie Rush Davis at Southwest School of Art

SAN ANTONIO—Melanie Rush Davis worked as a photographer and educator for thirty years, eventually becoming known as the "pinhole queen" of San Antonio for her adherence to that rudimentary photographic method. In 2018 Rush lost her fight with cancer, but her work lives on both in her legacy as a teacher and in an exhibition titled A Requirement of Time, through Sept. 29 at Southwest School of Art.

India Maynor and Anthony Wade in Nissi by Bridget Moore. Photo by Christian Vasquez.

8) B. Moore Dance

DALLAS—Texas dance fans have been waiting for debut of Bridget Moore's newly formed company. Finally, the prolific Dallas-based choreographer has a platform for her work and her talented dancers. B. Moore Dance presents its inaugural concert, 3D VISION, Sept. 6-8 at Addison Theatre Centre.

Vincent Falsetta, ET 19-1, oil/canvas, 35"x 35", detail, 2019.

9) Vincent Falsetta at Anya Tish

HOUSTON—Vincent Falsetta's intensely fastidious process is the thing that really sets him apart. Every aspect of his painting process is documented, and this documentation in itself becomes a means of making art— one that illuminates Falsetta's artistic motives better than any individual piece. Rather than turning his paintings into circular arguments, this intense documentation opens the aperture of interpretation even wider, both to the viewer and the artist himself. VINCENT FALSETTA: Sensing the Pulse is on view Sept. 6-Oct. 19 at Anya Tish Gallery.

Sarah Bowden plays the role of "Cassie" in A Chorus Line. Photo courtesy of the artist.

10) A Chorus Line at TUTS

HOUSTON—Theatre Under The Stars presents A Chorus Line, which won nine Tony Awards and 1976 Pulitzer Prize for Drama, and was originally conceived, directed and choreographed by Michael Bennett. The TUTS production will be directed by Julie Kramer and choreographed by Jessica Hartman, Sept. 10-22 at the Hobby Center.