The Fever by 600 Highwaymen runs March 27-April at Wyly Theatre as part of AT&T Performing Arts Series Off Broadway on Flora.
Photos by Maria Baranova.
---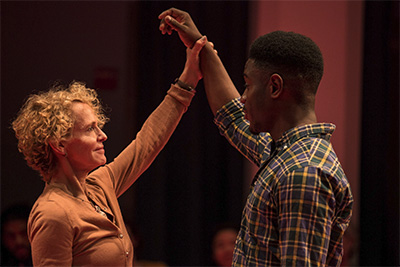 Can any image fill a performing arts venue programmer or curator with more dread than the sight of an empty, darkened theater? The idea of usable space with no performer or audience inhabiting it certainly seems like nightmare fodder for David Denson, director of programming at the AT&T Performing Arts Center, as that stage with no one on it represents a lost opportunity to bring more fantastic performances to Dallas.
Several years ago from that concept of a stage void came the idea for a new kind of theatrical series at the Center, Off Broadway on Flora. With a campus spanning 10 acres and multiple venues, large and intimate, the Center can feature many shows at one time, yet even the most expansive season, like Dallas Theater Center's, can't fill a transformative space like the Wyly Theatre every evening.
Denson saw the opportunity to fill those holes in the schedule by bringing in edgy, touring shows that Dallas audiences could not find anywhere else in the city.
"There are always a few tours of that smaller-sized work that a lot of times is more artistically ambitious and daring," explained Denson in a recent conversation with me about the creation four years ago of the Off Broadway on Flora series. "We thought our audiences would be interested in what's on the cutting edge of theater, and often that comes from an off-Broadway place."
Denson begins planning an Off Broadway season looking for new work with an "adventurous spirit that tends to push the envelope" from New York but also across the country and internationally. The final shape of the lineup will also be determined by availability of an appropriate space, leaving some seasons to include more shows than others. For example, last spring after malfunctioning fire-suppression equipment caused major flooding in the Wyly, much of the Off Broadway season had to be rescheduled.
Unforeseeable circumstances also caused the cancellation of Small Mouth Sounds, the first show of this 2018 season, but Denson is excited for the final lineup because surveying the list together, he realizes all the performances hold a common, timely theme.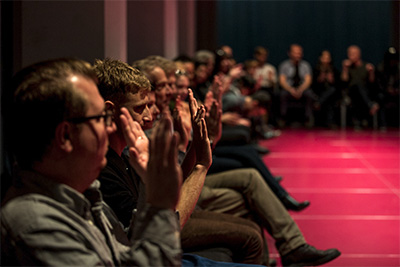 "They really are about how we deal with each other, and we felt like that would resonate in the current year. I think we're dealing with artists who live in the present moment and they're creating work in response to it."
The season also maintains a balance between more fun and outrageous off Broadway fare and the kind of edgier work that will surprise and intrigue Dallas audience. The headliner of the daring category comes from 600 Highwaymen (theater artists Abigail Browde and Michael Silverstone) and their mysterious creation, The Fever (March 27-April 1).
For this theatrical experience that delves into the dramatic heart of human connections, the audience will not be separated into sections and rows, but instead will sit in chairs forming one large rectangle. "And then things happen in the middle," Denson says.
Denson will not go into too much detail about how exactly The Fever will heat up the Wyly Theatre. He does notes that while the show cannot be categorized as a standard play, it is theater, with performers portraying things that are not real and speaking rehearsed words to create a story with a beginning, middle and end. It also sometimes calls on the audience to participate in the building of that story.
For those introverts who have nightmares about being dragged up onstage for ridicule, Denson says not to worry.
"When you say audience participation, everyone conjures up the worst conceivable experience known to man," he acknowledges. "This show is one hundred percent not-that. Anyone from the age to 8 to 80 can participate." And while audience members can just sit and watch, Denson believes the experience will leave them wanting to jump in and contribute to the experience.
"That is what this show is about. It's about being a group of people. We love to talk about individuals, but at the end of day we actually organize as groups and help each other as groups. There's a benefit to being groups and being connected to one another. The Fever is really about that connection," he describes.
Next on the season roster, Dallas will host the oddest book club imaginable, Celebrity Autobiography (May 25-26), as celebrities read and act out scenes from other celebrities' autobiographies.
"We've always tried to fold in adventurous, high quality artistic experiences with broadly popular themes," explains Denson. Celebrity Autobiography will likely prove popular while also representing some comic quirkiness of off Broadway theater. The show continues in New York with an ever-changing celebrity cast and over-wrought autobiographies. Denson says they are still in negotiation for which celebrities will appear, but believes the stars will appeal to Dallas.
The season ends with more comedy and a local favorite, The Second City Summer Blockbuster (June 6-9). With a mixture of classic and new Second City sketches, as well as improv, the show illustrates why Second City's style of comedy has been so influential for over five decades.
Denson hopes Dallas will continue to embrace these types of shows, but has found it sometimes a challenge in getting audiences to try unfamiliar performances.
One of the issues lies with the fact that the type of theatergoer most likely to want and appreciate innovative, new work like The Fever is not always someone who subscribes to a whole season in advance. Denson says they're seeing more and more single ticket purchases over season package buyers. Unfortunately, that audience is also one who might wait to buy at the last minute, making sustained programming sometimes a struggle.
"This kind of work, which is so important and feeds a much bigger world, is difficult to find traction," explains Denson, but believes in his mission to fill those empty spaces because Dallas audiences deserve the opportunity to see such work. "This is rarified air in terms of the front edge of theater-making."
—TARRA GAINES