Natasha Bowdoin, Garden Plot (detail), 2013, site-specific installation with gouache, acrylic, and pencil on cut paper with latex acrylic on wall, 10 x 28 x 1 feet.
Photograph by Marc Newton.
---
#10: Frank Stella

FORT WORTH – Because of the enormity of Frank Stella's work, assembling his retrospective was no small feat. It took Michael Auping, chief curator of the Modern Art Museum of Fort Worth, an astonishing six years to put together Frank Stella: A Retrospective and Texans can finally see the fruit of his labors when the show opens at the Modern on April 17.
Frank Stella, Gran Cairo, 1962. Alkyd on canvas. 85 9/16 × 85 9/16 in. (217.3 × 217.3 cm). Whitney Museum of American Art, New York; purchase, with funds from the Friends of the Whitney Museum of American Art 63.34. © 2015 Frank Stella/Artists Rights Society (ARS), New York. Digital Image © Whitney Museum, N.Y.
---
#9: Dark Circles Contemporary Dance

DALLAS—Dance fans have another chance to see Dark Circles Contemporary Dance artistic director Joshua L. Peugh's The Rite of Spring on April 29-May 1 at Erma Lowe Hall Studio Theatre in Fort Worth.   All on the program is a work by Italian choreographer Fabio Liberti.
Dark Circles Contemporary Dance in Joshua L. Peugh's The Rite of Spring.
---
#8: Shattering the Concrete: Artists, Activists, and Instigators

HOUSTON – Can art change the world? The artists participating in Project Row Houses' upcoming round certainly think so. Shattering the Concrete: Artists, Activists, and Instigators, organized by Raquel de Anda and PRH's Public Art Director Ryan N. Dennis and on view through June 19, features the work of eight artists/collectives active in movements around "language and identity, artistic equity, environmental justice, affordable housing, prison reform and police brutality."
The Argus Project.
---
#7: Ann at the ZACH Theatre

AUSTIN— Holland Taylor brings the late Governor Ann Richards, that larger-than-life figure in 20th-century Texas politics, to life in a one-woman show, Ann, written by Taylor, April 6-May 15 at the Zach Theatre.
Holland Taylor as Ann Richards in Ann.
Photo by Platon.
---
#6:  CounterCurrent 2016
HOUSTON—University of Houston Cynthia Woods Mitchell Center for the Arts presents its third iteration of the CounterCurrent Festival, which includes Jason Moran, Big Dance Theater, Slavs and Tatars, Anthony Hawley, Remote Houston, Ghana ThinkTank, Ten Tiny Dances and more, April 12-17 with headquarters at the MATCH.
Jason Moran
Photo by Clay Patrick McBride.
---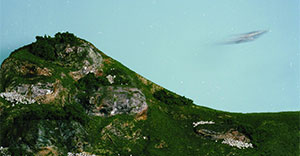 #5: The Best Available Evidence

AUSTIN – The Best Available Evidence, which runs at Austin's grayDUCK gallery through May 1 is the result of Austin-based Rebecca Marino's interest in space. For the solo exhibition Marino has taken the subject into a conceptual realm, dealing with the manipulation of images through photography and extending it to the experience of extraterrestrial life.
Rebecca Marino, Daylight Disc, (CEI), archival inkjet print, 21″x28″, 2015
---
#4: Fort Worth Opera
FORT WORTH— It's a huge month for Fort Worth Opera with the fourth annual Frontiers showcase and the world premiere of David T. Little and Royce Vavrek's JFK, which explores the night President John F. Kennedy and his wife, Jacqueline spent at the Hotel Texas in Fort Worth – the night before the fateful trip to Dallas, where Kennedy would be assassinated, April 23-May 7 at Bass Performance Hall.
JFK co-creators David T. Little and Royce Vavrek.
Photo courtesy of Fort Worth Opera.
---
#3: Natasha Bowdoin

DALLAS—At Talley Dunn Gallery through May 14 is Spelboken, a wonderful show of new cut paper work by Houston-based artist Natasha Bowdoin. Also taking nature and poetry as themes, the centerpiece of Bowdoin's show will be Garden Plot, a massive installation of cut paper on painted board that transcribes and riffs on Ralph Waldo Emerson's Nature.
---
#2: Ailey and Malpaso at SPA

HOUSTON—The Society for the Performing Arts present the Alvin Ailey American Dance Theater in a program of works by Alvin Ailey, Robert Battle, Rennie Harris Ronald K. Brown, and the late Ulysses Dove's masterwork Vespers, April 23-24 at Jones Hall, and Cuba's Malpaso Dance Company making their Texas debut with works by Trey McIntyre and Osnel Delgado, with Arturo O'Farrill performing live with his Afro Latin Jazz Ensemble, April 30 at Cullen Theater, Wortham Center.
Alvin Ailey American Dance Theater's Jacqueline Green, Akua Parker and Glenn Allen.
---
#1: I've Lost Myself Completely

HOUSTON—In her work, New York-based artist Alison Brady explores the tension inherent in relationships—those we have with others as well as that which we have with our unconscious. In I've Lost Myself Completely, a solo exhibition on view at Capsule Gallery April 8–May 14, Brady exhibits series of color photographs which, by illustrating moments filled with visual conflict, simulate and provoke our unconscious, while exploring our ever-evolving understanding of normality.
Alison Brady, Detail from I've Lost Myself Completely. Courtesy the artist and Capsule Gallery.Sims. Photo by Andrew Eccles.