According to the 2012 Trans PULSE Project, prepared by the Children's Aid Society of Toronto and Delisle Youth Services, being a transgender teenager with supportive parents meant 70% of the 433 surveyed described their mental health as "very good" or "excellent," while 72% reported satisfaction with their life and only 4% attempted suicide. The numbers for those with unsupportive parents were, unsurprisingly, extremely bleak, with a whopping 75% saying they suffered from depression and only 13% reporting high self-esteem.
But as families and school administrators are beginning to acknowledge the journey that more and more young transgender people are recognizing, exploring, and living, so is Dallas Children's Theater. The professional company recently commissioned local playwright Bruce Coleman to write Andi Boi, a co-production with Booker T. Washington High School for the Performing and Visual Arts that's presented in partnership with First Unitarian Church of Dallas. It runs Feb. 7-16, 2020.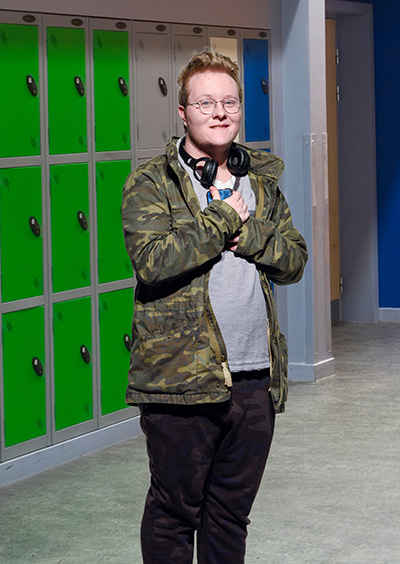 The new work follows Andi Winters, a high school freshman who has been away from the public school system for several years after being home-schooled and making the transition from Stephie to Andi. He has decided that he wants to try just being a normal kid again, and finds that a video game he loves is the perfect leveling ground to reach out to a group of classmates who are also obsessed with it. It doesn't take long before the kids are challenged to decide how they feel about their new friend. Confrontations arise, including from the mother of one of the teens, and everyone must decide if they can get past what they thought they knew and embrace a new way of looking at things—and people.
"Dallas Children's Theater has a history of presenting original works focusing on issues that modern teens deal with in their lives; in the past, they have done stories about eating disorders, bullying, and violence," says Coleman. "Coy Covington, an executive assistant at DCT, suggested to artistic director Robyn Flatt that with around 2% of American high school students identifying as trans, the time might be right to look into the matter."
The first thing Coleman did was reach out to Zander Pryor, a friend and 15-year-old trans performer who has won accolades for his performances on several Dallas-Fort Worth stages. Coleman also spoke with Pryor's mother, Wendy, asking questions and obtaining permission to let her son's story color—but not directly influence or dictate—his new script. Pryor agreed to play the title role if Andi Boi was approved by the DCT board, and has been part of the process ever since.
Not only did the theater's board give their blessing, but Andi Boi also received large grants from the Doris Duke Charitable Foundation and the Theatre Communications Group to produce the show, along with "creative use of teen-focused social media channels, partner pre-show readings, and an online town hall, discussions after each performance, and follow-up learning and advocacy opportunities." A detailed written, photographic, and video documentation package will also support future productions. The grant even covers the creation of the video game that the students fixate on, with 3-D projections and an app the audience can download to see augmented reality characters.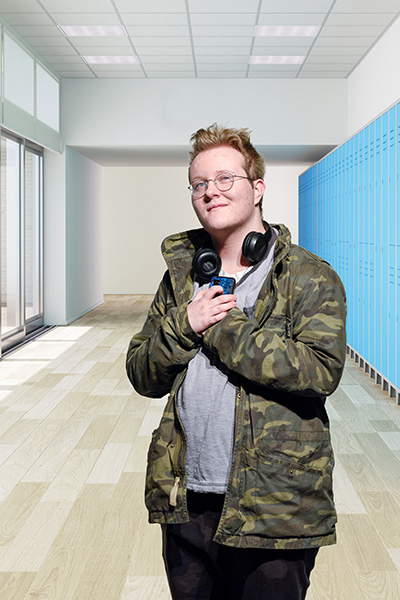 "We love it when we can identify someone in our own program who's had an issue that we can develop a narrative around," says Flatt. "Starting in '05 or '06, we've presented at least one play a season that deals with tough topics. We try to open the door to productive and informed dialogue, not necessarily just within the play itself but also through the talkbacks. It's really rewarding to see kids come back and say, 'I have a roommate, or my sister or my relative is going through this and I knew the kind of people to go to.' It's not just a whim; it's something that's deeply personal that the individual is going through, and our goal has always been to be here for the kids. We want to make a difference in their lives."
From the beginning, Coleman was deliberate in making his script as comedic as possible.
"Kids are funny," he says, "and the way they interact is funny. This couldn't be just another dark story. I needed to make sure that doors are opened with the humor. It makes it easier to come into the space and take something away from it if you're laughing."
"There's been a lot of noise surrounding people who are trans; the 'people' part gets lost in it," says Jennifer Kuenzer, who plays Andi's mother. "That noise is even louder when it's regarding young people. Andi's journey cuts through that noise. It is impactful and educational, and it never wavers in the message that we are all learning, and it is how we approach it that makes all the difference in the world."
—LINDSEY WILSON