Kim Tobin-Lehl and Philip Lehl in Stark Naked Theatre's Who's Afraid of Virginia Woolf?
Photos by Gabriella Nissen.
---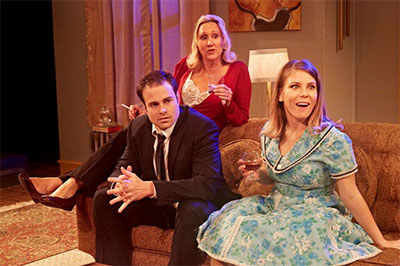 The morning after seeing Stark Naked Theatre's new production of Edward Albee's classic marriage horror story Who's Afraid of Virginia Woolf? (through March 26), I woke up exhausted, with a mild headache, dry mouth and a stomach churning with anxiety (a.k.a a hangover). Since the strongest drink I consumed the night before was iced tea, I'm blaming George (Philip Lehl) and Martha (Kim Tobin-Lehl) or perhaps more accurately director Jennifer Dean and scenic and lighting designer Kevin Rigdon for my morning-after regrets. Thanks to Dean's staging and Rigdon's reworking of the Studio 101 space so that there's not even an invisible line of demarcation between audience and staged living room, between safety and toxicity, this Virginia Woolf was the most immediate and visceral I've ever seen. This is a good thing for an experience of dynamic theater in the moment but rather unpleasant twelve hours later as I lay blinking in the new day sunlight wondering: why the hell did I put myself through that?
This is perhaps what Albee, 50 years ago, and Dean, today, want me to feel.
Virginia Woolf is an odd bit of theater to view half a century after its debut. The seemingly simple story of a drunken university faculty after-party between two couples holds up well in some areas but feels dated in others. The themes of illusions in relationships being building projects that keeps couples together is timeless. Other issues like the play's foretelling commentary on the fake domestic civility of the Eisenhower era dissolving into the chaotic 60s seem much more like a removed history lesson when viewed from the 21st century.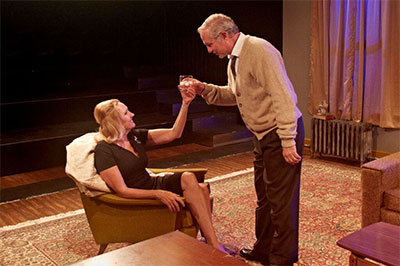 Then there is the big and twisted reveal at the end, a surprise that probably literally took the breath from theater audiences in 1962 and movie audiences for the 1966 Taylor/Burton version. But if you know what's coming, that reveal becomes like understanding how a well-worn but still beautiful magic trick (or is it illusion?) is done. It becomes all about the particular magician's presentation.
Dean's way to put new life back into George and Martha's tricky marriage and son is to put audiences as close as possible to real life married actors Lehl and Tobin-Lehl as they expertly render psychologically torturous sleights of hand upon each other. Studio 101 has always been an intimate performance space, but for this production Dean and Rigon go for extreme closeness between actor and viewer. The first row of the center section of seats is directly on stage, so much so that audience members can kick the furniture. Meanwhile a staircase built especially for the production weaves up between the center and north sections. Sitting several rows up and next to those stairs, I felt like I was watching and listening inside the house, perhaps huddled on George and Martha's upstairs balcony or even in their bedroom.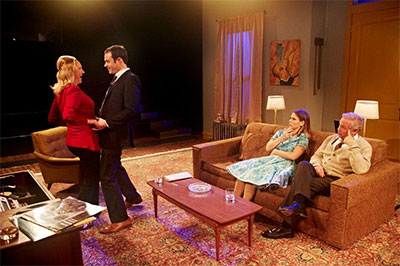 This forced intimacy puts the whole audience into the role of additional silent guests who, like Nick (Matt Hune) and Honey (Teresa Zimmermann), wandered in thinking this will be a bit of a lark but two acts later, exhausted and demoralized, just can't seem to leave until every last secret and lie is revealed. Of course, the most devastating lies are the ones we tell ourselves, and all four actors are excellent at conveying their separate moments of self-deceptions exposed. (Not as sharp are the ebb and flow but mostly ebbing accents, with only Philip Lehl managing to hold on to his generic New Englander cadence to the very end.)
I saw this production with a happily-divorced friend of mine, and she left the theater wondering why even in the early 1960s someone would willingly allow themselves to remain self-imprisoned in such unhappiness. Nursing my theatrical hangover the next day, I thought maybe this is exactly why audiences of all degrees of marital status and sobriety keep returning to well-rendered renditions of George and Martha's house for that never-ending afterparty. It's good for us to occasionally revel with them in their bacchanal of misery. When morning comes and we clutch our heads moaning, we can remember we were but guests. We don't have to stay in any self-made hell. We can always just go home.
—TARRA GAINES