---
IMAGE: Robert Pruitt, Stunning Like My Daddy, 2011. Conté and charcoal on hand-dyed paper. Courtesy of the artist and Hooks-Epstein Galleries.
---
Houston artist Robert Pruitt and FotoFest International founders Wendy Watriss and Frederick Baldwin will be honored with an Artist of the Year award and a lifetime achievement award, respectively, at the third annual Houston Fine Art Fair, which will be held Sept. 18-22 at the George R. Brown Convention Center.
Pruitt, a masterful draftsman who has described his work as coming "from the evolution and convergence of pop culture, science fiction, and Black revolutionary culture," has nearly 20 large-scale conté-crayon drawings on view through Oct. 27 in Robert Pruitt: Women at the Studio Museum Harlem in New York. Watriss and Baldwin founded FotoFest, the first and longest-running city-wide international photographic art biennial, in 1983. The 15th iteration of the biennial, FotoFest 2014, is scheduled for March 15 to April 27 and will focus on contemporary Arab photographic art.

---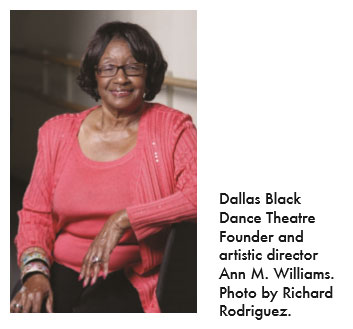 Ann Williams, founder and artistic director of Dallas Black Dance Theatre (DBDT), will be stepping down next May after 37 years. DBDT is the oldest continuously operating professional dance company in Dallas with a repertory which includes works by Rennie Harris, Ulysses Dove, Alvin Alley, Ben Stevenson and Talley Beatty.

---
The Dallas Museum of Art has appointed Kimberly L. Jones the Ellen and Harry S. Parker II Curator of the Arts of Americas. Jones comes to Dallas from the University of Texas at Austin, where she was curator of the art and art history collection, the cultural collections manager at the Texas Memorial Museum, and a lecturer of art and art History. Director Max Anderson called the hire "a key step in fostering the potential we have with a strong collection and potential partnerships with Mexico, Guatemala, Peru and other countries with which we could have a conversation about collaborating."
Jones served as co-editor and author of the introduction for The Art and Archaeology of the Moche: An Ancient Andean Society of the Peruvian North Coast and contributed to the University of Texas Collections Book. She has participated in archeological fieldwork in Peru beginning in 2003 and periodically through 2012.

---
Houston Ballet artists Jessica Collado and Katharine Precourt have been promoted to first soloists and Christopher Gray to demi-soloist. Apprentices Madeline Skelly, Alyssa Springer, Derek Dunn, Dylan Lackey and Zechang Liang were promoted to corps de ballet.

---
Joseph R. Wilson has been appointed Musiqa's executive director. Wilson is President of the board at Texans for the Arts and the former director of grants at Houston Arts Alliance.

---
Brian A. Ritter is the new executive director for Mercury – The Orchestra Redefined. Mr. Ritter previously served as executive director of symphony orchestras in Rockford, Illinois, and Albany, New York, and as a consultant for the Allentown Symphony Association.

---
Maura Reilly started work as the new executive director of the Linda Pace Foundation in August. A release from the foundation said Reilly, who most recently served as professor and chair of art theory at the Queensland College of Art, Griffith University, in Australia, will work "to develop a community art campus on land owned by the Foundation along Camp Street in San Antonio that provides opportunity for the public to experience the collection in non-traditional settings."
Reilly has also served as senior curator at the American Federation of Arts, a New York-based non-profit organization dedicated to traveling exhibitions, and was the founding curator of the of the Elizabeth A. Sackler Center for Feminist Art at the Brooklyn Museum.

---
Ballet Austin announced a gift from Dr. Ernest & Sarah Butler of $1,500,000 to the Ballet Austin Foundation to permanently endow the most advanced level of Ballet Austin's professional training, bringing their total investment in this program to $1,850,000. Ballet Austin artistic director Stephen Mills says, "I am grateful for the extraordinary vision that is implicit in this gift that ensures that young people on the cusp of entering careers as professional dancers are afforded this important opportunity to complete their training. Our dream will be to see 15 Butler Fellows each year attain professional careers in dance."

---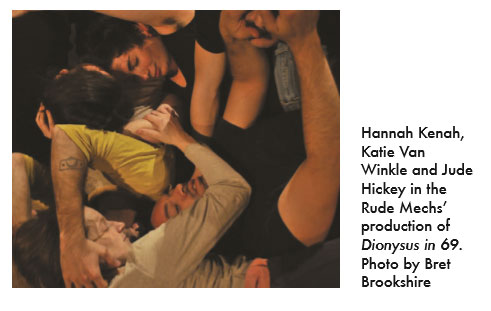 Rude Mechs' production of Dionysus in 69, a re-enactment of The Performance Group's legendary 1968 adaptation of The Bacchae, has been nominated for a Bessie Award for Outstanding Revived Work.

---
Houston Arts Alliance (HAA) has received a NEA Our Town grant. The grant will support Transported and Renewed, a three-month cultural celebration in Houston's East End. Site-specific, community-based arts performances, installations, and participatory events will reflect the area's history as a transportation hub and celebrate the East End's historic and contemporary contributions to the cultural and commercial life of the city. A collaborative of East End civic and transit partners will be featured, including  Buffalo Bayou Partnership, Houston METRORail, and resident arts organizations such as Talento Bilingue de Houston, Box 13, Freneticore, Mitchell Center for the Arts, Orange Show, Aerosol Warfare, TX/RX Labs, Houston Maritime Museum, Rincon Social, and Aurora Picture Show. HAA also announced new incubator organizations, which include Mildred's Umbrella Theatre Company, Houston Boychoir, Cantare Houston, NobleMotion Dance and Karen Stokes Dance.

---
Texas became the 13th state to join the National Cultural Data Project, where arts organizations gain access to a range of technology tools and services designed to help them strengthen their management capacity and demonstrate their value and impact in communities.

---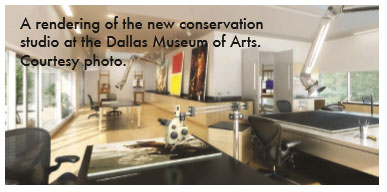 The Dallas Museum of Art announced that it will open its new paintings conservation studio in November. The studio will be enclosed by a glass wall so museum visitors can observe studio activity, as part of an initiative to establish a more comprehensive in-house conservation program.  Equipped with a digital x-ray system, the studio will serve as a center for study and treatment of artworks as well as research into new conservation methodologies. An adjacent gallery will exhibit works under conservation, or ones that have recently been restored, "with a pretty full explanation of what's happening to them and how they were made," Anderson said.
In anticipation of the studio launch, the DMA installed Daniel Buren's Sanction of the Museum (1973), a large-scale installation that was recently acquired and conserved by the museum following nearly three decades in storage. The DMA also appointed Fran Baas associate curator of objects to support chief conservator Mark Leonard and said it is collaborating with the University of Texas at Dallas and the University of North Texas in Denton on three long-term research projects that focus on new analytical techniques and technologies for the study of artists' materials.

---
Jennifer Ransom Rice has been selected as the new executive director of The Texas Cultural Trust—a nonprofit organization that has promoted the importance of the arts in educating children and sustaining a vibrant Texas economy. She assumes this role following Amy Barbee, who stepped down after nine of the most fruitful and visible years in the Trust's 18 year history. Most recently, Rice served as development director of the Trust, following 12-years experience at the State Capitol.

---
Multicultural Education and Counseling through the Arts (MECA) was  selected as one of five organizations in the U.S. to receive a donation from Procter & Gamble's The Orgullosa Project, an initiative to highlight organizations that are positively impacting the Hispanic community across the country and inspire Latinas to give back via a donation on the Orgullosa Facebook page.

---
Fort Worth Opera released its live recording of American composer Tom Cipullo's acclaimed, emotionally-charged opera, Glory Denied, based on the bestselling book by journalist Tom Philpott.

---
Spearheaded by Tyler Green, editor of the Washington, D.C.-based Modern Art Notes blog, more than a dozen blogs held a Day for Detroit on Aug. 14 to express solidarity with the city-owned Detroit Institute of Arts. Up to 3,500 objects from what is considered one of the finest and most encyclopedic art museum collections in the United States, are reportedly being appraised by Christie's auction house in the wake of the city's bankruptcy filing. Day for Detroit participants posted images of iconic artworks from the DIA collection and urged readers to buy memberships to support the museum.