Kitchen Dog Theater's I'm Gonna Pray For You So Hard was shut down by the fire marshall. Pictured: Barry Nash and Jenny Ledel
Photo by Matt Mrozek.
---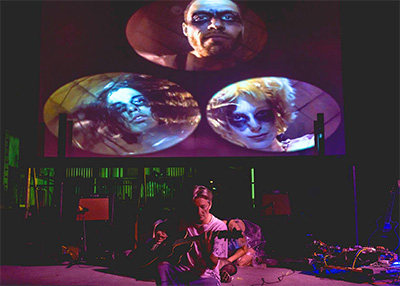 What is an art gallery? No, really: What is an art gallery?
What is its purpose? What should it be allowed to do? Is it a fluid, flexible space to be filled with art for purchase? Art for interaction? What if that interaction is a party where drinks are served and live music is played? What makes an art gallery different from an event space? Does art only belong in a gallery?
These are some of the questions in a tense, ongoing conflict between Dallas artists and the Dallas County Fire Marshal. Starting on New Year's Eve and continuing through the summer, city officials have shut down events, performances, and art exhibition openings at galleries, warehouse spaces, domestic art spaces (house venues), and offbeat DIY venues. Typically, the Fire Marshal has shown up in person to inspect a venue just hours before—or even during—the event and issued warnings of potential fines if the space isn't cleared.
According to the Fire Marshal, the issue in question is a venue's lack of the proper certificate of occupancy. Art galleries, for example, are listed as spaces designated for storage or retail, and don't have the proper clearance for large events or parties. For venues to host large events such as concerts or parties, they must be licensed for an "Assembly," even if these events happen only occasionally – an exhibition opening, for example.
For some spaces, it's as simple as applying for the proper certification artist-run space Beefhaus was able to get theirs in a number of weeks. For other spaces, including reputable galleries such as Erin Cluley Gallery, Kirk Hopper Fine Art, and Random Art Gallery, it's trickier. Some don't have enough bathrooms, or only have one exit. Some aren't in an area that's zoned for the broad scope of their business.
For many, the recent crackdown on art-focused events carries hints of corruption. One person even described it as a "witch hunt" at a recent meeting hosted by the Office of Cultural Affairs to mediate between the Fire Marshal, the code compliance office and the art community.
Music editor Jeff Gage covered the first wave of these shutdowns—mostly music events in East Dallas—for the Dallas Observer, reporting that there was, purportedly, a list of venues to be visited by the Fire Marshal. Gage wasn't able to track down who made the list or how it was compiled. The Fire Marshal has since explained that complaints are received via social media. But when Giovanni Valderas, Kirk Hopper's gallery director, pressed this issue at the public meeting in August (live streamed on Facebook by KERA's Art & Seek), he was met with vague answers about who was manning the social media and who was complaining. A quick sweep of the various Twitter and Facebook accounts of the Dallas Fire Department didn't turn up any complaints urging the shutdown of events at the various galleries and art spaces shut down.
What might be described as a second wave of crackdowns began in the middle of a performance of a show by Kitchen Dog Theater at the Green Zone in West Dallas in March. This was soon followed by a Prism Co. performance in the Green Warehouse just a few miles away.  On May 6, Acoustic Nerves an experimental performing arts show was shut down at the Ice House. All three spaces have histories hosting alternative or "DIY" performances, from Vice Palace concerts to immersive theater by Dead White Zombies.  Ironically, Acoustic Nerves had received an artist grant from the city to perform the very show the city shut down.
In these situations, artists have been loaned or rented space by a real estate developer. In the case of both the Ice House and the Green Warehouse, the landlord is West Dallas Investments, the developer of Trinity Groves, who is using these artists to "whitebox" the space, offering rent at low to no cost, in exchange for the artists bringing a cool factor to a neighborhood. Similarly, three years ago Deep Ellum Windows was a project that invited artists to curate work or plan events in empty storefronts in the neighborhood east of downtown. Now that neighborhood has re-emerged as a nightlife hotbed.  It's a pretty standard gentrification tactic.
Those groups feel abandoned by the landlords who provided the space. And the reality is that when faced with potential issues with the city, real estate developers are more likely than not to abandon the artists in search of more profitable tenants.
For arts groups of all kinds there's a lack of affordable performance or exhibition space. In original plans for City Performance Hall in the Dallas Arts District, there were meant to be small, flexible black box spaces that were never built. And now that the Performing Arts Center—host to Dallas Opera, a Broadway touring series, and a number of one-off events—has asked the city for a $15 million bailout, these smaller, independent groups are frustrated with what appears to be a lack of prioritization of their contributions to the city. The few small spaces and cultural centers that do exist are in need of updates and book up quickly.
So what's an artist to do?
In the public meeting, both the Fire Marshal and representatives from Dallas Building Inspection showed interest in learning from other cities, and seeking input from artists on how to design permits or city codes that would best suit their needs. But it's unclear who's responsible for moving that forward. And communication between the two groups doesn't look promising so far. Artists tend to self-aggrandize their cultural importance and the city officials tend to plan for the worst case scenario. At one point, the Fire Marshal explained his priority in a fire would be to save the people in an overcrowded room not the "art," sending the room into chaos with the use of air quotes around the word.
Of course, when you need the fire department to show up at an event, there won't be time to quibble over the firemen's appreciation of abstraction. And there isn't time to quibble now.  As Shelby Allison Hibbs wrote in an August column for Howlround.com, it's struggles like this that stall Dallas from its dreams of becoming a cultural destination and retain its status as a revolving door for creatives. At the city level, there's a clear misunderstanding about how an art space functions as the convergence of expression and commerce, idea and output, solitary thought and communal experience. Sometimes that looks like a party; sometimes it looks like five teenagers voicing their fears and ambitions in spoken-word poetry; sometimes it looks like a lone, quiet figure lost in their first glimpse of abstract art.
I'll ask again, what is an art gallery? What is it really? What is it meant to do? Could you write it into a city code?
—LAUREN SMART