Emily Dixon.
Photo by Mark Kitaoka.
---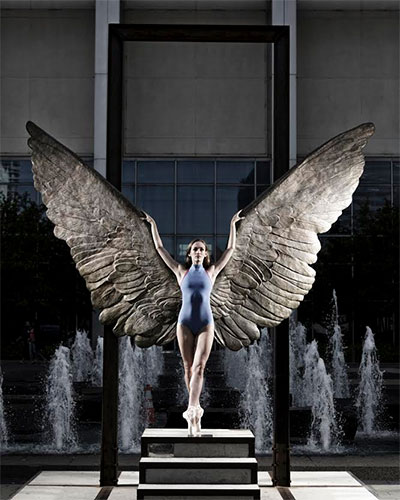 Katie Cooper didn't expect success to arrive so quickly. "I'm surprised how fast it has all happened," says the artistic director of Avant Chamber Ballet, "especially getting permission to do the Balanchine pieces… My wish list for the company is getting shorter for sure."
Frustrated by the lack of live music accompanying ballet performances in North Texas, Cooper founded Avant in 2012 when she was still known as Katie Puder. One of her first moves was to recruit Dallas Symphony Orchestra principal horn player David Cooper as musical director. They're now married.
Their first show featured four short Puder works accompanied by a small chamber group. Fast-forward four years to Avant's March concert at Dallas City Performance Hall, where the program included Balanchine's Who Cares? The company's rendition of the piece fueled by Gershwin tunes is probably its highest achievement to date. Shea Johnson and the three women he took turns partnering made it look effortless. And that's the point.
"It's like a fluff ballet," Cooper explains. "You have to make it look like nothing – jazzy and easy and you're just throwing it off. But it's crazy technically hard. You're always off balance, and you're hamming it up."
She credits the growth of her dancers. "A lot of the women I hired were right out of college or this was their first real company job. And they have all stepped up to the plate, which is wonderful to see as a director. We no longer look like a pickup company. We really look like a resident company where everyone is dancing together. We're so much more cohesive. And the camaraderie around that has grown a lot."
The troupe rehearses four or five days a week instead of three, and most of the dancers have given up their day jobs. This season, Cooper also landed another experienced male company member, Eugene Barnes, who danced for 10 years with Carolina Ballet. And Avant has graduated from small suburban venues to the 750-seat Dallas City Performance Hall in the heart of the Arts District. Next season, the company plans three multi-night runs at the downtown hall.
They include the premiere of Cooper's A Ballet Christmas Carol (Dec. 15-16) in which a bitter old ballet mistress experiences flashbacks of her previous dance partners; a revival of Cooper's first full-length ballet, Alice in Wonderland (Feb. 11-12); and a mixed repertory program that may include a commissioned new work from a New York choreographer (April 20-21). Christmas Carol will be set to a commissioned score from resident composer Chase Dobson, continuing Avant's mission of bringing the warmth and immediacy of live musical accompaniment to its shows. The season will again open with Cooper's Nutcracker: Short and Suite (Nov. 17) at a Southlake church.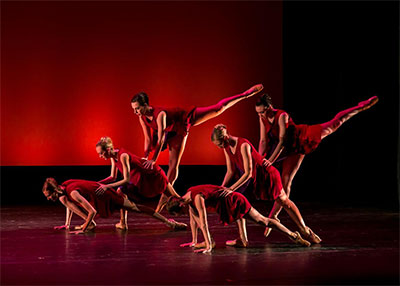 Two concerts are left on the company's 2015-16 schedule, most notably the second edition of the Women's Choreography Project, which Cooper started last season to bring more attention to female dance-makers. Especially in the ballet world, she sees a lack of opportunities for women choreographers. This year, two applicants stood out: Southern Methodist University graduate Shauna Davis and Quebec-based Janie Richards. Both will premiere new works.
Davis danced briefly with Joshua L. Peugh's Dark Circles Contemporary Dance, a company that shared the stage with Avant on March 4 at Dallas City Performance Hall. Cooper was struck by the contrast between the two pieces that Davis submitted. "She did a great job of capturing different feelings." Now based in New York, she's creating what Cooper calls a "dark and brooding" piece set to a Schumann trio. The dancers wear flat shoes and dark dresses, and four mirrors will be suspended from the ceiling. "It's a little bit of a commentary on modern life and the modern pace of life," Cooper says.
Richards' proposal grabbed Cooper's attention with a glossy layout and every aspect from lights to costumes to curtain placement detailed. Set to Vivaldi's Winter, it'll be performed on pointe and includes two men, seven women and a corps de ballet. The female dancers wear romantic white tutus. The piece also boasts theatrical elements that Cooper won't reveal. "It has a lot of concept to it," she says, "and very well done partnering work."
Cooper has two new pieces on the program herself: a short solo for Emily Dixon and her take on Harlequinade, the commedia dell'arte previously choreographed by Petipa and later Balanchine. "The Russian version used a lot of pantomime and Balanchine didn't. He told the story through the dancing. We'll have a little bit of the story, but it's a chance to use great costumes and great music." Harlequinade opens the show, "then we get darker and more adult."
—MANUEL MENDOZA