Judd Farris in Hidden Room Theatre's production of Der Bestrafte BRUDERMORD, or Hamlet Prince of Denmark, with puppets by Mystery Bird Puppet Theatre, costume and puppet style by Jennifer Rose Davis. Photo by Pat Jarrett.
---
Austin's Hidden Room Theatre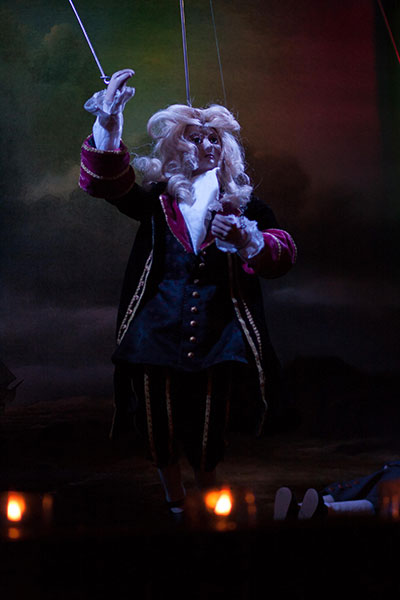 When thinking of award-winning comedies, Hamlet probably never comes to mind. And when considering original practices in Early Modern Theater, most of us probably don't imagine a puppet show.
But those are exactly what is going on in Der Bestrafte Brudermorde, a bizarre 1710 adaptation of Shakespeare's Danish tragedy. Hidden Room Theatre and Oxford professor Tiffany Stern think Austin audiences, international scholars, and even the folks at Shakespeare's Globe Theatre in London will agree. Hidden Room will launch a remount of Brudermorde in Austin this March, kicking off a major East Coast tour that will culminate in a visit to the Globe's candlelit Wanamaker Playhouse.
It's a visit that Artistic Director Beth Burns sees as the pinnacle (so far) of Hidden Room's efforts to brook the divide between the scholar and the practitioner in Early Modern Theater studies. Which, Burns notes, "sounds a bit dry, but in actuality is a really exciting opportunity."
Burns identifies as a scholarly-friendly practitioner. As an award-winning director, Burns recounts hearing Stern talk about this mysterious German Hamlet, and her theory that it may or may not be a puppet show— "which explains all of its weirdness: why it's so short, why it is that characters fly in and out… seems like a no-brainer that this was a puppet show. But when you're in a field where a lot of the same information gets circulated, then somebody goes, 'oh maybe it's a puppet show,' well, you could feel stuffed shirts in the room getting stuffier. You could feel people being very resistant. Then you could feel a couple of people, myself included, going 'oh, my God, I can use this, this is practical information.' "
So after the talk, Burns approached Stern and asked, "What crazy theater company is going to be a laboratory for you and workshop this idea to see if it actually works as a puppet show?" As Burns tells it, Professor Stern laughed and said, "No one! No one is going to do that for me." "And I said, well, I know you don't know me, but I would like to be that person. And she said yes!"
In order to figure out if Stern's theory was accurate, the scholar and the practitioner sought to recreate the playing conditions a puppet show would have encountered in the 1730s. They looked at all the extant playbills they could get their hands on. Stern tracked down a picture of what a puppet theater looked like in 1730, and they modeled the set after that picture.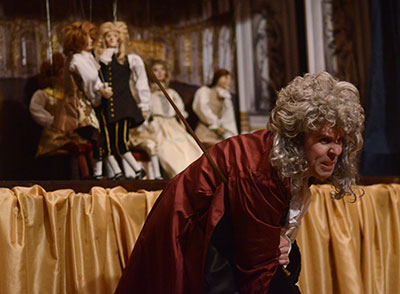 The picture also had "a guy with a stick in front," and when Burns asked, "what's the guy in front with the stick for?" Sterns said she had no idea, "and so we tried out different things until we found out what worked best. We just asked ourselves, what could you possibly use the stick for?" That's been the process: working together with actors and designers and workshop audiences to try and figure out what this might have really been like, how it might have worked.
"And now we couldn't possibly imagine doing Brudermord without the guy with the stick: He's the laser pointer of the 18th century, focusing attention where it needs to be focused," says Burns "When you've got eight puppets on stage and maybe one or two puppeteers, the guy with the stick points toward who's talking so everyone can follow along."
And audiences follow along with gusto—so much so that Brudermord has garnered awards for best production of a comedy from Austin's B. Iden Payne Committee as well as the Austin Critics' Table. "Not bad for a weird, scholarly lab thing," Burns notes. "A lot of early modern theater, when it tries to be true to the period, is called museum theater. And that's very derogatory. It's meant to indicate that it's stuffy, it's not living, it's not vibrant, it's not pushing the envelope. But when you've got new material that you're working from, a mystery to solve, then all of a sudden it can become vibrant and wonderful."
Making Shakespeare vibrant to modern audiences without betraying the intentions of the original text is why Hidden Room does what it does. Its achievements include tackling projects like an original-practice Taming of the Shrew (2010) and the epic, five hour adaptation of Shakespeare's Henry VI trilogy in Rose Rage (2012).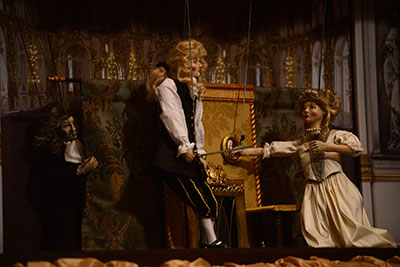 After Brudermord, their next big adventure is the Lear Project. But of course, this won't be any old Lear. They'll be doing the Lear with the happy ending: Nahum Tate's The History of King Lear, which virtually replaced Shakespeare's Lear on British stages from the 1680s until well into the 19th century. Burns explains, "People see Lear all the time, and it bums them out. I saw McKellan's Lear, and I don't ever need to see Lear again. But a happy-ending Lear? I'm in. A romantic, swashbuckling Lear that regains his senses? Yes. Give that to me."
Using a 1750 prompt book from David Garrick (probably the most influential theater practitioner of the 18th century), Hidden Room is doing their best to summon the figurative ghost of his production of Tate's text. With Garrick's notes on character development, clues from his casting, and the Globe's research on gesture acting from the period, they're planning to get as close as possible to what this particular production of King Lear would look like. Among other things, it will feature a small, effeminate king—specifically, in the form of Ryan Crowder, who played Kate in Hidden Room's production of Taming.
The Lear Project will have its premiere at the American Shakespeare Center in the fall, and will come to Austin afterward. Again, Burns stresses that her work is for everyone: scholars and laymen alike, because everyone knows what it is to feel deeply.
Reflecting on Brudermorde specifically, Burns notes, "Early Moderns in general like to have moments of high sadness followed immediately by high comedy. So we've had a more varied emotional approach to the text. It's not a drama. It's not a comedy. It's all those things; it's life."
She explains, "I don't look at the theater I do as museum pieces when I do Early Modern stuff. I look at the proposition as, how do you link a modern audience to a 400-year-old piece of theater and let them go, 'oh, they weren't that different from me.' These are human issues, human problems unfolding. This is the way humans tell stories, and we're not that far apart."
CATE BLOUKE