If you've had any brush with dance, theater, or art in Dallas, you've probably seen Danielle Georgiou's work in one form or another. The first-generation Cypriot-American choreographs, directs, teaches, performs, and inspires across artistic boundaries, never restrained by genre and always searching for the next way to challenge and provoke her audiences.
"I enjoy making dance works which combine avant-garde staging ideas, pedestrian movement, balletic-athletic tasks, and spoken word," says Georgiou, whose "20 second dances," where everyday tasks take on lyrical significance, are documented daily on her Instagram. "I like to think that someone definitely knows when they have seen my work, and while I definitely have a style, I have many contemporaries in the dance community who are also making bizarre and commanding works with their own personalized stamp. The uniqueness draws us together just as it draws us apart."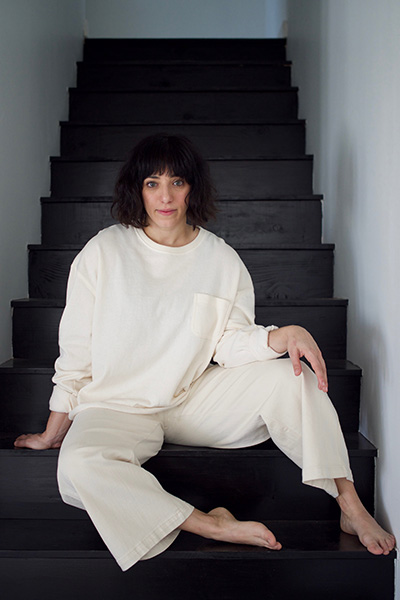 Her work has been performed and exhibited nationally in New York, California, and Florida, and internationally in Scotland and Germany, as well as in Texas, where  she was recently part of the Texas Biennial, a survey of contemporary art in the state, for the second time. In 2018, she became Dr. Georgiou after completing her Ph.D. in humanities-aesthetic studies from the University of Texas at Dallas, and in 2019 she was named the associate artistic director of Undermain Theatre. As if that wasn't enough, she also teaches: As lead faculty of the dance department at Eastfield College, she offers classes in ballet, modern, jazz, world dance, performance and choreography, body conditioning, and dance appreciation. Recently, Georgiou taught junior BFA students at SMU movement for actors, and she also teaches masterclasses at different studios around Dallas.
And we haven't even gotten to her namesake company yet. Danielle Georgiou Dance Group (DGDG) was formed in 2011 as a performance project, creating a series of collaborative, devised dance theater productions and award-winning dance musicals such as Donkey Beach, The Show About Men, NICE, Dirty Filthy Diamonds, War Flower, and Run of Show, which DGDG recently toured across Texas for more than a year. The Bippy Bobby Boo Show, created with and starring her partner Justin Locklear, was a smash for Theatre Three during Halloween and landed on several critics' end-of-year best-of lists.
DGDG explores "dialogic dance theater," work that invites the audience to participate through interactive elements, immersive environments, and the use of social media to participate in post-show talks. She encourages the performers and the audience to engage in a conversation while dancing, and that resulting dialogue becomes the environment.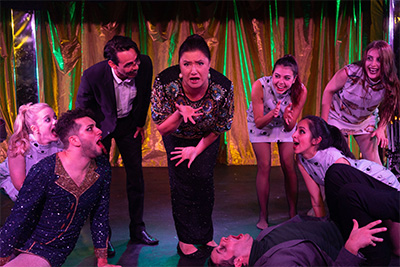 "I had a hard time finding my place in the dance world—as many can probably relate," says Georgiou. "I had to carve out my own space, and while I eventually found my way into the dance community in Dallas, I just happened to be in the right place at the right time when it came to breaking out as a choreographer."
But how, exactly, does she manage to do all of this?
"I want to work," she says, simply. "I want to be a part of getting things done. For the most part, juggling dance and theater isn't the effort. Juggling work, food, and sleep is my current sideshow performance. As long as I can accomplish the tasks which I am responsible for, do my best to support my collaborators, and not forget how lucky I am to have the opportunities I have in an industry full of the hardest workers, I am fulfilled."
Having just choreographed Adrienne Kennedy's adaptation of Madame Bovary at Undermain Theatre, Georgiou is next choreographing The Children at Stage West, running March 12-April 12. Later in the spring, DGDG will be heading to Cholula, Mexico, to teach a workshop at Performática 2020, and then they will be in rehearsals for the experimental opera The Savage Seconds, which opens at Undermain Theatre on June 4. Georgiou will also be supervising the Spring Dance Concert in May and Faculty Dance Concert in March at Eastfield College.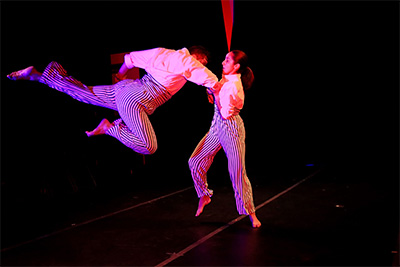 "I think many choreographers are like sponges of experience," Georgiou says. "As artists of all fields are sensitive to the sensations around them, I am always seeing, reading, listening, and breathing inspiration. From film, performances, books—which I read constantly—music, television, conversations, and my cat, Lina, I am wall-to-wall inspired by what I witness. I love dance in so many forms, I watch it appear in unusual places, and I perform little bits of dance whenever I can."
—LINDSEY WILSON